Indian citizens are being branded as 'foreigners' in Assam. What's going on?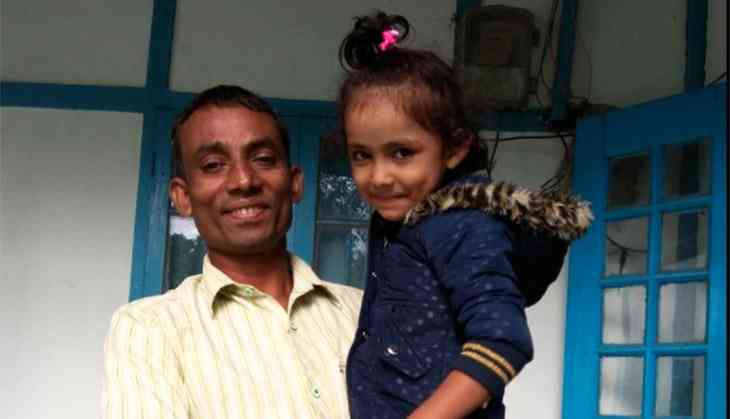 Ashraf Ali & his daughter
Authorities in Assam seem to be on an overdrive when it comes to branding Indian nationals as 'foreigners'.
Days after an outcry over how a retired Army officer was branded a foreigner and asked to prove his citizenship, the Foreigners Tribunal in Udalguri, set free Kismet Ali and Ashraf Ali, both residents of Udalguri district of Assam. They were set free after spending more than two years at the Goalpara jail which also doubles up as a detention camp.
While Kismat Ali's family moved to Assam from UP, Ashraf Ali's family hails from Bihar.
The Tribunal was acting on a Supreme Court order which had earlier set aside the order of the Tribunal and the Guwahati High Court, which had declared both Kismat and Ashraf as foreigners and had ordered detention.
Like it happens in many such cases, according to local lawyers, the Tribunal had declared them foreigners ex-parte – meaning – without any representation.
On 12 August 2015, Kismat Ali was fast asleep in his small house in village Sonajuli 1, in Udalguri District of Assam when somebody knocked on his door at around 1 AM.
"I found there were 15 cops from the Border branch of the Assam Police when I opened the door," he says. The cops ordered him to get dressed immediately.
"They did not even explain to me what crime I had committed that they had to come raid my house in the night," Kismat says speaking on the phone to Catch from Sonajuli 1, where he has been reunited with his family after two years and two months in detention.
"That night they even did not allow the family members to come with me. I left them crying," Kismat recounts.
Kismat was first taken to the Border Police Office in Udalguri. "The Border Police personnel told me that I am a D Voter who has been declared a foreigner. They wrote a statement and made me sign it," he says.
"Then, they shifted me to Goalpara District Jail," he adds.
"I was kept with rapists and murderers in the jail," Kismat says. His dormitory housed 60 people according to him.
Now, a free man who does not have to prove his citizenship, Kismat's ordeal started when the local verification officer submitted a report suspecting him to be a foreigner. Kismat confirms that he received notices but he did not take them seriously.
"The notices said I have been declared a D Voter and I should come prove my citizenship. But I spoke Hindi and I have seen my name on the voter's list. So I did not pay heed," he says.
However, the late night raid made him realise the seriousness of the matter and how soon he has been declared a foreigner from a D Voter. The Tribunal, without hearing his side of the story had already declared him a foreigner in an ex-parte order.
Interestingly, Kismat says how only five to six people in detention on charges of being a foreigner or D voters spoke Hindi while the rest spoke Bengali.
The matter went up to the high court which refused to entertain the writ petition challenging the order. It took the Supreme Court to order a CBI investigation to find out the veracity of the claims made by both Ashraf and Kismat's families.
The CBI in its report found Kismat's assertions to be genuine. The family indeed came from Deoria in Uttar Pradesh. Kismat's father Mukhtar, a truck driver was the one who migrated. The CBI found his driving license, issued in Deoria in 1956, to be genuine. The land revenue records too, showed that Mukhtar had sold property in Deoria. Moreover, the agency also managed to verify Kismat Ali's documents from the local school in Darrang.
Like in Kismat's case, Ashraf's family too was traced back to his village in Siwan by the CBI. His father Hasnain Ali's Bihar School Examination Board certificate was found to be genuine. Hasnain Ali, too, had sold off his land, records of which were found in the local land registry besides letters from the Village Sarpanch of Raj Shankarpur in Siwan district. The school leaving certificate from Sekhar Sankardev Mission School Dimakuchi, Udalguri, too, said Ashraf Ali was a student who left school on 31.12.1991.
In Assam, there are over 90,000 people who have been declared as illegal immigrants in the past many decades even as the state tries to put together the national register of citizenship. Albeit, that too, has been mired in controversy.
But how could all of these documents so easily escape the eyes of the local verification officer who suspected their credentials in the first place and marked them as D-Voters?
"The problem lies with the so-called investigations by the local officers of the Election Commission, who arbitrarily accused Ashraf and Kismat of being doubtful voters without any investigation whatsoever," says Aman Wadud, a Guwahati-based lawyer who has been pursuing many such cases.
"When they don't find Bangladeshis, they accuse genuine Indian citizens of being Bangladeshis," he says.
"Things have come to such a pass that now, retired officers of Indian Army, constables of Assam Police, gazetted officers, doctors, natives of UP and Bihar are being accused of being illegal immigrants," Wadud points out.
Edited by Jhinuk Sen