As the Valley flares up once again check these numbers out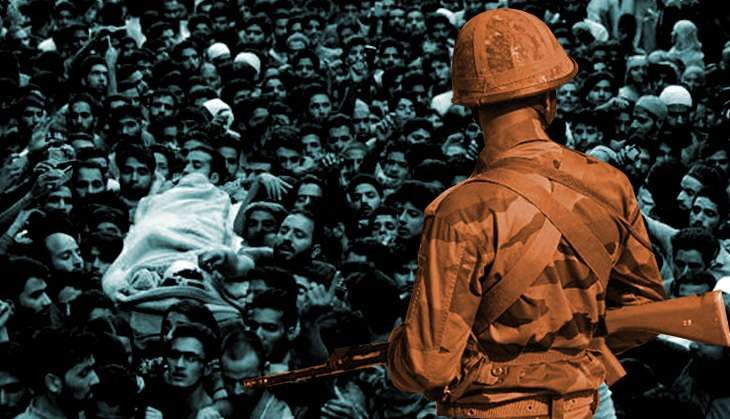 The encounter of Kashmiri militant Burhan Wani, has wreaked a major collateral in the valley. The aftermath, manifested through strong protests against Wani's death, has killed about 34 people till now, apart from injuring hundreds.India's security forces are being criticised, while debate rages on as to whose fault is it? Though the answer to this is shrouded in uncertainty, the point is, death tolls have been high for both sides.
Here are some gruesome statistics:
Number of civilians who have been killed in Kashmir since the start of secessionist movement in 1990 to 2015.
This translates into 1.5 civilians getting killed per day for the last two nad a half decades.
Number of security personnel who have been killed in the last 25 years.
That comes out to about 16 security forces killing in the valley per month.
Alarmingly, innocent civilians get killed 2.5 times more than security forces during the last 25 years.
Number of terrorists killed from 2003 to 2015.
More than 1 (1.2 to be precise), is the average number of terrorists killed daily during this period.
Number of terrorist deaths has been slowly reducing from 2003, when it was 1,494. In 2015, it was just 108.
2012 and 2013 saw the lowest number of terrorist deaths at 50 and 67 respectively.
The Ministry of Home Affairs annual reports (available 2003 onwards) do not specify any data from 1990 to 2003 about the number of terrorists killed.
Total number of violent incidents in the valley from 2005 to 2015.
Additionally, about 4,149 infiltration attempts took place during this period.
Infiltration attempts majorly decreased from 2010 (489 attempts) to 2011 (247 attempts). Since then, it has remained low as against the mid 2000s, when more than 500 infiltration attempts used to take place.
Another fact which shows that the situation is improving: Since 2011, only 371 infiltration attempts of the 1,128 were successful.