As Sabarimala temple set to open today, protesting women say any woman going temple will have to walk over their dead bodies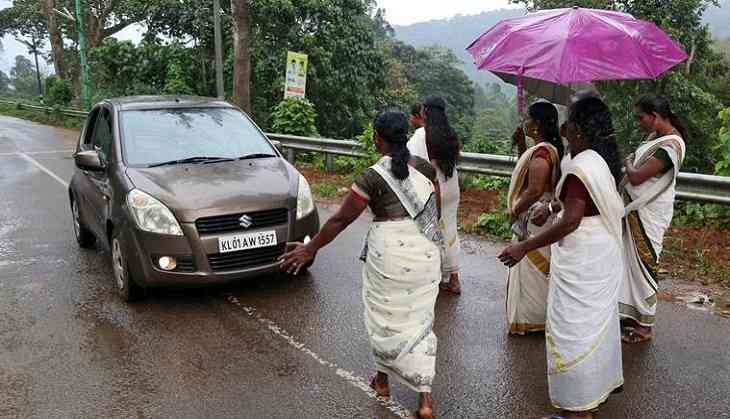 As Sabarimala temple set to open today evening for the first time since the Supreme Court allowed all ages of women to enter the temple, many women, who are protesting against the verdict said that they will not allow women to enter the temple. If they do, they will have to walk over their dead bodies.
On Tuesday, mostly tribal women sat under a makeshift tent in the Ranni division in Pathanamthitta district of South Kerala and check cars to ensure that no women go to the temple.
One of the women protesters was quoted by The Indian Express as saying "We will make sure no woman goes to Pampa. Those who do so will have to walk over our dead bodies".
The shrine is opened for devotees for the first five days of every month in the Malayalam calendar. There is also a two-month annual festival starting mid-November. This months, the temple will be thrown open on Wednesday evening a before the main puja on Thursday.
Earlier, two women journalists were stopped from going to Pampa, the last point until where women are allowed. This caused chaotic scenes at Nilakkal.
There were also some meetings between protesters and the senior police officials at guest house nearby.
Prasad Kuzhikala, general secretary of one of the organizations, Kashetra Achara Samrakashana Samiti, backing the protest, said "They were concerned that we were stopping vehicles. We told them we weren't using force. Our idea is only to raise awareness about Lord Ayyappa to women who may want to travel to Sabarimala. Our protest is peaceful – we are only chanting Ayyappa hymns and saying our prayers".
He further said "But tomorrow, we won't be the only ones here. The Congress, BJP, Rahul Easwar (a relative of the family of priests at Sabarimala) will all hold protests and we told the police we can't say what will happen then. We assured them we would protest peacefully".