As Hollande comes calling, time for Chandigarh's reality check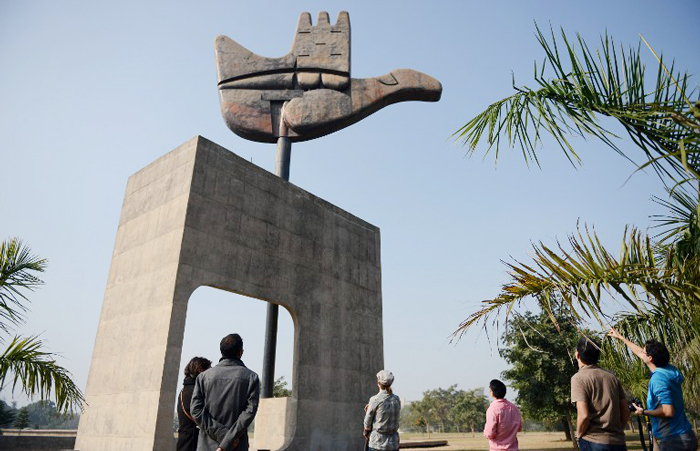 Good symbolism
Francois Hollande started his India visit from Chandigarh
The city was designed by French architech Le Corbusier
A success story
It was among independent India\'s first planned cities
The Union territory is Capital to both Punjab and Haryana
More in the story
How Chandigarh was developed?
Why is the city first losing its character?
French President Francois Hollande started his India visit from Chandigarh on Sunday. And why not? The city connects modern India with France.
Among the first planned cities in post-independence India, the City Beautiful is known for its architecture and design.
Read- Francois Hollande: harried president of a bruised republic comes calling
Its master plan was prepared by Swiss-French architect Le Corbusier. He transformed earlier plans by Polish architect Maciej Nowicki and American planner Albert Mayer to give shape to the dream city of our first prime minister, Jawahar Lal Nehru.
Here's helping you know better the Union Territory that houses two state capitals - that of Punjab and Haryana:
Its foundation stone was laid in 1952
the city came into existence another eight to ten years after that
Most government buildings and housing were designed by the Chandigarh Capital Project team
The team was headed by Pierre Jeanneret, Jane Drew and Maxwell Fry
The city's plan uses human body as a metaphor. Take a look:
the 'head' is the form of the Capital complex
the 'heart' is its commercial centre
the 'arms' are the academic and leisure facilities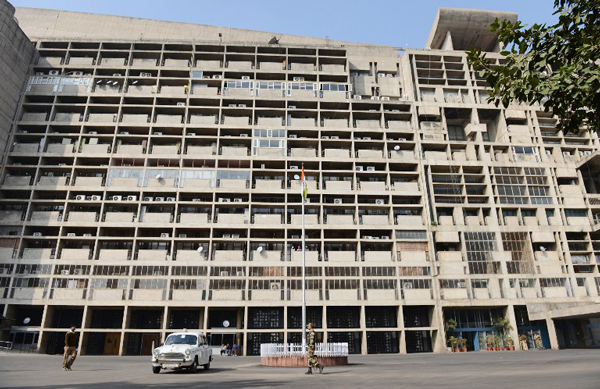 The plan incorporated Le Corbusier's principles of light, space and greenery. He devised self-dependent uniform sectors with shopping and community facilities within a walking distance.
In the heart of the Capital Complex stands the city's emblem of 'The Open Hand', signifying the principle "open to given, open to receive".
All is not well
Chandigarh is known to be among the most liveable cities, given its high performance on human development index, modernisation and architecture. But the city today grapples with issues that poses several questions for modern India's town planners.
The first thing that critics point out is Chandigarh remains a city without soul - it did not follow the usual trajectory of a hamlet-village-small town-big town-city-metropolis. Instead, it was built straight on vast tracts of land available in foothills and some villages automatically became a part of it.
France is committed to develop Chandigarh under the 'smart city' project
Second, it is difficult to adapt to localities in terms of numbers instead names as is the case most Indian cities, including Mumbai, Delhi, Kolkata, Chennai etc. Think of those cities and names such as Bandra or Chandni Chowk or Chowringhee or Anna Nagar come rushing to your mind.
"It is true that the 'Indianness' one is used to is missing in Chandigarh," said Pradeep Bhagat of Chandigarh College of Architecture.
"The usual hustle bustle of bazaars is not to be found, though there are some sectors like Sector 22 and 15 that do give that sort of a feel. Otherwise, Chandigarh has a distinct urbanisation where things move in a little lethargic manner."
Also read- Hollande in India: 5 major takeaways from French President's interview ahead of visit
Bhagat, however, believes that Chandigarh has proved to be a successful experiment: "It has lived up to the expectations of its residents in general. It has shown a path for development to other cities in terms of architecture and serves as a model."
He agrees that the inward facing identical sectors give an impression of not being connected. "But it was an entirely new concept. Le Corbusier did study the planning of other Indian cities and took leaves from Indian history."
The criticisms
In 1997, author Dom Moraes told correspondent that Chandigarh was a hub of "tired, retired and about-to-expire people". He was a writing a book on the 50 years of Indian independence.
Moraes pointed out how a large number of retirees reside in Chandigarh, whose children have moved out. Most sectors continue to abide by what he had called the 'babu culture'. They come alive in the morning and die in the evening, keeping the city be devoid of a nightlife.
'Chandigarh's infrastructure remains limited while pressure is increasing by the day'
Another criticism: Le Corbusier probably did not address the issue of migration in India and forgot to visualise that the city would soon attract people who would earn their livelihoods, running cycle rickshaws, road-side eating joints, washing and ironing clothes and doing other small jobs.
True, some workers' colonies were marked on the periphery of the city. But they couldn't prevent slumming that happened fast. The city administration constantly grappled with the problem.
A city planned for a population of five lakh today houses more than double the number.
Now, the city seems to be fast moving towards exhausting its land resources and expanding vertical. "This has already started in the southern sectors where societies have been allowed to build six-storied structures. We will also have to look towards developing underground markets," Bhagat said.
Read more- Hollande in India: French President, Modi to meet select CEOs in Chandigarh today
Madan Lal, a prominent artist who has studied Chandigarh's landscape over the years, said: "Vertical expansion has to be the way out and the original concept of the city will surely change. The growing population has already brought about changes in the social sphere."
Managing the traffic has already become a problem, he pointed out, though not to the scale of metros like Delhi. Some big roundabouts now have slip roads, traffic lights and some have also been demolished for cross roads.
Right here, right now
Chandigarh today stands as an island amid chaos marked by unplanned growth visible in adjoining urbanised areas such as Mullanpur, Zirakpur and Banur.
Bhagat feels Chandigarh should now be developed as a central business district, where people from adjoining areas can come for services and return.
Madan flagged the issue of the city's maintenance: "This has surely taken a beating. The infrastructure remains limited while pressure is increasing by the day."
He is vindicated by the way the administration had to grapple with giving the city a makeover for Hollande's visit. Reportedly only those parts got a facelift through which his entourage was to pass.
Le Corbusier didn't forgot the city would attract migrant workers from elsewhere
The local police, meanwhile, was burdened with the job of locating heritage furniture of Corbusier's era stolen earlier this week from Chandigarh College of Arts.
The bright spot is that French ambassador Francois Richier has reportedly called for taking forward the French connection with Chandigarh. France was ready to partner Chandigarh, he said, in its development and expressed hope that the city would get the World Heritage City tag.
France is committed to develop Chandigarh under the 'smart city' project along with Nagpur and Puducherry.
Edited by Joyjeet Das
More in Catch:
Think Shiva and Sushi have nothing in common? Japan worships them both
From 'Modi! Modi!' to 'Modi go back': why UP reception is worrying the PM
Terror Central? why arrest of 'ISIS India chief' puts Thane under the lens
Review: Airlift proves that mainstream Hindi cinema is alive and kicking