APJ Abdul Kalam: the minds he ignited and the lives he touched
Catch Team
| Updated on: 13 February 2017, 3:25 IST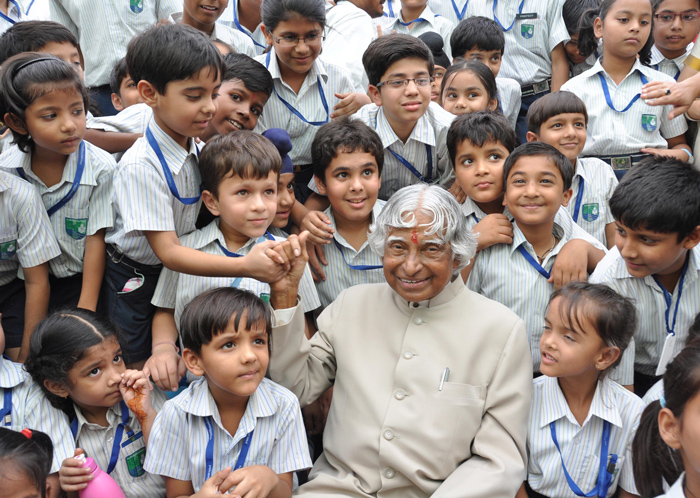 Everyone who came across Dr APJ Abdul Kalam left with a different memory of him.
The former President of India passed away on 27 July at the age of 83, suffering a cardiac arrest while lecturing students at IIM Shillong, resulting in a national outpouring of grief and reminiscences.
For some, it was his humility, simplicity and earthiness that made a lasting impact on their psyche. For others, it was his brilliance as a scientist; as the key man in India's missile, space and nuclear programmes.
Dr Kalam suffered a cardiac arrest while speaking to students at IIM-Shillong, igniting minds till the end
For the youth, a vast majority of the country, it was his image as the 'people's President' that shone brightest. Dr Kalam was a man far ahead of his time, and his vision of India's young people using technology to help the country achieve its potential by the year 2020 resonated with them.
As far as the political class, and scientific and military experts are concerned, they are unanimous in speaking of him with awe. Here are some of the foremost tributes.
Pranab Mukherjee, President of India
Dr Kalam will be long remembered for his contributions as an eminent scientist, administrator, educationist and writer. His achievements as leader of India's defence research establishment vastly enhanced the safety and security of the nation.
Dr Hamid Ansari, Vice-President of India
Dr Kalam was a true son of India and his contributions to the nation, in his capacity as a man of technology, a teacher and a leader will be deeply cherished by a grateful nation. The guide of India's space and missile programs, Dr Kalam's efforts saw India become a front ranking power in these spheres.
He was also a visionary, with a deep conviction to see India emerging stronger, more peaceful and more equitable through the use of science and technology. He personified humility and boundless curiosity. His life will remain an inspiration to the millions of youth in the country.
Narendra Modi, Prime Minister
India mourns the loss of a great scientist, a wonderful President and above all an inspiring individual...my mind is filled with so many memories, so many interactions with him. Always marvelled at his intellect, learnt so much from him. Dr Kalam enjoyed being with people. People and youngsters adored him. He loved students and spent his final moments among them.
Dr Manmohan Singh, former Prime Minister
I have learnt with profound sorrow about the demise of Dr APJ Abdul Kalam. In his death, our country has lost a great human being who made phenomenal contribution to the promotion of self reliance in defence technologies. I worked very closely with Dr. Kalam as Prime Minister and I greatly benefitted from his advice as President of our country. His life and work will be remembered for generations to come.
[Dr Kalam] was one of the favourite Presidents of India, whose personality was so amiable that he was liked by each one of us.
The Missile Man of India, after relinquishing the charge of President, had relentlessly taught science to the youth of our country.
I remember him as a voracious reader and popular writer. He not only remained active after retirement but also earned accolades for his public life.
It is indeed difficult to believe that he is no more among us. In his death, the country has lost a true patriot, world-renowned scientist and original thinker, who served the nation with distinction.
I recall when I visited the Philippines with him, where I found the 'people's President', as was known popularly, who never cared for protocol and behaved like a common man.
He will be remembered by all of us for his pro-people and sensitive approach to problems that confront us. I pay my humble tributes to this great son of India and pray that his soul rests in peace.
Rahul Gandhi, Congress vice-president
Deeply saddened at the passing away of former President Dr APJ Abdul Kalam. Dr Kalam was a man of many parts - a scientist, an inventor, a visionary thinker and a teacher. Through his life and work, he ignited the minds of young people. As President he won over the hearts and minds of an entire nation with his warmth and wisdom. He will be missed dearly and remembered fondly by every Indian.
Syed Shahnawaz Hussain, BJP leader
I recall going to receive him with Pramod Mahajan when he was coming to Delhi for the first time after becoming President. I had the opportunity to meet him during Eid prayers. I once took my wife and children to meet him because people like him are born once in decades. What stood out post in his personality was his simplicity. Also, he was the true nationalist. If I were to give an example of a complete man, it would be President Kalam. He was so down to earth and hard working. He remained active till the very last day of his life. He was an ideal Indian.
Ali Anwar Ansari, JD(U) MP
He was a real patriot. A very simple, down to earth and gentle human being. He was the President and a common man at the same time. Positions never changed his behaviour and lifestyle. I recall that his interactions with the staff and residents of Rashtrapati Bhavan was characterised by humility and affection. He helped many of them renovate their houses and when they or their kin were unwell. He was like a family to them and they to him. All the children in the President's Estate knew him. Often we would see that he would get out of his car to meet people and ask them about their well being.
Once during Bakrid prayers, many of saw him and were feeling hesitant to go towards him. Perhaps he noticed our hesitation and came up to us and wished everyone personally. He was a great scientist and an excellent human being. His demise has left many people in deep sorrow.. I will miss him. Everyone will miss this great man.
Saugata Roy, Trinamool Congress MP
This is really very sad. I am very sad. He was a true Bharat Ratna. He was the father of India's missile program. His vision and performance were outstanding. Be it the Pokharan nuclear test, the DRDO or the defence ministry, he contributed to the country in various ways even before becoming President. .
I attended many of his programmes and also seen the way he interacts with students. He made even the most complex scientific things appear so simple. There are numerous things we can learn from him: how to bring energy to the new generation, how to make them understand the importance of science, how to encourage them towards a bigger role and commitment for the country. He planted a vision in young minds. His demise is a really big loss to the country.
Raghuvansh Prasad Singh, RJD leader
This is a really big personal loss to me. I was very close to him. He was not unwell. He was always active and working... This sudden demise has come as a big shock.
When I was minister, I used to organise discussions with between him and civil society groups at least five times a year. I was always amazed at how he came for every meeting with immense energy and enthusiasm. His enthusiasm and positivity were infectious. But what touched people most was his humility.
I regret that he didn't become President again. He was a neutral person, not associated with a particular party or ideology. He was very inclusive and had a great heart. No one of his stature occupied the office after him. Even after he completed his term, he continued to remain active in public life.
DP Tripathi, NCP MP
This is big loss to the nation; science, knowledge and Indian culture. We have seen how people in this country run for the positions. When Dr Kalam's name was proposed for President, almost every party and politician backed him.
Once I had requested him to have a session with students. Not only did he agree, he even invited the students to Rashtrapati Bhavan He wanted to break hierarchies.
This was his first interaction with students after he became the President. These kids were between 9 to and 14 years of age. He spoke to them, but also listened with complete concentration and curiosity.
D Raja, CPI MP
This is a great loss to the country. Kalam was an outstanding scientist, at the same time he was a very kind human being. He was always very nice and simple. He foresaw India emerging as a great nation and he contributed for it as well. His book Wings of Fire reflects the great vision of the great man. He was a great inspiration for many people, particularly for the youth.
KC Tyagi, general secretary, JD(U)
In 2002, there were many names doing the rounds as the NDA's potential choice as the Presidential candidate, but consensus eluded all these names. Then one day, Pramod Mahajan came up with APJ Abdul Kalam's name and persuaded then-Prime Minister Atal Bihari Vajpayee to agree.
Once Atalji was convinced and sent Kalam's name to other NDA constituents like us, we immediately liked his profile for the post.
Kalam's suitability for the job could not be questioned, as he was not just another scientist, he had rich political acumen as well. He understood politics better than the sharpest politicians around, and yet, was complete untouched by its evil side. He was a noble soul who believed in serving humanity and was doing that till his last breath.
C Uday Bhaskar, security expert
He will always be remembered as the missile man of India, the man who was closely associated with India's nuclear programme in 1998.
Several times, after his lecture, I told him 'Dr Kalam, the entire country is your class'. He used to like it. Every time he held a lecture, at the end, he used to make everyone repeat after him, just like a teacher. I think it is befitting that he died the way he did, teaching students.
I think if Dr Kalam were asked 'how would you like to go', this is the end he would have preferred.
The one quality I think I will remember him for, which is under-appreciated, is his love for arts. He was a great lover of Carnatic music and dance. He was a man of many parts.
Bharat Karnad, professor at the Centre for Policy Research
I met him a number of times and used to be in touch with him. I think his great contribution will be the SLV (Satellite Launch Vehicle). Not only did he help in developing missile technology for the military, but also in our capability to put satellites up in space.
Our space programme was going nowhere till he came on the scene. He was a great system integrator
He was a great technology visionary. But one quality I think he will be remembered for is being an eternal, incurable optimist. The manner in which he got our space technology together with limited resources he had at his disposal could not have been achieved by some other cynical leader.
Lt Gen (retd) Anil Chait, former chief of the Integrated Defence Staff
I think there has been no person of the calibre of Dr Abdul Kalam. We are in deep mourning. I think if there is one thing the nation should remember, it is his power to motivate.
What we had in the form of Dr Kalam was a humble, simple man who, by his commitment, gave us a vision and thereafter worked out a strategy to execute his plans.
If there is one thing I learnt from him, it was to dream and dream big. He was a leader, not a politician, nor a manager. In this technology-driven world we live in, he taught us how to use this technology to build a nation.