Anti-Romeo squad in UP finds its echo in Haryana with 'Operation Durga'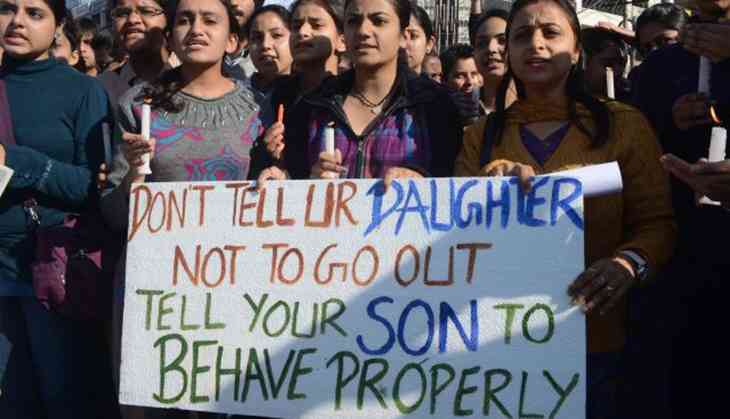 After Yogi Adityanath took over Uttar Pradesh, one of his first moves was to launch anti-Romeo squads. Haryana has now taken the cue from the UP CM and has also decided to tackle the menace of eve teasing.
The state police have prepared an elaborate plan, called 'Operation Durga', one which will rope in no less than one lakh youngsters to curb sexual harassment.
An unsafe state
To end eve teasing, the need of the hour is to change the mindset of police officers even before they set out to take on perpetrators of sexual harassment.
In Haryana, complaints from women about not feeling safe in public are common. One can easily identify youths passing lewd comments against any passing girl. To add to this menace is the deep-rooted caste bias, which makes things even more difficult for women from marginalised communities.
Additional Director General of Police (Headquarters) OP Singh told Catch that the police have identified the trouble spots where maximum instances of sexual harassment take place.
"Such instances are mainly reported from outside girls education institutions at the time of arrival of the students, or at the time of their departure. They are also reported from bus stops, hostels, railways stations etc. We have done a detailed mapping of such spots," he said.
A four-pronged strategy
The police now claim to be working on a four-pronged strategy to curb the menace. The first step in this direction is installation of closed circuit television cameras at these spots that make identification of habitual offenders easy besides providing a psychological relief to the girls.
The second step envisaged by the police is to put up warning signs for the offenders which spell out the sections of the Indian Penal Code and the charges under which they can be hauled up.
The third step is to put up boards and hoardings providing information to women on whom to contact when facing the problem. These boards will have the WhatsApp numbers and helpline numbers, besides Facebook and Twitter addresses of officials designated for the checking the menace.
The fourth step being planned by the police is to depute cops in plain clothes at the trouble spots. "This acts as a big deterrent and sends a strong signal when an eve teaser is caught by a police personnel at a public spot. Our aim is to sanitise these trouble spots of this menace," pointed Singh.
Apart from these steps the police is set to launch a youth oriented programme named Youth Against Sexual Harassment (YASH) to check the instances of sexual harassment. Under this programme, the police will be taking the help of 5,000 to 10,000 volunteers in every district of the state who will be trained in reporting these instances and taking forward the awareness against sexual harassment.
"These will be the people who will spread the message against sexual harassment through merchandise and organising events like public speaking to take the message forward. They will be the ones telling the masses about the 'Lakshman Rekha' of decency and how to promote and respect healthy relations between opposite sexes," said Singh.
He underlined that the youth is often influenced by popular literature and films where making passes at the opposite sex and at time coercion is a norm. The youngsters try to copy the actors and characters of these media and very often cross the lines of decency. He said that this has come to be the popular sub culture. "Involving the community is a must to tackle this. YASH volunteers can make effective use of social media in this direction," he said.
Preventing crimes
The Haryana government claims to have tackled the menace of sexual harassment to some extent through its Mahila Police Stations in every district and their extension centres in sub divisions. The website of these police stations claims that that over 800 police officials with 130 vehicles work round-the-clock to prevent and detect crimes specific to women.
"Rolled out in August 2015, they deliver ease of reporting, empathetic listening and a prompt action for women victim. So far, they have disposed off over 53,000 inquiries and finalized investigation of over 4,000 cases," the site says. It exhorts the youth to speak out against sexual harassment and also has an elaborate survey for women to respond to.
However, there are issues that the police need to address along side this drive against sexual harassment. There have been reports about location of Mahila Police Stations at places where women are not comfortable going to at odd hours.
"Above all the police first needs to change the mindset of its own officers. Most of them still have a feudal mindset. Their tendency is to workout a compromise between the victim and the aggressor instead of ensuring punishment for the latter," points out social activist Kavita Vidrohi who is associated with Jan Sangharsh Manch (Haryana).
Referring to initiatives like YASH, she says that such initiatives are good but effective mainly in urban areas. "It is the mindset in the remote interiors that need to be changed. Police officials often pressurised to work out compromises and the victim is left high and dry. We have been having a tough time trying to get justice for a girl who was assaulted by a boy in full public glare for saying no to his proposal," she narrated.
Activists point out that quite often the lower level police personnel blame the victim on pretexts like wearing western clothes or going out at odd timings.