An ATM guard who's always with a book, and why he'll vote NOTA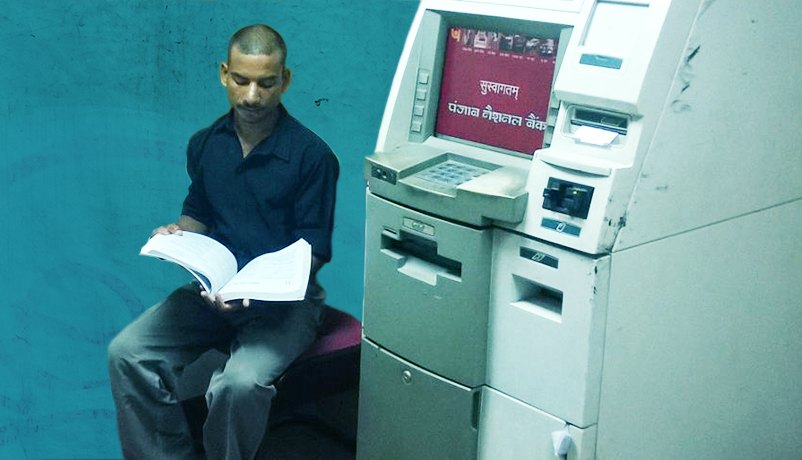 Elections are not just about politicians. They are about people and issues. And what will really drive their vote.
Catch is, therefore, starting a "People of Bihar" series, which will daily capture what impact groups across the state are feeling. This is true insight into the Bihar election: up-close and hyper-personal.
For anyone passing by Patna's Boring Road, Munna Kumar Yadav is difficult to miss - an ATM security guard almost always immersed in a book.
Munna, 23, is studying for a BA from Magadh University as well as civil services exams, and has taken the job to pay for it. He earns Rs 3,500 a month, a part of which he sends home to Konhin village in Buxar district.
Munna has his share of grouses with the system. Yet, he believes that politics alone can transform Bihar. And he wants to contribute his bit to the change by fighting elections one day.
For now, he hopes the people of Bihar would choose a government that can fulfil the aspirations of the youth. As for himself, he won't vote for anyone.
Who are you going to vote for?
I will press the 'NOTA' button because no political party is honest.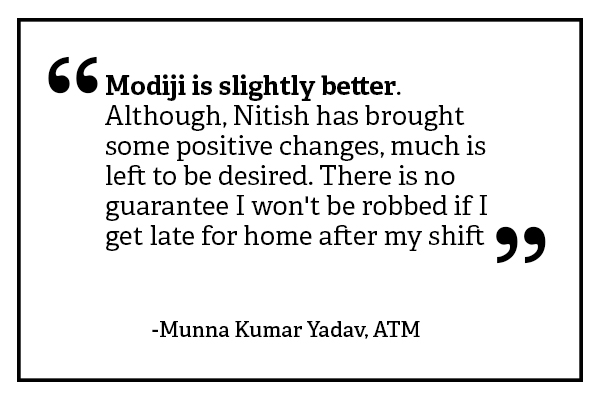 How do you rate Prime Minister Narendra Modi's performance so far?
I can't support a prime minister who wears suits worth lakhs of rupees while millions of his countrymen go to sleep hungry every night. It's shameful.
Who do you think is a better for Bihar, Nitish Kumar or Modi?
Modiji is slightly better. Although, Nitish has brought some positive changes, much is left to be desired. There is no guarantee I won't be robbed if I get late for home after my shift. Such is the state of affairs in Patna.
Did Modi hurt the pride of the people of Bihar with his DNA comment?
Modiji's comment was directed at the corrupt leaders of Bihar. He was not referring to the ordinary people. Nitishji is resorting to cheap political gimmicks.
I'll press the NOTA button because no political party is honest, says Munna Kumar Yadav
How do you want to see the future of Bihar?
I want to see a state where every young person has a job.
Is casteism a bigger roadblock for Bihar's progress or corruption?
Both are equally bad. I have been a victim of corruption myself. A guy was appointed as a 'Shikshamitra' in our village though I was more qualified. He used to learn mathematics from me. Where is respect for talent?
Also read: Banka Silk founder Udayan Singh wants a third term for Nitish
Bihar's industry still trusts Nitish, says state CII chief Dilip Kumar