The heat stays on: MEA toughens stand on terror from Pak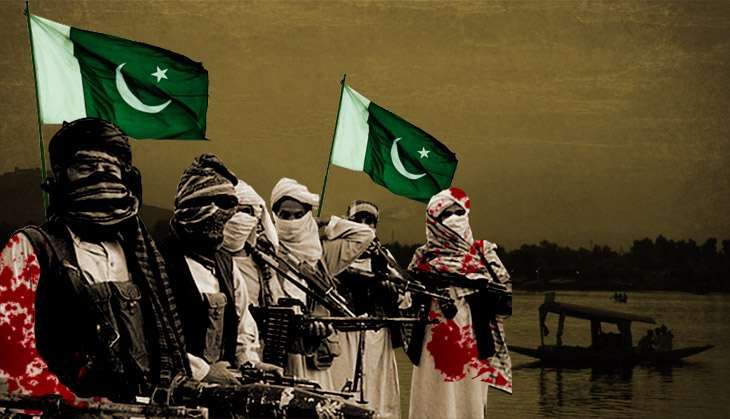 Foreign Secretary S Jaishankar, while accepting the invitation to visit Pakistan for bilateral talks, has rejected "Pakistan's self serving allegations" and made it clear that the discussion should focus on "more pressing aspects of the Jammu and Kashmir situation." And that "he looks forward to discussing with his counterpart the earliest possible vacation of Pakistan's illegal occupation of the Indian state of Jammu & Kashmir."
Also read - Modi raises Balochistan & PoK on Independence Day: What about India, sir?
The Foreign Secretary also reiterated that Pakistan has no locus standi on Kashmir, which is an integral part of India.
Meanwhile, even as speculations are rife that Prime Minister Narendra Modi may skip the SAARC summit in November, there is still uncertainty on whether Finance Minister Arun Jaitley will attend the SAARC meeting in Pakistan. MEA says it is yet to decide on India's level of participation.
A red line
Pakistan, capitalising on the unrest in Kashmir valley after the encounter of Hizbul Mujahideen operative Burhan Wani, has been raising the issue on international fora, forcing the Indian government to launch a counter offensive highlighting how the neighbouring country continues to sponsor terror against India.
Modi, in his Independence Day address from the Red Fort, targeted Pakistan for its atrocities in Balochistan, an issue which the previous leaders had chosen to avoid. Pakistan, responding to PM Modi's address, has termed it as a "red line".
Meanwhile, commenting on if the PM's statement on Balochistan constituted a policy shift, the MEA spokesperson said that Indian government had made statements on the situation in Baluchistan earlier as well.
"The only difference this time was that the various messages the Prime Minister had received had sufficiently moved him to share it with the people of India," the spokesperson said, mentioning how several people from Balochistan and PoK had messaged the PM to thank him for flagging their cause at the all party meet on 12 August.
The bone of contention
Pakistani foreign secretary had earlier invited his Indian counterpart to visit Pakistan for talks on Jammu and Kashmir, which according to Pakistan remains "the main bone of contention between India and Pakistan."
In a letter written on 16 August, delivered to the Pakistan Foreign Office by Indian High Commissioner Gautam Bambawale on 17 August, the Foreign Secretary wrote that discussions should focus on important aspects of "cessation of cross-border terrorism by Pakistan aimed at Jammu & Kashmir".
Terror strike
Jaishankar, in his letter, also demanded that the talks should focus on "ending incitement to violence and terrorism from Pakistan in Jammu & Kashmir, detaining and prosecuting internationally recognised Pakistani terrorist leaders who have been publicly active recently in exhorting and supporting such violence in that state, closing down of Pakistani terrorist camps where terrorists such as Bahadur Ali, recently arrested in Jammu & Kashmir, continue to be trained and Denying safe haven, shelters and support to terrorists in Pakistan who have escaped Indian law."
Bahadur Ali, currently in the custody of the National Investigation Agency (NIA), had revealed how Pakistani security forces are using Lashkar-e-Tayyiba operatives who would infiltrate into India, mingle with the locals and launch attacks on Indian security forces. During the ongoing unrest, security forces have been attacked by grenades and automatic weapons.
The government maintains that the Pakistani ISI, which has long worked on the assumption of 'good and bad terrorists' has allowed some terror outfits like the LeT and the Haqqani network to prosper and continues to use them to attack India.
In the past, India has seen ghastly strikes in Mumbai in 2008 and then recently in Pathankot. Bothe were traced to Pakistan-based outfits. Attacks on Indian establishments in Afghanistan too have been traced to the Haqqani network in Pakistan.
In his letter, Jaishankar underlined the importance of bringing to justice all those guilty in Pakistan for the Mumbai terrorist attack of 2008 and Pathankot airbase attack. "He said that his visit should provide the opportunity to receive a briefing from Pakistan's Foreign Secretary on progress in this regard," the spokesperson of the MEA said. India had earlier allowed a team of Pakistani investigators to visit the attack site in Pathankot. Little progress has been made since.
The Foreign Secretary, in his letter, also reminded Pakistan of earlier instances in 1947 and 1965 when Pakistan sent armed raiders to India, and in 1999, when military personnel infiltrated, which led to the Kargil War. Jaishankar also brought in the Simla Agreement of 1971, the Lahore Declaration of 1999, which aimed to resolve disputes through peaceful means and Former Pakistani President Parvez Musharraf's assurance that Pakistani territory will not be allowed to be used for acts of terror.
Yesterday, addressing the media at the Foreign Correspondents Club in the capital, Jaishankar had said how Indian efforts for a broader and closer cooperation are not able to fructify because of the unique challenge of Pakistan using terror as an instrument of diplomacy.
The MEA spokesperson said that India has responded to the invite and the ball is now in Pakistan's court.
Sponsored terrorism
Interestingly, the MEA also highlighted how India alone was not the only affected party to Pakistani-sponsored terror. In response to Pakistan's statement that "Modi had crossed the red line" after highlighting Balochistan, the MEA spokesperson, in his caustic rebuttal said, "I find this an extraordinary remark from a senior functionary of Pakistan that recognizes no red lines in its own diplomacy. Pakistan's record of cross-border terrorism and infiltration is at the heart of the problems in the region today."
The spokesperson added that "this not just India's view. You can ask some other countries in the region too." The Foreign Secretary, too, in his letter mentioned, "The world is aware that Pakistan has a long history of violence and terrorism against India, as also in the broader region."
While the Afghan leadership has long maintained that Pakistan based terror groups including the Taliban's leadership have been responsible for violence in the war torn country, Bangladesh, too, suspects Pakistan of supporting local terror outfits.
"Pakistan still has a connection in Bangladesh, and are trying to support many domestic terrorist networks. That is why we recently had to request Pakistani authorities to withdraw their diplomats," Bangladesh's Information Minister Hasanul Haq Inu said in an interview to an Indian news channel yesterday.
More in Catch - Pakistan must act on terrorists carrying out attacks in the region, asserts U.S.
NIA: Captured militant reveals how Pakistani army, ISI aid the LeT