Afrophobia is widespread in Delhi. Let's not pretend otherwise
Of late, there has been a spurt in attacks against Africans in Delhi. Barely a week after the murder of a Congolese man near Vasant Kunj, at least seven Africans were assaulted within half an hour around Rajpur Khurd village in Chattarpur Thursday night.
This, however, is not the first time in recent memory that the national capital has witnessed violence against people from African nations.
In January 2014, Aam Aadmi Party leader Somnath Bharti led a raid on a house rented by a group of Africans in Khirki Extension in south Delhi. He alleged that the people staying there were taking and peddling drugs; and some residents repeated his claims. Bharti had allegedly sought to get the police involved, but they refused. The matter eventually reached court.
Catch recently visited Khirki Extension to find out if there has been any change in the attitude of the residents towards Africans.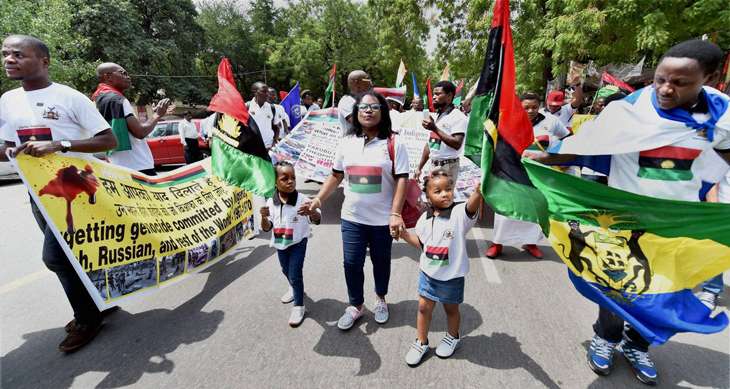 PTI
Many residents said the number of Africans staying in the locality has decreased since the incident in 2014. Those who are still staying "live peacefully".
Muni Raj Saini, 46, and Mohammed Ishab, 35, have lived here all their lives. Asked about people from African nations living in their neighbourhood, Saini said, "See, not all blacks are bad. They are a mix of good and bad people. It is only the bad ones that cause trouble."
Wasn't he racially stereotyping an entire community? Saini laughed, and replied: "I admit it is wrong to use such language for them. But what to we do when we don't know which country they belong to. They all look the same: black and stout."
"These people created a lot of nuisance until two years ago. They would roam the streets at night, drunk. They would fight among themselves and make obscene gestures at our women. We dared not take the roads where they would be. But only a few of them remain now, and they refrain from creating any kind of ruckus," Saini added.
Ishab nodded in agreement. "Even the police would not intervene when these people created any ruckus, even at night. The cops would just advise us to not rent out flats to these foreigners. On several occasions, we decided to follow this advice. But then people always give in to the temptation of a larger sum of rent money," he said.
Apart from Khirki, the African population in Delhi is mainly concentrated in Munirka, Katwaria Sarai and Ber Sarai. When Catch went to Katwaria Sarai and Ber Sarai to seek the residents' views about their African neighbours, most refused to speak on record.
"A large number of people from Africa lived here until about a year ago. Then, the panchayat decreed that nobody would rent out houses to them. No African has been allowed to live here since. Those who were already staying here were told to leave as well," said a shopkeeper in Katwaria Sarai on the condition of anonymity.
A flat-owner in Munirka said, "We never rent out flats to Africans, even if there's a risk they will remain vacant."
"I will never allow a Habshi on my property, come what may. I would rather have Nepalese or Muslims as tenants," he added.