Achhe din for Modi? Survey shows rising satisfaction, but concerns remain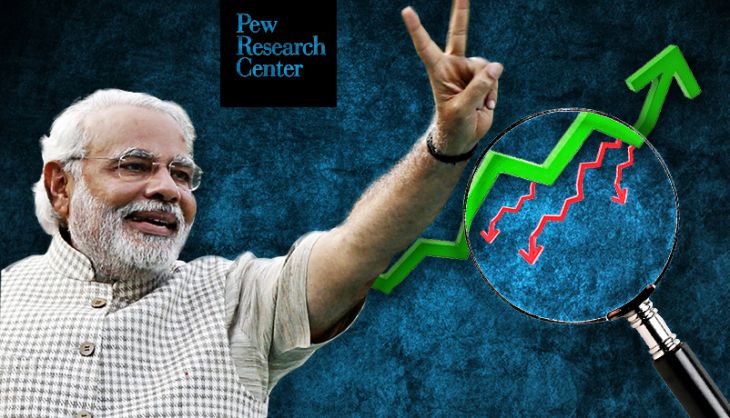 The positives
US-based fact tank Pew Research has come out with a survey
It shows Indians\' satisfaction with their own country has doubled in the last 16 months
It also says 60% of Congress supporters approve of PM Modi\'s handling of issues like clean toilets
The negatives
Categories like crime and unemployment have each seen an 8% rise in concerns
About 22% more Indians are concerned about air pollution in 2015 than the previous year
Nearly 70% think the quality of education and healthcare is poor
Prime Minister Narendra Modi probably received the best gift on his birthday, 17 September.
Pew Research, the US-based fact tank, released a survey that showed Indians' satisfaction with their own country has doubled in the last 16 months.
Pew conducted interviews with 2,452 respondents between 6 April to 19 May 2015.
Most interestingly, almost six of every 10 Congress supporters approve of Modi's handling of issues like access to clean toilets, unemployment, inflation, fighting poverty, terrorism and corruption. Only on communal relations does Modi score poorly.
About 60% of Cong supporters approve of Modi's handling of issues like clean toilets and poverty
However, this is not to say that people's concerns about issues like crime, unemployment etc. have gone down. Modi is popular and people think he's on the right track, compared to Manmohan Singh's previous UPA regime. Here are some of the main concerns the survey highlights:
Crime
People are most concerned about crime. More than 90% of people said that crime is a rising problem, up by eight percentage points as against 2014.
Facts and figures clearly show why this concern is increasing. The number of violent crimes like rape and murder increased by 8% and 2% respectively in 2014.
Unemployment
Around 87% of Indians said joblessness is a big problem. This too saw a rise of eight percentage points among respondents.
The present state of unemployment is truly a cause for worry - 4.9% of rural youth in the age group 15-29 years are unemployed while the figure is around 9% among urban youth.
Air pollution
The biggest rise in terms of percentage points is on the issue of air pollution. Around three-fourths of respondents thought air pollution was a threat, but this represents a 22% rise since 2014.
Air pollution is presently the fifth largest killer in India, causing almost 620,000 deaths annually. According to a media report, national capital Delhi is on track to record the world's largest number of premature deaths due to air pollution.
Poor quality schools and healthcare
About 77% of respondents say poor quality schools are a big national problem, up by 20 percentage points from 2014. Around two-thirds also think that healthcare is a major challenge.
Here are some stark facts on India's schools - more than half of India's government schools do not have an electricity connection, more than 5% do not have drinking water facility, while around 40% schools do not have separate toilets for girls.
Healthcare is in an even more dire situation. India is among the lowest public spenders on health, with fewer doctors and hospitals. The outcome - India is home to one of the highest number of child deaths and also is high up on the preventable diseases list.
People may feel Modi and his government are on the right track. However, these are also important issues that need the Centre's attention.