ABVP hooliganism: DUTA slams administration for failing to rein in outfit
Catch Team
| Updated on: 24 February 2017, 20:36 IST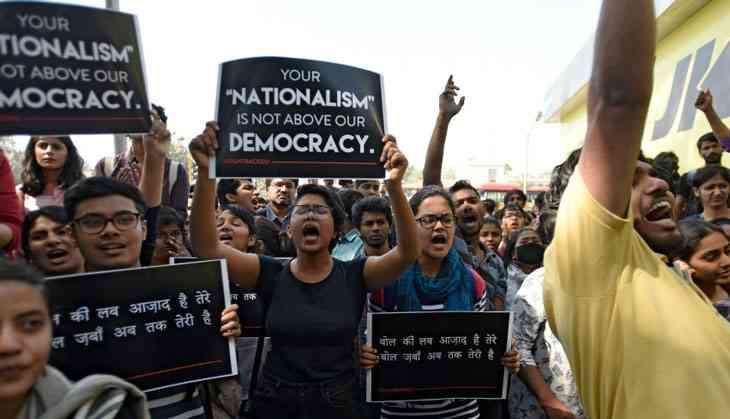 (Ravi Choudhary/Getty Images)
The Delhi University Teachers' Association (DUTA) has condemned the ABVP's violence against students, teachers and journalists at Ramjas College on 21-22 February.
The association has demanded that Vice Chancellor of of Delhi University should set up an inquiry against the perpetrators of the violence and bring them to book.
The DUTA resolution published on Friday expresses "shock and dismay" at the brutal violence.
The resolution stated, "It (DUTA) condemns the attempts by the ABVP of repeatedly answering ideas with physical mob violence and to act as a censor of what may or may not be considered intellectually and culturally acceptable ideas within the context of a university".
The notice also holds the University administration responsible for the violence, claiming that it had failed to take action against the same student group for a teacher in SRCC in June 2016 also harassing the Dean of the Faculty of Law later last year.
"Allowing mobsters and anti-social elements to get away with impunity has emboldened them and the DUTA office-bearers were themselves at the receiving end of their physical aggression in Daulat Ram College in July 2016," it adds.
The association also demands a written public notice by the Vice Chancellor that henceforth no student or teacher of Delhi University will be made to feel physically threatened or vulnerable for the "ideas that they espouse publicly and the rule of law will prevail and arbitrate over any contentious issues in the future."
The resolution concludes, "DUTA reiterates its belief and solidarity with the democratic values and freedom of expression enshrined in the Constitution and the credo of Unity in Diversity that forms the core value of our civil society."
As of now, three constables have been suspended for assaulting and roughing up students, teachers and journalists. The Centre has also sought a report from the police over the incident.
While an FIR has been lodged, protesters and a section of DU students are unhappy with the content of the FIR, which states there was a clash between ABVP and 'left-wing students' and does not give details on who was injured and who carried out the violence.