AAP Mohalla clinics: rented homes turn clinics, private docs appointed
The experiment
AAP govt has started 21 new Mohalla clinics
Many of them are run by private doctors and its free of cost.
Though revolutionary, the experiment isn\'t without its shortcomings
More in the story
How are the Mohalla clinics working on the ground?
What do the doctors involved have to say?
At Purani Anarkali road in East Delhi's Krishna Nagar, Dr. Surupa Ranjan has just finished checking an obese 12 year old boy suffering body ache and joint pains. His parents, evidently worried, say he no longer responds to the daily dose of Combiflam, a popular painkiller. The weighing scale the boy is asked to step onto jumps to 73 kg. Ranjan's prescription for him is simple: to stop painkillers and start playing a daily sport.
Read- [email protected]: How serious is Kejriwal about cleaning up Delhi's air?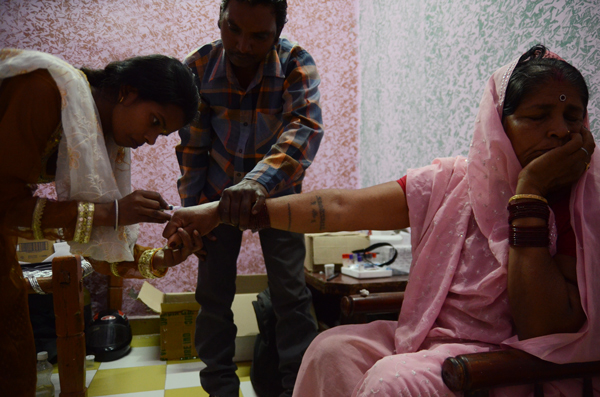 Photo: Shriya Mohan/ Catch News

New Delhi is seeing a healthcare revolution on beta mode, deep in its congested alleys. Ranjan is one of the many private doctors the Aam Aadmi Party government has appointed for its 21 new Mohalla clinics, inaugurated on 27 March, spread out across various pockets of Delhi. 
The clinics
The aim is to have 1000 Mohalla clinics as the first point of contact with Delhi's sick. The aim, when the first one in Peera Garhi was launched last June, was to take off the load from the city's over burdened public hospitals. And sure enough, from the experience so far, over 90% of the cases are resolved within the clinic itself. Less than 10% of the patients get referred to neighbouring public hospitals for serious complications.
To speed up the process of setting up the clinics, which was originally conceptualised with being built using pre-fabricated material, the Delhi health ministry decided to take residential spaces on rent and convert it to clinics with immediate effect. And rather than taking away doctors from public hospitals, the plan has now been modified to rope in private doctors who will offer consultation during the clinic timings of 9AM to 1PM.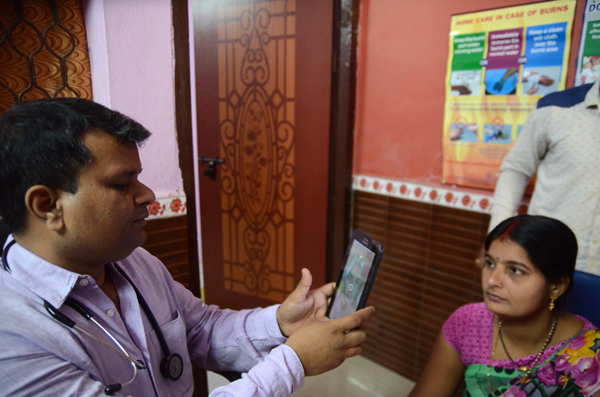 Photo: Shriya Mohan/ Catch News

So some months ago, when the AAP health ministry invited MBBS qualified doctors for a walk in interview to fill these positions Ranjan was amongst the many that got selected. Ranjan holds an post graduate in obstetrics & gynaecology and is a gynaecologist by profession. She runs a private clinic in Saidabad. Now she juggles her time between her private practice and the Mohalla clinic, where she sees around 70 patients a day. Doctors like Ranjan would normally charge anywhere between 300 to 500 rupees a patient in private OPDs, but they are now paid a standard fee of Rs 30 per patient by the Delhi government.

Also read- #EkSaalKejriwal: We have achieved some things. Many more are left

"From my medical college days I always wanted to use my skills to benefit the masses. I wanted to be able to counsel patients and not just prescribe medicines," says Ranjan, who believes that urban areas like Delhi suffer from hyper tension, diabetes and obesity all of which are related to unhealthy lifestyles. "I'd like to believe that mohalla clinics spread awareness and will prevent disease and lead to a healthy lifestyle in the long run," she smiles.
Rented homes make makeshift clinics
The ground floor of a house in West Vinod Nagar used to be a godown cum packaging centre for kurkure chips. It is now a badly designed mohalla clinic which has a dark long corridor that leads to Dr. Ranjana Saxena, a private practitioner who consults at the mohallah clinic, seeing 60 patients a day.
Outside Kondli's Dharamsila's hospital, Pratap Chowk is abuzz with activity. The ground floor of a pink walled house is a new mohalla clinic. Like in the other clinics in Vinod Nagar and Krishna Nagar, this one too is waiting for infrastructure such as testing facilities, cold storage, and medicine vending machine. Right now medicines are handed out of cardboard boxes messily on the floor. "Medical infrastructure will come in shortly. Until then blood samples are stored in our own fridge at home," says Virender Singh, the owner of the Pratap Chowk mohalla clinic, who gets a rent of 15,000 a month.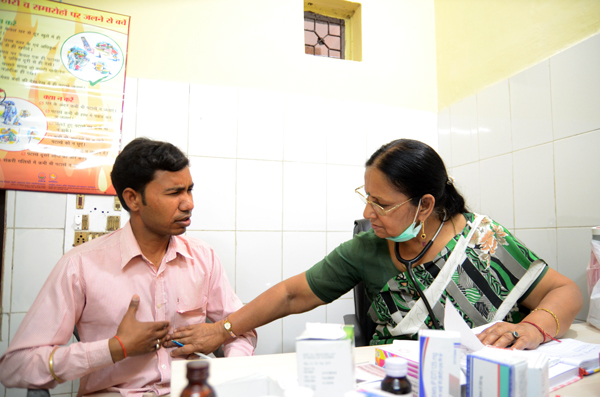 Photo: Shriya Mohan/ Catch News

A blue poster mentions a long list of tests, diagnostic services and vaccinations that the clinics will soon be equipped to offer. "Earlier I would go to a quack or a private doctor and spend upto 3000 rupees getting tests and medicines if my children fell ill. Now I just need to walk a few minutes across from where I live to avail the best facilities," says Kavita, a mother of two children who lives at Pratap Chowk.
The difference between theory and practice
At one of the Mohalla clinics at Dallupura's Pratap Chowk area in East Delhi, Dr. Dharmendra Kumar is fumbling with a new Samsung tab. In the two weeks since the clinic was inaugurated and he began his duty, he was given a Samsung tab and asked to click a photo of each of his patients and enter all his patient's information in a detailed software.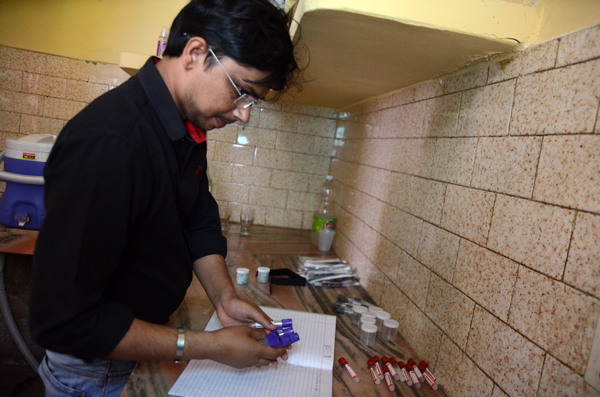 Photo: Shriya Mohan/ Catch News

"The plan is a great one. But practically, it means I have to double the time I spend consulting each patient," he says amid a crowded room full of patients waiting for hours to see him. "There should be an assistant who will do this. Why should this eat into my consultations?" he asks, visibly flustered.

Kumar works overtime each day. While the official timings are up to 1PM, he invariably stays till 3PM each day consulting the 80 odd patients each day. "We are not paid for overtime. Yet I don't have the heart to turn back someone waiting for long," he says.

Rajan seconds Kumar in wanting more staff to make the consultations more efficient. "We've asked for two helpers. But they say they'll only give us one," she says.

Read more: For the people of Delhi, #EkSaalKejriwal has been an unmitigated disaster

According to a source within the health ministry, Health Minister Satyendra Jain will soon launch 79 more Mohalla clinics in the next few weeks. Several of these will be of a third model – private clinics in the city will be converted to mohalla clinics for a few hours in the day. "But all these are temporary solutions to last until the clinics are being built. In the long run, all 1000 clinics will be AAP's own pre-fabricated structures that will be here to stay for the long haul," says an insider.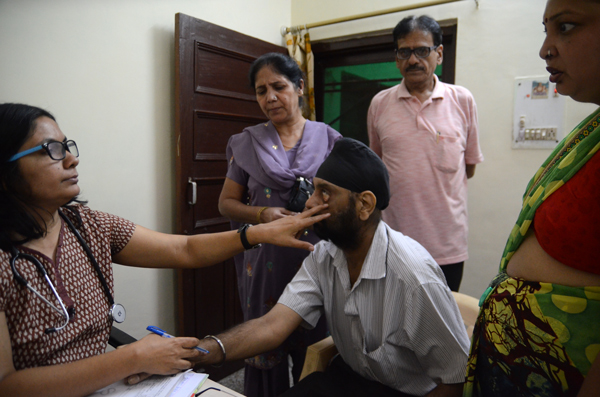 Photo: Shriya Mohan/ Catch News

While the Mohalla clinics are a great way to address public health issues, providing for efficient manpower and medical infrastructure to maintain a quality standard will be what will make AAP's plan a master stroke for Delhi's ailing masses.

Edited by Aditya Menon

More in Catch:

Assam's invisible money trail: how hawala is driving the election campaign

IIMC again: student accuses lecturer of sexual harassment

Farmers threatening to quit the business completely. Is Vidarbha the tip of the iceberg?

The Jungle Book Box-Office: Phenomenal start for Mowgli and gang in India