AAP expert rebuts Yogendra Yadav's claims on Delhi education, Yadav responds
Catch Team
| Updated on: 25 January 2017, 22:50 IST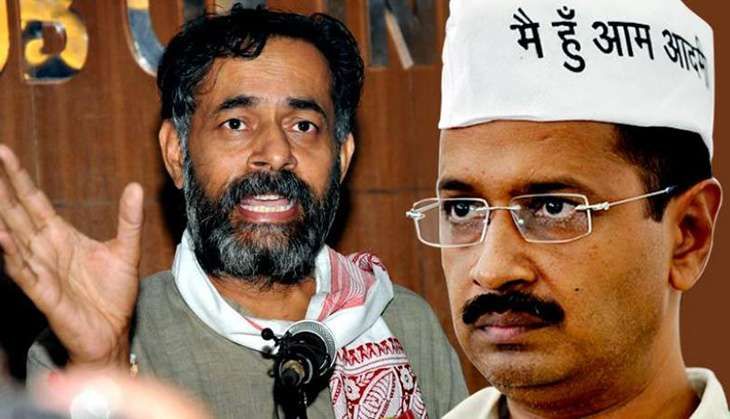 Note: This article has been updated with Yogendra Yadav's response at 10:45pm on 25 January 2017.
Three days after former Aam Aadmi Party (AAP) leader and political scientist Yogendra Yadav attacked the Arvind Kejriwal-led Delhi government for making 'false' claims about its work on education, AAP member Anurag Kundu has rebutted some of the charges in an 'open letter' addressed to Yadav.
On Saturday, Yadav had said the Delhi government had failed to deliver on the promises made in its election manifesto, backing his claims with data culled from government sources and research reports, during a press conference on behalf of his newly-formed political party Swaraj India.
The party had flagged a number of issues, including declining enrollment in Delhi government schools, construction of just four schools against the manifesto promise of 500 new ones, and more than half the seats under the Economically Weaker Section (EWS) quota remaining vacant.
Point-by-point rebuttal
Kundu, who works with the Delhi government as member of its education task force, said while Yadav had highlighted the decline by 28,000 in government school enrollment in 2015-16, he had 'ignored' the fact that the decline had actually reduced from 72,000 in the previous year.
As for the construction of new schools, Kundu refuted the data which claimed that only four new schools had been built.
"Around 46 new schools are being constructed, of which 22 or 23 should have the first batch of students in the next academic year," he wrote in the open letter, a copy of which was sent to Catch on Tuesday.
The Delhi government "is in the process of constructing more than 8,000 new classrooms, most of which are nearing completion now", said Kundu, and that if one equated "80 rooms with constructing one school", the government "will have constructed 100 schools in a few months from now".
Stating that 57% of seats under the EWS category remained vacant, Yadav had cited a report by an NGO called Indus Action.
Kundu said he himself had authored this report while working with the NGO earlier, pointing out that the figure pertained to the academic year 2015-16, "the admission for which took place in January 2015, a time period when AAP was not in power". Kejriwal took over as CM in February 2015.
Kundu said "the seats filled rate improved from a meagre 43% to 88%" in a year's time since AAP had come to power, while "the schools compliance rate improved from 39% to over 95%".
Yadav had also charged the Kejriwal government of sanctioning only three loans under the Higher Education & Skill Guarantee Scheme, guaranteeing an amount of Rs 3.15 lakh. He compared this amount to the Rs 30.04 lakh spent by the Kejriwal government on advertisements in its first year alone.
Kundu dismissed this claim as having no 'factual basis', informing that so far, 100 applicants had already been sanctioned loans up to Rs 3.55 crore.
"The three students that you mentioned received loan more than Rs 7.5 lakh, while others have received less than that," he said.
In the politely worded response, Kundu accused Yadav of engaging in a 'truth of convenience' and using incomplete information to make allegations.
Issues not addressed
However, Kundu did not address other important issues raised by Swaraj India, including the doubling of the education budget only on paper, and not a single recruitment of permanent teachers despite promising 17,000 new teachers.
Yadav had also raised the problems being faced by guest teachers in government schools, where 44% of teaching positions remain vacant or have temporary teachers. He had also referred to a video of deputy CM and education minister Manish Sisodia threatening teachers during the annual function of a school.
Asked why he did not address these issues, Kundu said he had only responded to the issues he 'understood' and had knowledge about.
But his open letter did inform of some other initiatives taken by the Delhi government, such as the 'Each Child Can Read' campaign, whereby the percentage of students in Classes VI to VIII who could read their Hindi textbook had improved from 26% in July 2016 to 55% in December 2016.
He wrote that the AAP government had also "implemented the Section 21 of the Right to Education that entails parents' participation by means of school management committees". The move had "considerably improved the students' attendance", Kundu added.
Yadav's response
A few hours after this report was published, Yadav responded to it, stating he was "surprised" because the open letter had not been mailed to him, nor was it available on the internet.
"The letter has not contradicted a single fact we used in our presentation. It is a mix of speculation, use of some inside information not in the public domain yet and simple denial," Yadav insisted.
He went on to make the following points, in response to Kundu's letter:
1. "The figure about decline in enrollment has not been disputed. Quoting a figure from previous year is hardly an explanation."
2. "The figure about only four schools in 2015-16 is from the Delhi government's latest Statistical Handbook. Where is this figure about 46 new schools from? Why has the Delhi government not shared this good news with the public?"
3. "New classrooms is indeed a good news. Let us wait for them to be completed."
4. "The figure for EWS admissions is from the latest Indus Action report available from its website. Will wait for the new report for authentic figures about the next year."
5. "As for the student loan scheme, I am not inventing the slab of Rs 7.5 lakh, up to which the Government of India scheme is to be used. The government's own document says so, in plain English. If the government document is wrong, it should say so. For the record, this is how Delhi government describes the scheme: 'Ordinarily loans upto Rs. 7.5 lakhs where conditions as prescribed under the Credit Guarantee Fund Scheme for Education Loans (CGSEL) of Govt. of India are satisfied can be granted by the Banks under the Govt. of India scheme as and when the same becomes operational
'However loans above Rs. 7.5 lakhs & upto Rs. 10 lakhs and loans in respect of Private Institutions which presently do not have NAA accreditation as required under Govt. of India scheme but have SFRC grading of A+ or A and otherwise satisfy the requirements under the scheme of Govt. of NCT of Delhi will be covered under this scheme'."