Aadhaar & privacy: petitioners argue for regulation to protect personal data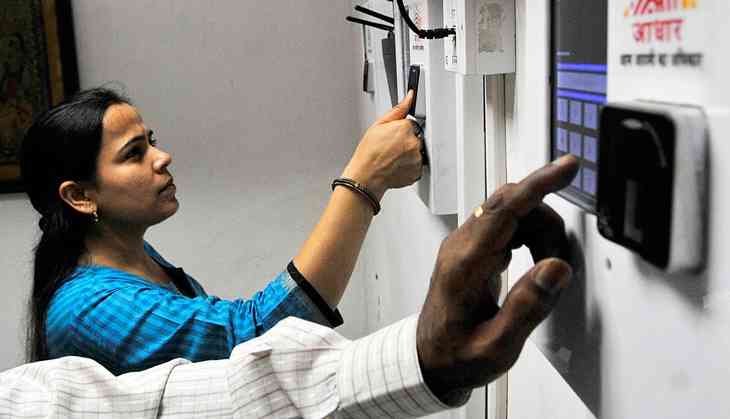 (Vipin Kumar/ Hindustan Times/Getty Images)
The Aadhaar card-privacy debate in the Supreme Court took yet another interesting turn on the second day that the nine-judge bench met as the petitioners made a persuasive case for a broad definition of the right to privacy.
The bench had yesterday observed that the right to privacy was not absolute.
One petitioner, retired judge KS Puttaswamy, spoke of how there are three types of privacy - data privacy, information privacy and decision privacy.
Puttaswamy cited a foreign article to enlist these three types of privacies to buttress his argument that even if data privacy or informational privacy is violated, the State cannot turn a blind eye and say that 'your right is violated by a private party and hence we are not concerned'.
It is the State's duty to bring in a regulatory framework to enforce these rights, he said.
It may be pertinent to recall here that recently due to a data breach, over 3 million credit/debit cards were defrauded with illegal withdrawal of monies running to millions. This has forced private individuals to fight a prolonged legal battle as consumer forums take years to settle a dispute.
Defining privacy
Decision privacy ranges from: marriage (of one's choice, including gay/lesbian), procreation of progeny, marrying in a particular manner/ritual etc.
Here, Justice Rohington Nariman repeatedly asked all petitioners to answer whether that if such privacy is upheld as a fundamental right, whether the decision in the Naz Foundation case would be rendered redundant. In that case, the Delhi High Court decriminalised homosexual/lesbian relationships and even agreed to such marriages. However, on appeal, the Supreme Court struck it down and upheld the validity of the penal provision punishing such relationships (Section 377 of the Indian Penal Code).
However, the judge agreed that marriage, the choice to have children, aomong other such decisions, falls under personal decision privacy.
One of the counsels for one of the petitioners again argued that it cannot be said that there is a right to life and liberty if there is no right to privacy.
In fact, former solicitor general Gopal Subramanium argued that the right to life and liberty encompasses the right to privacy especially as the Supreme Court has expanded the scope of Article 21 of the Indian Constitution on the subject.
So far, around 20 petitioners have finished their arguments and 25 July is the date that has been fixed for the Centre to reply.
However, there are many equally important issues apart from linking aadhaar card to various schemes and how that infringes upon privacy.
They are likely to be whether the government is indirectly amending the Constitution itself by linking all citizens to one (Aadhaar) number; whether the government has any right to keep biometric data of all the citizens and what happens in the event of a data breach, as it happened recently; whether apart from decision privacy, other privacies could be infringed upon?
For example, the Supreme Court in a decision said that even right to life becomes a suspended right during times of emergency and that every right is a regulated right. There is even "procedure established by law" to take away a life. Under this, death sentence is justified. If a right is unfettered, that may lead to anarchy.
As of now, under the law relating to Aadhaar, the Unique Identification Authority of India (UIDAI) cannot share the information or data available in their records. But when it comes to security, even a district court can order that the records be provided. If the issue related to national security, then a joint secretary level officer, after getting the nod of the central government, can authorise the access of the personal data.
But rights activists contend that for all practical purposes, this data is freely available. As things stand now, it is more than likely that a centralised and inter-linked database like Aadhaar will lead to profiling and self-censorship.
The genesis of the case that lies before the apex court began when the 2017 Finance Act was amended to mandate the linking of the Aadhaar card to PAN cards.
As the petitions began to pile up, the Centre decided to put them all together to be decided once and for all by the Supreme Court rather than having different conflict verdicts from various high courts.