A worrying trend: where India stands when it comes to ISIS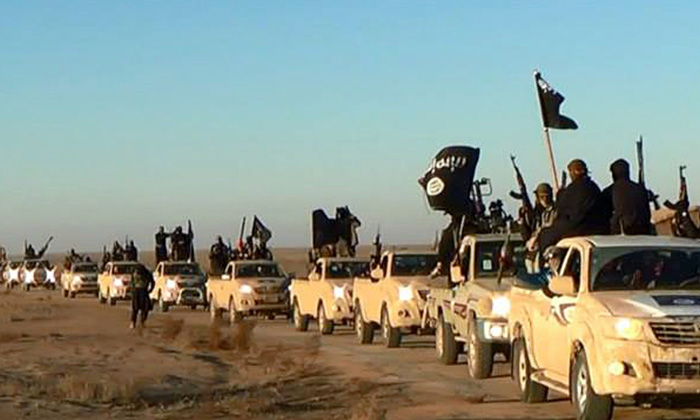 Three Indians were deported from UAE and arrested by NIA for trying to recruit and train more Indians to join ISIS on Friday. There is no clarity about how successful they were in their mission, we'll perhaps know more only when the three accused are produced in court.
Read: Terror Central? why arrest of 'ISIS India chief' puts Thane under the lens
What we do know is that this is not the first time Indians have slipped out of the country, unnoticed by our intelligence agencies, to Dubai and beyond to join and enroll more Indians for ISIS. Five Indians - four men and a woman - were deported to India from UAE similarly last year.
And this is a worrying trend.
Experts agree that the potential of ISIS to find recruits and support in India has been grossly underestimated till now.
"Our initial estimates were clearly wrong. I have always talked about the danger posed by ISIS. It has crept in our country gradually and may be taking root right now," says Vice Admiral (retd) KK Nayyar, the former Navy vice chief who now heads the Forum for Strategic and Security Studies.
According to Alok Bansal, a security expert, and director, Centre for Security & Strategy, India Foundation, "the experts were wrong all along. ISIS's potential in India has been underestimated. This group can grow at a dangerous pace in India and we've to do much more to tackle its influence."
The numbers so far
Till very recently, ISIS's influence in India seemed to be negligible. The terror group had some sympathisers, but very few of them actually tried to go join them on the battlefields.
In fact, the number of Indians believed to be fighting with the ISIS in Iran, Iraq or Syria is under two dozen, which is negligible compared to the number of fighters that have joined the group from countries such as Tunisia, Saudi Arabia, Morocco, France, Russia, Finland, Ireland, Belgium, Denmark, and Australia.
The NIA has played a big role in quelling the influence of ISIS in India
This is in some part a credit to the intelligence agencies and the NIA, which had a clear strategy and looked to be one step ahead in the propaganda war with ISIS. It kept a close watch over all propaganda the terror group pushed out and over the Indians who regularly consumed it.
NIA's approach
But the investigative agency avoided making any arrests as it could've hardened potential ISIS recruits in the process.
On the slightest hint of Indian sympathisers - which are still loosely grouped novices - of ISIS taking a step to move out and join their comrades in the battlefields, NIA immediately takes matter into its hands by notifying their parents or religious heads in order to counsel the young radicals. This strategy has had tremendous success so far.
Also read: 'We Will Hunt You Down'. #Anonymous declares 'war' on ISIS
But the trend of a growing number of Indians giving local intel agencies a slip shows a new level of sophistication among the terror group supporters. It is worrying because every Indian joining ISIS on the fields is likely to draw more Indians, and become better equipped to orchestrate a terror attack within the country.
As a senior intelligence officer says, "All that the ISIS in its various forms is looking for is one lucky break. One successful attack, even a lone-wolf hit, will be enough to galvanise their resources and attract more people to this group. That's what the agencies are trying to prevent."
Heads of police and investigative agencies from across the country have met more than twice, in last one year, for meetings presided by the Indian NSA Ajit Doval to discuss their strategy against ISIS.
'One successful attack, even a lone-wolf hit, could attract more people to join ISIS'
It's now believed that the ISIS supporters are behaving more discreetly, coalescing into tighter units, and coming dangerously close to carrying out an attack.
Terror groups in Bangladesh and some local proscribed extremist groups are also lending their resources to welcome ISIS.
The 14 sympathisers
So last week's arrest of 14 people, including its head of operations in
India, working was an exceptionally important event.
It was the single biggest operation against ISIS sympathisers in India, from whose possession this time around, instead of just literature, maps or plans, investigators have found high-grade explosives like hydrogen peroxide, ammonium nitrate and potassium chlorate.
Read more: Alleged ISIS operative threatens to kill top cop. Why is Barge targeted?
The group had a well-defined structure, with an emir (or the head of the region), his lieutenants and some foot soldiers, and a credit line.
If this seems an inconsequential number, just remember that the whole group that came into being from its parent group, Al Qaeda in Iraq (AQI), led by Abu Musab al-Zarqawi and later by Abu Omar al-Baghdadi, which eventually became known as ISIS began with similar number. But it must be noted that the circumstances were drastically different.
But how serious is ISIS about India?
One way to find out about how serious ISIS is about their plans for India is to sift through their only known mouthpiece - the magazine Dabiq, and look for mentions of India.
In their November 2015 issue 'Black Flags from the Islamic State', while talking about the enemies of Muslims around the world the manifesto reads, "India where the President (Narendra Modi) [sic] is a right wing Hindu nationalist who worships weapons and is preparing his people for a future war against Muslims.'
Another section of the magazine read: "In India, a movement of Hindus is growing who kill Muslims who eat beef (cow meat). The people who fund these organisations want to grow a huge following of Islam - haters who can turn into potential recruits for future wars in their countries."
India also finds another mention among the countries where ISIS plans to expand.
In the January issue, Dabiq carries an interview with their emir of Khorasan, which is a province in north-eastern Iran but a much bigger province in ISIS's structure, who talks about India as the land of 'cow-worshiping Hindus' and says he has specific plans for expanding ISIS's influence here, particularly in Kashmir.
Curiously, ISIS still hasn't had any presence (or at least it hasn't been detected) yet in Kashmir. From the outside, it is the one area that is the most conducive for a foreign extreme Islamist terror group to take root in. So far most of the arrests have occurred in Karnataka, Telangana, Uttar Pradesh and Maharashtra.
"There remains no room for ISIS when the Emir-e-Jihad [the separatist leader in Kashmir Syed Ali Shah Geelani] has himself proscribed ISIS in the valley. Also I don't think the existing groups in Kashmir will allow this group to take base there," says AS Dulat, former R&AW chief who has also served as the chief of IB in the valley.
'ISIS has to be fought on a social level by providing education and jobs, and not with bullets'
Dulat added that as far as the overall threat to the country from ISIS is concerned, "I think we should wait and watch for their interrogation report and the charge-sheet that the NIA files. To me it doesn't seem to be too big a problem yet."
As per sources in the intelligence network, ISIS isn't just relying on their propaganda machine alone. Groups linked to it, like Ansar-ul-Tawhid Fi Bilad Al Hind (or AuT) that operates from Af-Pak region, and Indian Mujahideen, are also lending their resources to ISIS.
But according to Leela K Ponappa, former Indian Deputy National Security Advisor, we shouldn't get too bothered by the names and etymology of the various terror groups.
"The tendency to differentiate between Taliban, IM and other groups like them, is wrong. Ultimately they all have the same agenda. You can't say that someone who is Taliban today will not be IS tomorrow. We have to acknowledge the danger it poses to us. We can sit back and say ISIS won't come to us, but today or tomorrow we will be proven wrong."
So how do we tackle this problem?
According to several defence experts the only level at which ISIS can be fought is through social awareness programs and by ensuring equal opportunities to everyone. There doesn't seem to be a military solution to this problem yet.
Read: False colours: why protestors in Kashmir are waving ISIS flags
"They're fighting it with propaganda. Trying to incite Muslim youth by telling them that Hindus are terrorising their lot and will eventually murder them all. We need to give them a message of unity. Of discussing how everyone, including Muslims working for their country especially for its defence, is working together for India. Let's be at least politically united on this," says Joginder Singh, former head of CBI, who's served as IG, CRPF, in Kashmir and Punjab during peak militancy period in 1990s.
Vice Admiral (retd) KK Nayyar agrees, "We cannot fight ISIS with bullets. It has to be fought on a social level. We have to go and make people aware of how working for the country, by getting good education and finding good jobs, is the only solution. The thought of dying for this dreaded, crazy cult shouldn't even arise in anyone's minds."
So what is ISIS's future in India?
It's hard to say at the moment. The terror group, which lays immense importance on expanding to India, has been suffering a lot of economic and territorial losses off late.
Simultaneously, radicals are looking to consolidate their base in South Asia, especially in the Indian subcontinent.
In Afghanistan several groups have already replaced their banners with the black flags of ISIS, and in Bangladesh, the murders of various bloggers is already being claimed by ISIS-affiliated groups.
It looks like our best chance lies with NIA pushing ahead with their 'wait, watch and counsel' strategy. As to how successful we will be eventually - well, it's too early in the game to tell.
Edited by Aleesha Matharu
More in Catch:
Busted by the FB-I: why is Facebook playing moral police?