A victory for Muslim women: SC strikes down triple talaq by 3:2 majority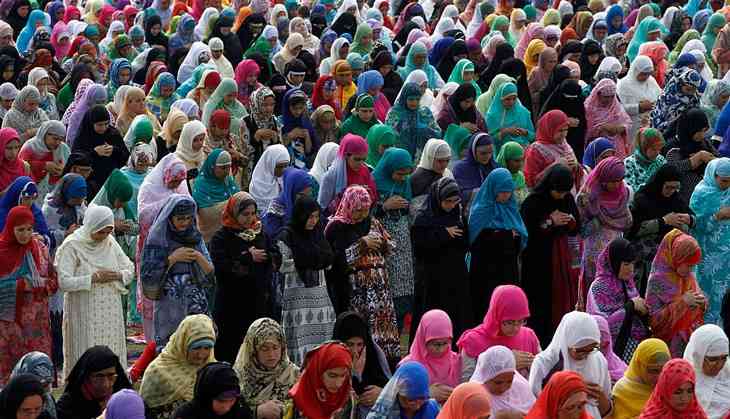 (Waseem Andrabi/Hindustan Times/Getty Images)
In a judgment tha will have far-reaching consequences on Indian society and politics, the Indian Supreme Court on 22 August struck down the practice of triple talaq to divorce a wife in a particular community as "unconstitutional".
In a majority 3:2 judgment, the five-judge bench categorically held that the instant irrevocable triple talaq (talaq-e-bidat) is a "manifestly arbitrary" practice not protected by Article 25 of the Indian Constitution guaranteeing freedom of religion.
The verdict by the bench comprising Chief Justice of India J S Khehar and Justices Kurian Joseph, Rohinton F Nariman, Uday Umesh Lalit and Abdul Nazeer is a momentous moment for Muslim women, who have long fought the arbitrary nature of the divorce practice, which they argued violates their right to equality.
A historical milestone
The verdict truly is a historical milestone in the Muslim women's rights movement in India.
The case had reached the highest court after several women, including Ishrat Jahan, Shayara Bano, Atiya Sabri and Aafreen Rehman, who lead the fight against the demeaning practice, had filed petitions challenging the practice of 'triple talaq' in which sometimes the husband pronounces 'talaq' even by phone or a text message, to get a divorce.
Their petitions contended that the practice was illegal, unconstitutional and gender insensitive. A score of other petitioners, including the All India Muslim Personal Law Board (AIMPLB) and the All India Muslim Women Personal Law (AIMWPLB) had also intervened in the matter. Both boards are not statutory bodies.
The Muslim Women's Quest For Equality also arrayed the Jamiat Ulma-I-Hind as the respondent and others arrayed the Union of India, thus warranting the central government to respond to the petitions and have the issue addressed in the Supreme Court.
The 3:2 breakdown
Of the five judges, Justices Joseph and Nariman gave separate but concurring judgment holding 'talaq-e-bidat' (instant and irrevocable divorce) as "manifestly arbitrary" and not protected by Article 25 (freedom of religion) of the Constitution. Justice Lalit supported this view taken, thus making it a majority judgment.
CJI JS Khehar and Justice Nazeer held triple talaq to be part of fundamental right to religion of Muslims and said it was not unconstitutional. "Talaq-e-bidat is an integral part of Article 25 (freedom of religion) and that it has been practiced for over 1,400 years by the Hanafis and has become a part of religious practice".
This view also held that the practice is not violative of Articles 14 (equality before law), 19 (right to profession or occupation) and Article 21 (right to life).
CJI Khehar pronounced his judgment first and then announced concludingly from the 395-page judgment, in the jam packed court room with lawyers and litigants, that "by majority of 3:2 talaq-e-biddat is set aside".
In the majority judgment read out by Justice Nariman, he said that "It is not possible for the Court to fold its hands when petitioners (Muslim Women) come to Court for Justice". He pointed out that triple talaq "in all its three forms, talaq-e-biddat, talaq ahsan and talaq hasan, has been recognised and enforced under section 2 of the Shariat Act of 1937".
The Justice observed that the practice allows a Muslim man to "whimsically and capriciously" divorce his wife. This practice, the justice said is "manifestly arbitrary" and does not enjoy the protection of Article 25. (Protecting any citizen to practice, profess and preach a religion of choice).
Justice Kurien Joseph went a step ahead to pronounce that triple talaq practice was "against the tenets of Quran".
"What is banned in Quran cannot be good in Shariat. What is banned in theology cannot be good in law," he said. He observed that "just because a practice has been there for about 1,400 years does not make it eligible for protection under Article 25".
He differed with the CJI that triple talaq is integral to a religious belief. In law what matters is it should be violate public health, morality and order.
Living with dignity
Interestingly, Article 21 has been so expanded by several judgments of the apex court to include right to life with dignity. Where as the argument of those 9 Muslim women is that the practice infringes upon the dignity of women.
The minority judges in the judgment wanted the legislature to pass a law in the subject within six months. Normally, a legislation takes many years and some times two to three successive governments come and go for a law to be passed.
However, with the majority judgment, the new law prevails: instant triple talaq is illegal and unconstitutional.