A PDP meeting in Srinagar signals that Kashmir maybe on its way to normalcy
Catch Team
| Updated on: 10 February 2017, 1:38 IST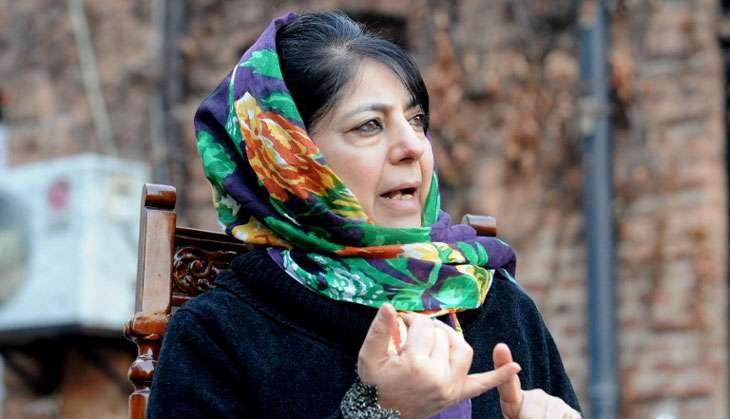 A well-attended public meeting in Srinagar organised by the ruling party would have passed unnoticed in normal times. But not now when ministers and the legislators have found it impossible to visit their constituencies.
In these times, whenever they have ventured to do so, their motorcades have been stoned, and in one case, cornered by a mob and the minister was saved by his security guards.
This is why the PDP meeting adjacent to Sher-i-Kashmir Park was not just a routine political event but a bellwether of a remarkable improvement of the situation in Kashmir.
It far transcended its size and location to speak for the entire of Kashmir, even without the Chief Minister Mehbooba Mufti deciding not to attend it. It was left to the party's second most important leader Muzaffar Hussain Beigh to hold the stage.
And he didn't disappoint.
Building bridges
Beigh delivered a long speech which attempted to spin the prevailing local narrative about the ongoing strife to rebuild the bridge between PDP and the local sentiment. And here's what he had to say -
'So, Burhan was not a terrorist. He was a person, a martyr and he deserves peace in hereafter.'
'Burhan was not killed by the government but his elimination was the outcome of a "mischief and conspiracy" by policemen loyal to Mehbooba Mufti's adversaries. Her opponents were scared of her popularity and the credibility she had gained by her work as an Opposition leader and so looked for an opportunity to damage her reputation.'
'All the 80-plus killed in the ongoing unrest are martyrs and PDP will not let their sacrifice go waste and will fight to resolve "the disputed Kashmir" for which they laid down their lives.'
'PDP will work for the resolution of Kashmir and that was why the party forged an alliance with the BJP. Prime Minister Narendra Modi is the only leader in India who can resolve Kashmir as he had the "complete support of Hindus".'
More promises
Beigh added that in the remaining four years in power, PDP will bring development and employ thousands of the educated, unemployed youth. One leader added that the effort will be made that the employment is permanent, and not contractual or adhoc, an assurance that drew applause from the audience.
Beigh also pressed home the fact to PDP's workers that their party was in power and so they should feel empowered in their respective areas.
"Before leaving for Jammu, Mehboobaji in a meeting with the senior government officers told them that she would be happy with them only if they respected her workers and addressed their grievances on priority," Beigh said.
This was enough to buoy up the large gathering which anyway didn't lack in enthusiasm. The audience giddily looked up to the leaders and clapped as they talked about the future measures for their benefit.
The gathering spread over the stretch of a broad road outside the PDP headquarters. People, seemingly detached from the prevailing turmoil, sat in rows of the hundreds of chairs.
Rather safe than sorry
However, PDP had avoided going public with the meeting until it happened. The workers were told secretly two days ago and they turned up at the appointed time, driving to the venue in their private vehicles.
Ghulam Ahmad Guru had travelled to Srinagar from Narain Bagh in Ganderbal. "Around 60 workers from my area left home early in the morning to be here," Guru said and so did Rafiq Ahmad who came from Chadoora in Budgam. And Usmaan Bhat had come from faraway Yusmarg.
But more significant was arrival at the meeting of the party's worker from Eidgah in downtown Srinagar.
"Ours is a big area. I brought around 400 people with me,"said a worker not wishing to be identified.
Bhagwat's speech adding to trouble
As if to balance PDP's pro-Kashmir resolution talk in Srinagar, Rashtriya Swayamsevak Sangh chief Mohan Bhagwat coincidentally delivered a speech in Jammu to call for a stern action against those advocating separatism in Kashmir.
He said the people of the country will not tolerate any compromise with the "sovereignty, unity and integrity of the country".
Bhagwat said all the people living in India were Hindus no matter which God they worshipped as their ancestors were same, "a fact that scientists had also proved".
"Being Hindu does not mean which God you worship or which you don't," he said in an attempt to get his message across to other religious groups. "It is the identity, our culture and our heritage that we have carried along for centuries."
RSS chief made some right noises in calling for strengthening "the emotional unity of the country and not divide it".
"We are talking about the people of this country, irrespective of what religion they follow and what God they worship and what God they don't;" he said, adding, "They are all the people of this country. The laws need to be followed to strengthen the country so separatism cannot rear its head."
Edited by Jhinuk Sen