A good story leaves a permanent impact on readers: President Mukherjee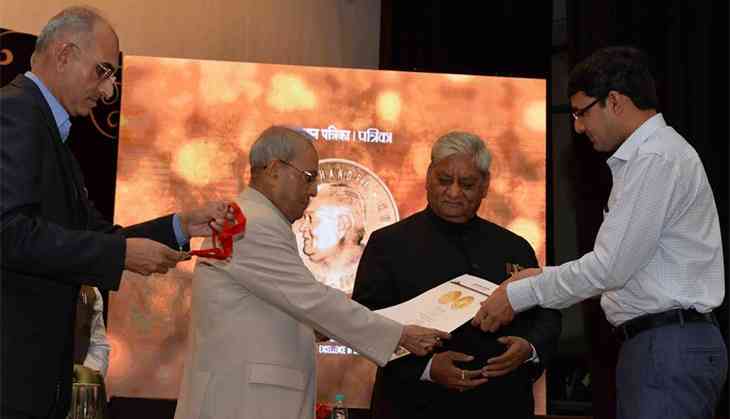 President Pranab Mukherjee gave out the KC Kulish International Award for Excellence in Journalism at the Constitution Club of India's Mavlankar Hall on 20 March 2017.
The award is presented in memory of the founder of Rajasthan Patrika Karpoor Chandra Kulish.
During his address after the award ceremony, President Mukherjee stressed on the importance of journalism in India's social and political fabric."Journalism has a long history in our country and it has been closely associated with our independence movement and with our social reforms," he said.
"You will be surprised to know that many social reformers also chose to convey their message to the common people through newspapers," he pointed out.
"A good editorial, a good investigative story, a comment on social issues have permanent impact on the minds of the readers," he said.
Addressing the gathering, Editor-in-Chief of Rajasthan Patrika Gulab Kothari stressed on the organisation's core values.
"Journalism today is kneeling before the political and money power. We at Patrika will not promise you the moon but we promise that we will work with our readers to strengthen the roots of democracy.
Speaking about the state of journalism in the present day, Kothari said, "Today, at a time when opposition is increasingly becoming mute in the face of political power, the media too seems to be sacrificing its independence. In such times, it is of paramount importance that we put our journalistic duties ahead of financial considerations always".
The award ceremony was preceded by a keynote discussion on 'Independent Institutions' and the panelists were former Chief Election Commissioner Dr SY Quraishi and Director of the Tata Institute of Social Sciences Prof. S Parasuraman.
Dr Quraishi stressed that the independence of institutions such as the Election Commission (EC) and the Central Bureau of Investigation (CBI) is of paramount importance in a democracy. Focusing on the EC in particular, Dr Quraishi said, "EC's independence lies at the core of its credibility as an institution...We have zero tolerance for nonsense".
The former CEC also took the opportunity to dismiss allegations that the Electronic Voting Machines could be tampered with. "EVM is the wonder machine of democracy. Just because some countries in Europe decided to do away with them doesn't mean we should do the same. We are a far superior democracy to them," he said.
Prof Parasuraman focused on independence of educational institutions and said that the government must appoint "strong" vice-chancellors. "I walk with my resignation letter in my hand," Prof Parasuraman said.
The KC Kulish International Award for Excellence of $11,000 was given to Wanjohi Kabukuru's team for the story 'How East Africa lost its innocence' in New African magazine, for the year 2014.
The award for the year 2015 was given to Rakesh Sharma and his team for an investigative news series 'Sexual Harassment in Nari Niketan', published in Amar Ujala.
A total of nine stories were shortlisted for the year 2014 and 2015 from the entries received from across the country and around the world. Among them, The Week's 'The cut and the heart' by Mini P Thomas, Kolkata's Bartaman newspaper's 'Talibani rules imposed by Islamic fundamentalist in Murshidabad-West Bengal' by Rantideva Sengupta, R Samban's 'Waiting for Mercy', Dainik Jagran's Ganga Jagran by Harikishan Sharma, were selected for 2014.
For the year 2015, five stories have been shortlisted, which include 'Scam worth crores in Government paddy procurement by Kunal Verma', 'Sitting over a gold mine with a BPL card' and 'Rumours on social media incite communal tensions' by Dinesh Kumar of Central Chronicle, Chhattisgarh, 'Let these flowers bloom' by Santosh John Thuval of Malayala Manorama, Kerala, 'CJ upset, Right to Governor: CM meets him to clarify government's stand' by Umesh Raghuvanshi of Hindustan Times Lucknow.