A day after Mandsaur killings, farmer protests intensify across western MP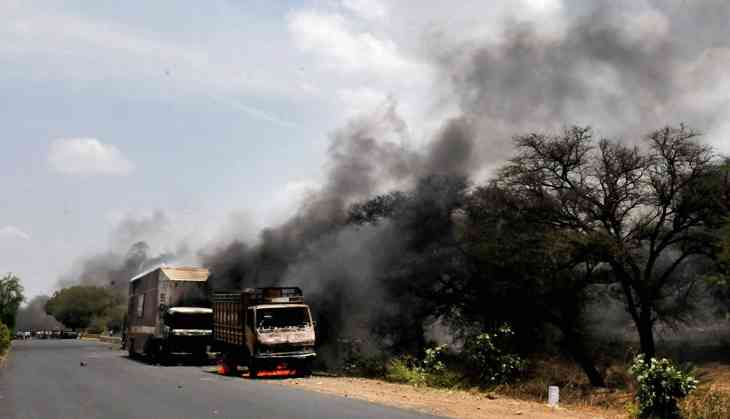 A day after five persons were killed and six injured allegedly in police firing in Mandsaur district, the ongoing farmers' agitation has spread to several other districts in western Madhya Pradesh.
In Sehore district, protesters blocked the Indore-Bhopal highway at Ashta and pelted stones at the vehicle of the additional collector of Barwani district Jayendra Kumar. Sehore is a neighbouring district of the state capital Bhopal.
Violent incidents were reported from Dewas district, where protesting farmers are said to have torched at least three passenger buses running between Indore and Bhopal at the Newari area.
Protestors also torched 12 vehicles in other parts of Dewas district but ASP Anil Patidar said that situation in his district is under control.
In Ujjain district, 8 to 10 policemen including Mahal Kal police station Inspector Ajeet Tiwari were injured in stone pelting by protesters. In Neemuch district, a police outpost was torched at Harkiya Khal Phanta area.
Throughout the day, farmers blocked National Highway 79 Ratlam–Jaora–Mandsaur–Nayagaon Road.
Earlier in the day, family members of farmers who were killed in police firing on Tuesday in Mandsaur district heckled Collector SK Singh and the Superintendent of Police.
Meanwhile, Shiv Kumar Sharma , national president of Rashtriya Kisan Mazdoor Sangh spearheading the agitation announced at a press conference in Indore, that the agitation will continue till June 10. On June 1, three Kisan Union's launched a 10-day long protest to press the state government for better prices for their farm produce.
They demanded relief from the government given the crash in prices of milk and other farm products.
The agitation that began with protestors blocking roads and spilling milk and other farm products on the roads, intensified after RSS affiliated outfits called off their agitation following talks with MP Chief Minister Shivraj Singh Chouhan. Accusing the RSS backed outfits of betraying farmers, protestors led by the Bhartiya Kisan Union, Rashtriya Kisan Mazdoor Sangh and Aam Kisan Union continued their agitation. The protests have become a huge cause of concern for the state government.