7 matches, 37 runs, 1 wicket: the short story of Tejaswi Yadav's cricket career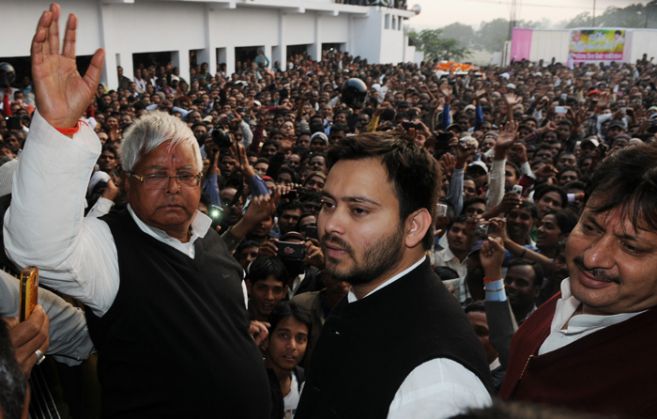 In 2012, the IPL scandal, particularly Shashi Tharoor's stake in the Pune Warriors team, caused an uproar in the parliament.
Speaking on the issue in the House, Lalu Prasad quipped, "My son Tejaswi is part of the Delhi team. But all he has done is to carry water to the field. They don't give him a chance to play."
Also read - #NitishSwearingIn: family affair for Lalu, show of strength for anti-BJP front
It was a father venting anguish over the faltering career of his son. Tejaswi barely progressed beyond carrying water, eternally a backbencher, if you may, on the cricketing field.
Tejaswi, 26, had started playing at the national level at the age of 19, but with little distinction.
So, many eyebrows were raised when he was contracted to play for Delhi Daredevils in the IPL in 2009. That Lalu was the railway minister at the time was missed by none.
The franchise reportedly paid him a hefty sum of Rs 30-40 lakh between 2009 and 2012, though never made it to the playing XI.
In 2010, while still contracted as an IPL player, Tejaswi started campaigning for his father in the Bihar assembly election. It was clear Lalu was seeking a political career for his son.
Five years on, and three years after he ended his IPL career that wasn't, he is at the centrestage of Bihar's politics as the deputy chief minister. Will he be a more successful politician than he was a cricketer?
That shouldn't be hard considering how low he set the bar as a sportsperson. Consider these stats:
Number of first class matches played by Tejaswi.
The match was held at Dhanbad in 2009.
Playing for Jharkhand against Vidarbha, he batted at No. 7.
He managed one run in the first innings and 19 in the second, leaving with a first class average of 10.
He also bowled five overs in the match, but went wicketless.
Number of List A one-day matches played by Tejaswi.
He played for Jharkhand as an all-rounder for the Vijay Harare trophy.
The first match was against Odisha on 14 February 2010. He score 9 runs. His team lost.
Two days later, he played in the win against Tripura. He scored 5 runs and took a wicket as well.
Also read -
Lalu Ke Bacche: why the swearing in is a slap on Bihar's trust vote
Number of first class T-20 matches Tejaswi played, all for Jharkhand in the Syed Mushtaq Ali Trophy competition.
He batted just once, against Odisha, scoring three runs. He, however, bowled in all matches but failed to get a wicket.
Tejaswi was part of the Delhi Daredevils IPL team from 2009 to 2012. But he never got a chance to take the field.
With this record, Tejaswi stood no chance at a career in cricket, not by a long shot. Wise of him, then, to leave for another, possibly more rewarding, career.