50 days of note ban: Handloom city Pilkhuwa lies deserted, traders angry
Sadiq Naqvi
| First published: 28 December 2016, 22:19 IST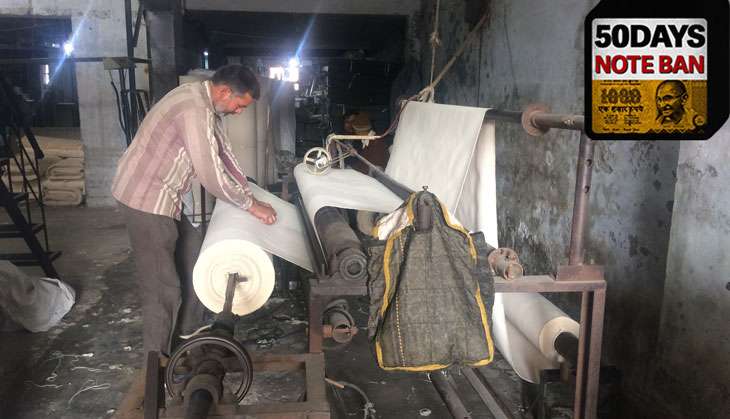 Photo: Sadiq Naqvi/Catch News
In the main bazaar of Pilkhuwa, the textile town in Hapur, Uttar Pradesh, Haji Ubedullah sits idle, soaking in the winter sun.
"Wednesdays are otherwise busy days, since they are the designated day for the weekly market. This road is full of traders who come from other places. There are very few now, as you can see," he remarks.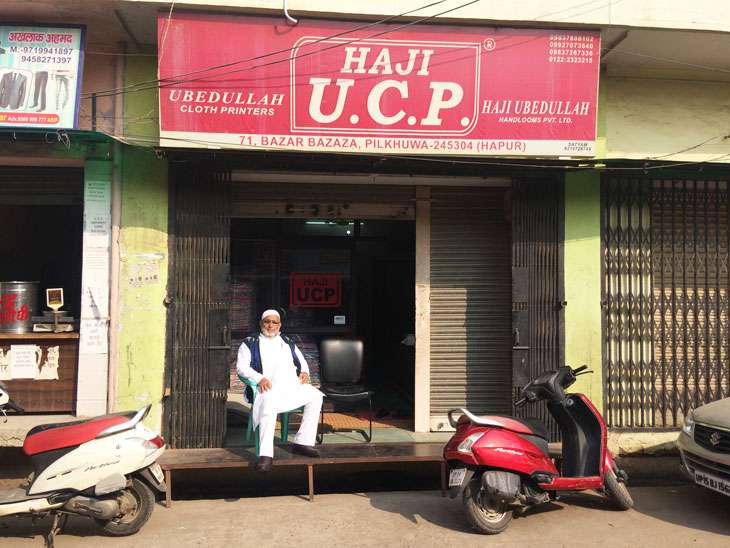 Photo: Sadiq Naqvi/Catch News
Ubedullah is one of the many traders who are in the wholesale business of bedsheets, pillowcovers and linen for quilts and towels, something this little textile town has been famous for.
"There is no business, no customers," Ubedullah says, pointing to his shop. "There is no business since 8 November, when PM Modi demonetised Rs 500 and Rs 1000 notes," he tells this reporter. "There has been little change in our plight in the last 50 days."
Ubedullah is among the wealthy ones, who are still able to run their business. Several others, small powerloom owners among them, have been forced to shut shop and move to other menial jobs. Some even pull rickshaws. Already facing the wrath of the electricity department, demonetisation has compounded these loomer owners' misery.
"Six of the eight workers in my shop have already left for their villages in eastern UP and Bihar. Another six of the 10 who would do the printing of the bedsheets and pillow covers have left too," Ubedullah says, explainingg how those in involved in ancilliary jobs like stitching of the bedsheets, pillow covers et al, those who transport stuff from the units to the shops, also have little work.
Winter usually brings with it the season of weddings, which translates into people buying more of these items. As such, November is generally the best time for business for these traders.
"But the entire marriage season has gone waste. There have been no sales," Ubedullah rues.
A few yards away, Navneet Goyal, another wholeseller who deals in only bedsheets, is livid.
"All of November and December seems to have gone to the dogs," he says. "When people do not have money to buy essential food items, why would they buy bedsheets?" Goyal says, detailing how a few thousand people who set out from these towns to get orders from other states have stopped travelling. According to locals, there are around 15,000 people who travel to other states from Pilkhuwa to procure orders.
"There is no cash in the market. Why would the retailers place any orders?" Goyal asks. "We come in the morning, while away time at the shop, and go back empty handed. Modiji has only troubled businessmen. I don't see any politician facing any problems because of this notebandi."
Rakesh Mittal, another trader in the Pilkhuwa bazaar, who also deals in bedsheets, pillowcovers, and linen for quilts, explains how all of the stock is lying in the godowns.
"Had this decision been taken in December, we would not have been affected, since the sale of linen for quilts only peaks in November. That is the most important month for us in terms of business. But this year, no stock has been sold. We will now have to wait for the next year to clear this stock," he says.
Mittal, however, thinks that the misery would end soon, and business would be better in January. "Demonetisation may work wonders for domestic traders like me. But Chinese imports would come down, since there will be no way to under-invoice the imports," he believes.
Powerlooms facing shutdown