50 days & counting: Demonetisation has throttled India's biggest man-made fabric hub in Surat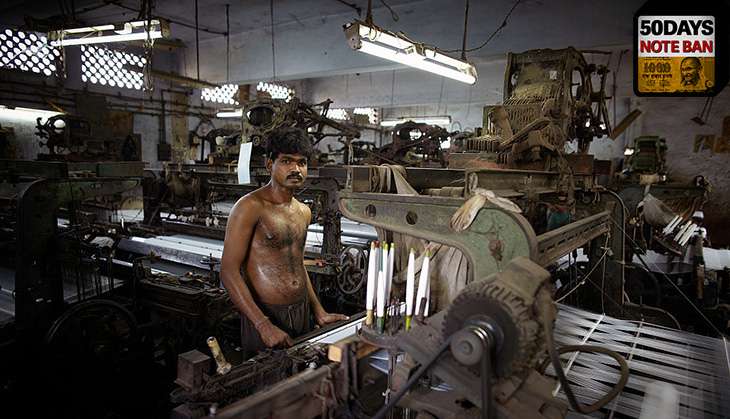 The demonetisation brought in by Prime Minister Narendra Modi has had a devastating impact on India's largest man-made fabric hub at Surat, in his home state Gujarat. The city is known for its diamond polishing and textile units across India.
Before demonetisation, one could not escape the continuous chatter from the weaving units spread across the city along with the hectic business activity that was visible in all the textile markets. All that has fallen silent, and nobody knows when things will return to normalcy.
According to sources Surat is home to around seven lakh power looms and 35,000 weaving units apart from 350 textile processing units. There are some 65,000 traders who work from 140 textile markets spread across the city.
Till demonetisation was announced, around a 10 lakh-strong workforce was employed in this sector with almost 75% of them working on the power looms. This is apart from lakhs of those who were indirectly dependent on the industry for their livelihood.
Sources told Catch News that the workforce in the sector primarily comprises of labourers coming from Bihar, Uttar Pradesh and Odisha with the locals being engaged only for supervisory and managerial tasks.
Things have now come to a pass that more than 50% of these people have migrated back to their homes. A large number of them had gone for Diwali and Chhath celebrations and have not returned.
No money, no workers
The impact that demonetisation has had on the industry can be gauged from the fact that the Surat railway station generated revenue to the tune of Rs 18.36 crore in scrapped currency notes by selling tickets to passengers between 8 November and 30 November.
This was an unprecedented figure. And it was generated as workers were fleeing the city to return to villages. Many were perplexed over how to get the money that they had saved over months in old notes exchanged in the face of not having a bank account.
The Rs 40,000 crore man-made fibre sector in the city is now passing through its worst phase.
"With 50% of the workforce gone, we are operating at 35% of our capacity. The production being done is just to stock the fabric as the sales have come to a complete halt and there are no orders coming," says Ashish Gujarati who is the president of Pandesara Weavers' Association.
He disclosed that the biggest blow came in the form of there being no sales in the marriage season.
"Our estimates were that there were 50 lakh marriages across India during these days. With no cash in hand, who would order sarees or other fabrics? It must be kept in mind that the prime consumers of these products are in the villages where the impact of demonetisation is the worst."
Gujarati further said, "Although the unit owners have started taking steps to open bank accounts for their employees, the problem is that the banks are reluctant to open these accounts. They believe that such accounts are mere liabilities for them and are therefore going very slow on them. The problem remains that the labourers are not digitally equipped. Even if they are, the situation will not improve till there is a proper e-payment infrastructure in place. There is also a huge shortage of swipe machines."
Cash-less
It is a known fact that the migrant labour from outside Surat prefers to be paid in hard cash. With no bank accounts, they save the cash and carry it home when they go there. Sources said the remittances from Surat to the villages of other states are no less than Rs 700 crores.
Dinesh Zaveri, who owns a textile unit and manufactures curtains and tapestry pointed out, "The working of power looms has come down by 80%. They are operating for just two days in a week at present. Ours is an industry that thrives on new designs and colour combinations introduced on a daily basis. This too will add to the problems when sales pick up in the future as the designs will get old. At present, the business is 70 % down across Surat in the textile sector."
Sources point out that the parallel economy in the sector running on cash has been hit and the cost of shifting to everything in cheques and e-payments would be somewhere around 33%. With the retailers not asking the whole sellers for more stock, everything is at a standstill for now.
Strapped and throttled
On Monday, delegates of the Synthetic and Rayon Textiles and Export Promotion Council at New Delhi, along with 17 other export promotion councils across the country, reportedly told the central government officials seeking feedback on the impact of demonetisation on trade and commerce that the industry stands on a verge of collapse.
They pointed out that barring spinning units, yarn, texturising, sizing, twisting, warping, weaving, processing and embroidery units have been paying wages in cash to the workers. They maintain accounts for the same and it reflects in their balance sheets. Demonetisation has stalled payment to workers who are now being encouraged to open bank accounts.
With no cash liquidity, while weavers are operating at one-third of their capacity, almost 90% of embroidery and knitting units stand closed.
Meanwhile, reports suggest that the prime minister's office is keeping a watch on the situation and the textile commissioner's office has been seeking details on a daily basis from the weaver organisations on the ground.
The prime minister's office has been apprised of the emigration of workers in large numbers. The Employees Provident Fund Organisation has also been pressurising the unit owners to create bank accounts for their workers.
But the semi-literate and often illiterate workers have a lot of problems operating their accounts. "Many times their signatures do not match. They have a major problem filling forms as they know only their native language. This leaves us helpless and they return frustrated," said a bank manager.
The functionaries in the textile sector do not see things picking up at least before March. Till then the workers will have to bear the brunt of the Centre's decision.
Edited by Jhinuk Sen