46-kilo heavyweight: why Irom Sharmila's struggle still packs a punch
Irom Sharmila, Manipur's iron lady, was to break her 16-year-long fast on Tuesday, 9 August.
Sharmila - a civil and political rights activist and poet - has been protesting against the draconian Armed Forces Special Powers Act (AFSPA), which has been in effect in her home state since 1958.
AFSPA lends security forces the power to shoot at sight, arrest people without a warrant and search without restraint. Most important, it protects security forces against legal action.
Sharmila had vowed to not eat, drink, comb her hair or even look into a mirror unless AFSPA was repealed.
Her poem adequately sums up her pain:
"Free my feet from the shackles
Like bangles made of thorn
Confined inside a narrow room
My fault lies in
Being incarnated as a bird."
Here's looking at her life, times and protest through some numbers:
Sharmila's age when she started her hunger strike.
She has spent more than half the above number of years protesting against the AFSPA. Till now, she has spent more than 700 weeks refusing food and water.
"I want to eat. Help me. Join my struggle. Let us bring a solution to the problem of AFSPA so that we can live together, eat, sleep and drink together," she had once told reporters after a temporary release.
Sharmila's weight, as reported in the media in November 2014.
Significantly, the average weight of Indian women has gone up by five kilograms in the last two decades, according to a study by National Institute of Nutrition. Moreover, Indian women above five feet generally weigh 51-54kg.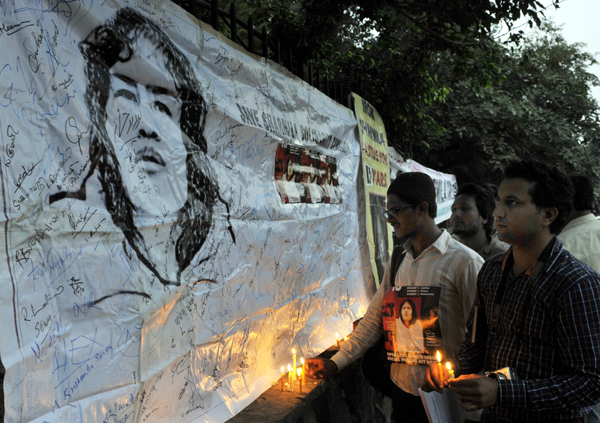 The number of calories Sharmila is force-fed a day in the form of Cerelac, Appy juice, Horlicks and protein shakes.
Three times a day, for the last fifteen years, she has been force-fed through her nose.
According to some media reports, Sharmila has stopped menstruating and some of her internal organs are already damaged.
The number of recognitions and awards Sharmila has received since her incarceration.
These are: 'Prisoner of Conscience' by Amnesty International, 'Top Woman Icon of India' in 2014 via an MSN poll, Gwangju Prize for Human Rights in 2007, Lifetime Achievement Award in 2010 from the Asian Human Rights Commission and Rabindranath Tagore Peace Prize by the Indian Institute of Planning and Management.
She was also offered election tickets by the Congress and the Aam Aadmi Party. She rejected them, saying she is a 'protestor, not a politician'.
The longest duration for which Sharmila has experienced freedom in the last 15 years. This was when she was released in August 2014.
Eventually, she was re-arrested the next day, adding to the countless number of times she has been released and re-arrested.
The number of AFSPA-related complaints that the Human Rights Cell of the Army received between 2010 and March 2013, roughly three complaints per month.
Surprisingly, only seven out of 131 complaints were adjudged genuine and only nine personnel were punished.
Clearly, human rights violations by the army are still a reality.
As India approaches its 70th Independence Day, Special Ward room No. 1 at Jawaharlal Nehru Institute of Medical Sciences, Imphal, remained her home all along.
Her fight continues. And what one must remember is what she said when she was released last year: "I am not a martyr. I am a common person. I also want to eat."