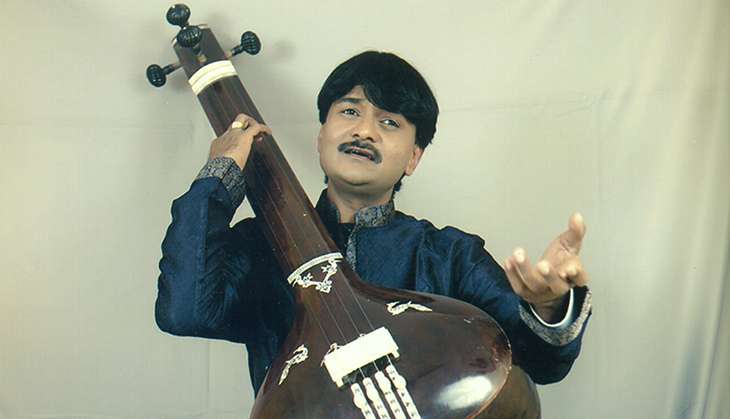 Jayateerth Mevundi is the latest star to perch on Dharwad's milkyway of Hindustani classical music. The small district of Karnataka, known for birthing maestros like Kumar Gandharva, Bhimsen Joshi, Gangubai Hangal, Abdul Wahid Khan, Sawai Gandharva, Firoze Dastur, Prabha Atre and several others has just offered us 44-year-old Mevundi from its Kirana Gharana.
On 25 October, amid the thousands of terracotta sheltered diyas flickering in New Delhi's windy October weather, Mevundi along with accompanists Pandurang Pawar on the tabla and Aditi Garade on the harmonium, performed at India International Centre's lawns at the Centre's annual Festival of the Arts. The trio treated Delhiites to a range of performances from Hindustani classical with flourishes of Dhrupad to a Kannada bhajan steeped in Carnatic notes.
Mevundi is a disciple of late Pt. Arjunsa Nakod and late Pt. Shripati Padegar whose guru, in fact, was Bhimsen Joshi. Belonging to the Kirana Gharana, Mevundi's learnings draw heavily from Carnatic music. The legendary Abdul Karim Khan of the nineteenth century is said to be the founder of the Kirana Gharana. So deeply did he fall in love with Carnatic music that he is said to have imbibed the style of solfege to create a beautiful tapestry of unique taans that is unique now to Mevundi's own style.
"Carnatic music is divine. It was Adul Karim Khan saab who brought the essence and beauty of Carnatic music into the Kirana Gharana. The gharana is unique in that it draws so much from Carnatic while being Hindustani. I have closely studied the bhakti aspect in the renditions of Abdul Karim Khan saab and Pandit Bhimsen Joshi and have tried to imbibe it into my own music," he tells me, a few hours before his performance, when I ask him what makes his musical style distinct.
Tackling today's attention deficit
But there is something else that makes Mevundi a singer you will pay attention to. Brevity. A usual classical raag is typically explored by the musician in 30 to 45 minutes. Mevundi wraps up in about half that time.
He moves from alap, jhor to jhala, the three components of a classical performance, keeping it a seamlessly smooth and swift rendition. In a short span he presents the choicest taans up his sleeve. And there is no repetition of any kind. For a modern listener it amounts to an entirely refreshing and engaging experience.
Ask him if this is a conscious style and Mevundi responds in the affirmative. "Today everybody is in a great rush. Gone are the days when one is singing only to a select coterie of classical listeners. We are now singing to a mixed audience. Some are in it to be moved by a devotional bhajan and some for a classical experience," he explains.
Mevundi caters to both by choosing his compositions according to the audience he will sing for and often times, by keeping his music tightly woven together.
He typically begins each performance by first singing classical compositions then moving onto lighter bhajans in hindi, marathi and kannada. "The audience today isn't too aware of the beauty of classical music. But through bhajans, I rope them into classical music. Within my bhajans I find room to explore alap and taans and treat them to a classical experience. It is often easier to understand that way," he says.
The secret of Riyaaz
Mevundi is up at 5AM in the mornings and his Riyaaz begins with long omkars and holding deep notes typical to the Kirana Gharana. His Riyaaz is almost continuous as his day pans out. In a span of six to eight hours across the course of the day he sings until he has perfected everything he knows.
"Everybody is in such a great rush to arrive. My guru would tell me that one needed to put in 15 years of Riyaaz before giving a public performance. Today people want to be on a reality show as soon as they've learnt to sing. This is why depth and perfection is missing. This is modernity! what can we do?" he muses.
Mevundi sang into the windy night, moving from raag Kedar, Jog and Bhairavi. He also sang his famous improvised upbeat version of Kannada song "Bhagyada Lakshmi Baramma". The song is a familiar household song sung in all of Karnataka to worship goddess Lakshmi on a Friday. With the upbeat rhythms of the tabla, rapid taans and some dramatic pauses, Mevundi breathed new life into an ancient household song. As long as there is a Mevundi, classical music is here to stay.