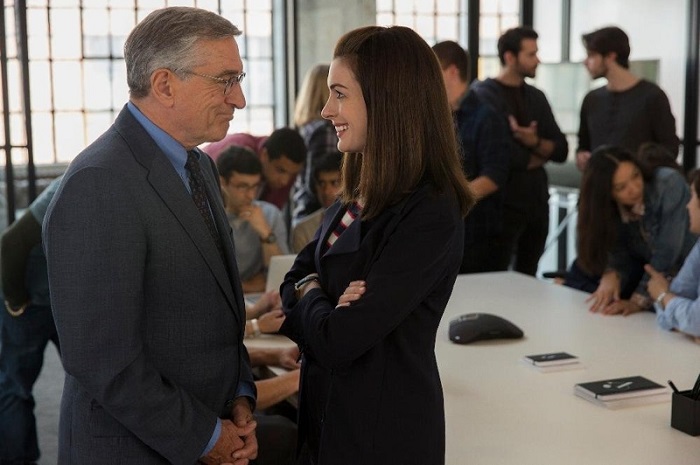 * Robert De Niro plays a retired widower interning for an e-commerce whiz kid, essayed by Anne Hathway* The film is predictable and light, but thrives on their unusual chemistry* Worth a watch, if only for Hathaway\'s instinctive performance
Nancy Meyers. A familiar name - one that evokes images of my home, my town, my school and my first friends. I grew up watching her films. And loving them. I reminisce about particular phases of my life, based on when I watched both parts of Father Of The Bride(which Meyers wrote), based on how I wished for siblings after Parent Trap, based on how I traveled miles to the first Indian multiplex to fantasise about Mel Gibson's gift in What Women Want - I did it twice - and how my first year in Mumbai coincided with crushing on an incredibly sexy Diane Keaton in Something's Gotta Give.
Robert De Niro's grumpy poker face practically lends itself to the classic tragicomic old-widower-abandoned-by-kids persona. Watch Everybody's Fine, which is both different and similar to About Schmidt, and you'll know what I mean. So when The Intern, Meyers' latest, began with De Niro (as Ben Whittaker) searching for routine and purpose in Brooklyn after the death of his (first and only) wife, my eyes lit up.
I have a soft spot for lonesome septuagenarian lives, even if it's in Meyers' unnaturally peppy world. Old-school Ben isn't your mopey, absent-minded, self-pitying sod. He informs us that he's tried every retirement cliche without any success. He's been a 9-to-5 man all his life. To feel the rush again, he joins thousands of yuppies grabbing a quick Starbucks before work; watch him when he nods at the energizer-bunny New Yorkers at a table - he likes to belong, but he wants more.
Old-school charm meets New-age innovation
Enter Jules Ostin, or more specifically, Anne Hathaway playing a fashion-oriented e-commerce wunderkind. She runs the company, she's scatterbrained and informal, yet not quite in the eccentric Zuckerberg or Jobs mold; Jules is what you'd imagine Miranda Priestly (Meryl Streep in The Devil Wears Prada) was at the beginning of her studded career. It's appropriate that Hathaway finds herself playing her own boss in a way, facing identical 'home-career balance' issues. The way Meyers pinpoints and explores the most challenging phase in Jules' overfull life, is what forms the crux of The Intern. Her story is, in spirit, the sequel to Prada; perhaps this is five years after she quit as Miranda's assistant.
When she hires Ben for a senior internship program, you know instantly that he's going to keep her grounded, young and bright. Their equation is unusual, and their chemistry, subdued. She's his boss, but he's her mentor. She's a wife and daughter; he's a father. She has no time, and he is running out of time. He works in her office, but she clings on to him for dear life - the way only a lady can cling on to a voice of reason amidst chaos - sometimes, it's a torrid affair; the other times, it's a father figure. It can be both too, but let's not go there in Meyers' stable universe.
The film is predictable, breezy, warmly familiar - like visiting your favourite old ice-cream shop, just for the scents, or just to hear the same voices. Most of Meyers' characters do that; they say what we want to hear, and they say it better than we expect them to. Ben is the ice-cream shop and the visitor too; he chooses an agency that occupies the now-ancient office space he worked in for 40 years. Meyers has this knack of weaving emotive work environments into its various hues; here, it's a startup with the regular dose of idiosyncratic young doozies.
Hathaway steals the show, makes up for limp end
De Niro does well as a perceptive and polite veteran - the perfect 'gentleman', a charming oddity in today's e-world. But it's Hathaway who pumps in so much more than required in what's essentially a life-themed chick-flick. She's entrusted with the character of a flawed, almost submissive powerhouse - a complicated mismatch of authoritativeness. She can look pretty and starry, and sucks us in with her sprightliness, occasionally waking us up with an explosion of heart and soul. Her decisions are debatable, as is the casting of her husband and the film's straight-lined graph, but Jules is perhaps the vulnerable boss we're all looking for. Her presence and aura isn't intimidating, her responsibilities - her burdens as a woman on top - are.
Nancy Meyers' movies are nice and feel-good, and so effortless that you wonder if she strives for more. It's true that she could have made this in her sleep, but perhaps her comfort-zoned filmography is essential for the likes of David O Russell, Nolan and Fincher to stand out. The Intern proves that she hasn't lost her touch after all these years - even if the touch isn't ever going to become a full-blown embrace.