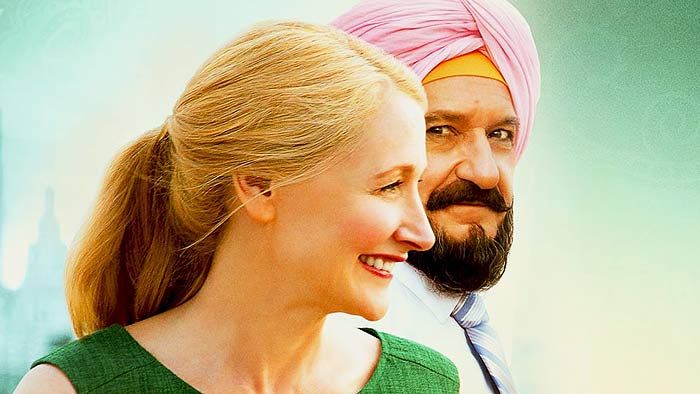 Three decades after his Oscar- winning portrayal of Gandhi in the eponymous classic, Sir Ben Kingsley will now be seen as a soft-spoken Sikh New York cab driver in a forthcoming film, which touches upon the issue of discrimination the community faced in a post-9/11 America.
About his character
Kingsley plays Darwan Singh Tur in the movie Learning to Drive, to be released this week and which also features Academy Award nominee and Emmy Award-winning actress Patricia Clarkson and Mississippi Masala actress Sarita Choudhury.
71-year-old actor plays a soft-spoken and righteous cab driver, proud of his Sikh identity, who settles in New York after getting political asylum in the country.
Apart from working as a cab driver, Tur is also a driving instructor. In the movie, two young boys are shown addressing Kingsley's character as (al-Qaeda chief) "Osama" (bin Laden) while he is giving a driving lesson to Clarkson's character Wendy.
Tur remains calm and composed even as the boys hurl the racial abuse at him.
Sir Ben Kingsley on his character in the film
Appearing on the Jimmy Fallon talk show, Kingsley praised the Sikh community, particularly voicing appreciation for the help extended by them to New Yorkers in the aftermath of the 9/11 attacks in the city.
"I hope after the film that the wonderful Sikh community or the next Sikh that you see with those great turbans and everything, you just may be give them a second look and think about the past, his exile and where he has come from," Kingsley said.
"The Sikh drivers after 9/11 turned off all their metres and were slowing down and asking people where is your loved one, I will help you find them. All the Sikh community in New York, beautiful."
About the film
The movie touches upon the issue of discrimination and racial profiling faced by members of the Sikh community in America, particularly after 9/11.
The distinguished actor, who had won an Oscar for his portrayal in the classic 1982 film Gandhi, Sir Ben Kingsley gets into the skin of his character and looks and behaves every bit the Sikh he portrays.
He seamlessly adapts the mannerisms of a Sikh, whether it is tying the turban or offering prayers at the Gurudwara.
As Tur teaches Wendy to drive, they develop a special bond of friendship and help each other as they battle difficulties in their own lives.
Watch the trailer of Learning to Drive here:
- PTI