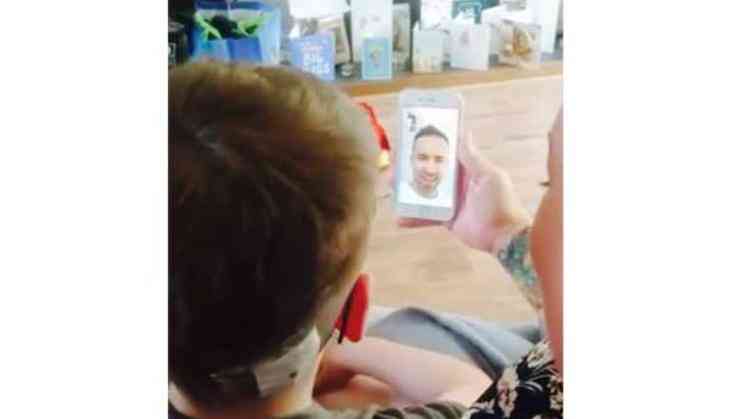 Ryan Reynolds fulfils dying five-year-old's wish from 'Deadpool 2' sets
Ryan Reynolds recently made one dying boy's dreams come true by video calling the 5-year-old who has just months to live.
The 40-year-old Canadian actor FaceTimed with Daniel Downing, who was recently diagnosed with a very aggressive type of cancer called pontine glioma, from the sets of his upcoming film 'Deadpool 2.'
After Downing was diagnosed with an inoperable brain tumour, his family sought to lift the little boy's spirits by setting up a phone call with the 'Green Lantern' actor, which quickly turned into a FaceTime session. The whole thing lasted for 15 minutes.
In the emotional video, Downing asks if he can FaceTime with his idol so he can show off his Deadpool T-shirt, to which Reynolds agrees and as soon as the actor sees the shirt, he says, "Ah that's awesome, what an awesome T-shirt! You know I'm the only guy who doesn't have one of those T-shirts, I need to get one of those."
The 'Van Wilder' actor then asks the little one if he wants a sneak to peek at the sequel, which is set to be released in 2018, "Yeah I am outside, you know what am I doing right now? I'm filming Deadpool 2. I'm about to walk into the set and shoot Deadpool 2."
A JustGiving page, set up by family friend Biffy Lynch to help Downing and his family, explained, "Daniel is the most amazing 5-year-old 'young man' you could ever wish to meet. Full of life, mischievous, polite, intelligent, innocent, and above all, loving. He is adored and cherished by his mum Steph, his dad Robbie, his brother Jack (8 yrs old), and Steph's partner, Ady. Daniel has such an adorable character that he really fits the phrase 'once met, never forgotten.'"
One of the posts read, "So if you have a short weekend at home you should at least do something to make it memorable ..right? How's about the best hot chocolate with cream and marshmallows?? Or how's about a FaceTime call from your most favourites superhero..deadpool live from the set of Deadpool 2...Thank you, Mr Ryan Reynolds, for putting a smile on special boys face .. oh and his mummy was also fairly smiley?? Thinking of you all as you start your week at the amazing Bristol Royal Hospital for Children. Back a moon ????x"
-ANI