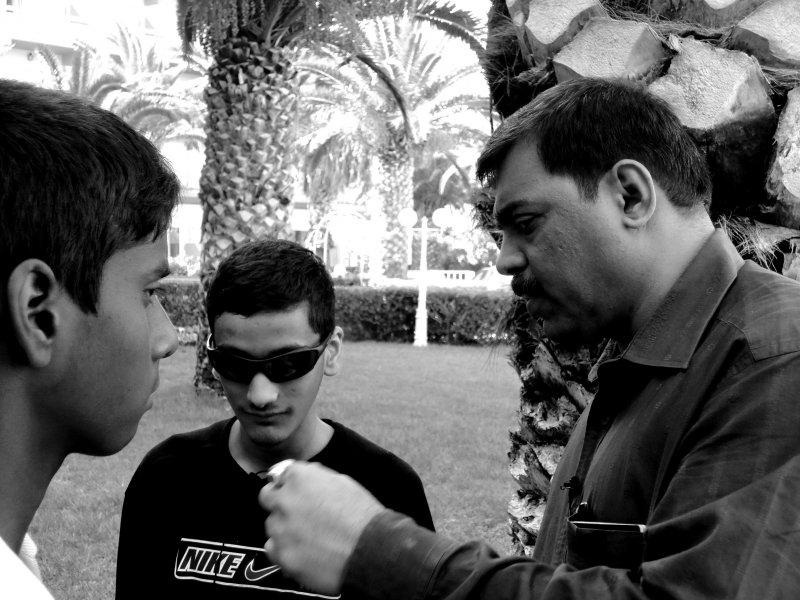 \'Algorithms\' is a documentary on the junior Blind Chess scene in India
Filmmakers follow 3 players for 3 years across countries, tournaments
Shot in black and white, film seamlessly merges their journeys
Informative, moving and understated; the finest sports documentary in recent years
It's appropriate that Algorithms - a remarkable film documenting the faces of and within the blind chess scene in India - is about vision: of the game and its infrastructure, of a teacher and his players, and of the filmmakers merging their stories into coherent form.
It is also mildly reminiscent of Indie Game: The Movie, the finest game-themed underdog documentary this decade. The Movie painstakingly followed the offbeat paths of 2D videogame developers in the Xbox and Playstation era. Such films succeed when they make us part of their most defining moments in real time.
When we watch them spend years typing obscure code, or studying complicated formations, it's both intensely personal and profoundly professional; there's no demarcation between the two.
Documentary makers set out to capture these emotions, not knowing if they'll be around at the right moments, or if these mundane lives will present anything worth capturing. They dive into an ocean of unknowns, like their subjects, and commit to broad themes without definite conclusions.
Introductory portions framed with precision and purpose
Both these films use three distinct lives as parallel narratives, and bring to the fore the power and intimacy of long-form storytelling. Ian McDonald, the director, follows three upcoming Indian blind chess players between 2009 and 2012 - over one Senior (Serbia) and two Junior World Championships (Sweden, Greece).
Early on, one of them is deliberately framed playing chess outside the boundary ropes of a cricket field. This shot is symbolic - of how extraordinariness is a prerequisite to even be ordinary at the sport they've chosen; that boundaries of normality will perhaps never apply to them. McDonald shoots them in stark hues of black and white.
He lets his cameras capture their eyeballs darting about while visualising moves, and calculating - and almost forming - their own algorithms to survive. Soon enough, blindness becomes less of a debilitating condition, and more of a competitive tool.
Passionate juniors speak with a wisdom beyond their years; they discuss the politics of how 'totally blind' players are at a disadvantage, of how 'partial blinds' abuse ambiguous parameters. But this is perhaps not quite the main focus of Algorithms. The focus is, as it often should be, on one mentor and his interpretation of greatness.
Three players, three ages, three regions, one story
To McDonald's credit, he chooses three kids from different regions and, notably, different economic strata. Not all of them are equally ambitious. They're not even the best, but that's a risk McDonald takes with conviction. Darpan, from an upper middle-class family in Baroda, is visibly the most talented. Another European player instinctively exclaims, "That's great!" when Darpan reveals he is completely blind.
Together, they bond in dissent, over rules that don't distinguish between levels of blindness. His temperament is reflected in the way his mother goes from obsessive cheerleader to calm observer two years on.
Anant Kumar, from Bhubaneswar, is older - a teenager who has lost the drive - and comes from poverty and hardship. I wanted to live more with Anant, to see how such talent falls through the cracks of life, and how they become victims of partially avoidable circumstances.
He was once as promising as SaiKrishna, the youngest, from Chennai. From upsetting higher-ranked Darpan in the '09 Nationals, there's an air of inevitability about Sai's transformation into a broken-voiced junior, struggling to adapt to environments and expectations.
Film is essentially about one man and his blind passion for chess
Much of this is down to Charudatta Jadhav - ex-pro and omnipresent guide - a visually impaired pioneer who has been there, but not quite done that. His advice to them is sensible and rehearsed.
But there's a lot more to him than fatherly consolations. For him, defeats and mistakes aren't the same as failure - a failure to comprehend the magnitude of talent wasted. There's a primal aspect to his gentle probing; he brazenly cites his own shortcomings ('stagnancy') to lift his boys into a zone he only knows of, but has never experienced.
And moments later, he manfully tells us about how he sacrificed his own bright future to build a system that churns out excellence. At the World Juniors in Greece, he gives us a glimpse into a life tinged with regret; "At such moments, I wish I could see," he sighs, as serene waves crash into the beach inches away. There's nothing more disarming than watching a vulnerable king; his humanness is both endearing and uncomfortable. How long can he keep the darkness at bay? Hope, though, as we all know, is recyclable.
Lieutenant Colonel Frank Slade (Pacino) once bellowed in court, "There's no prosthetic for an amputated spirit!" He knew a thing or two about blindness - of the eye and soul - in Scent Of A Woman. The way McDonald ends the film says a lot about these incredible individuals representing a sport - and the human spirit - on his silver screen.
Algorithms makes me wish I could play the game. More importantly, it demonstrates that, just like chess is about the mind, so is (dis)ability.