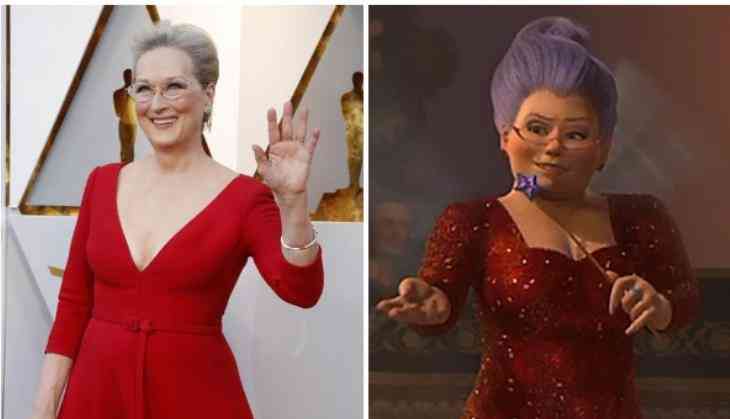 Oscars 2018: Fans lose calm as Meryl Streep's red gown resembles Shrek's fairy
Fans are in hysterics as they compared the Meryl Streep's red Dior gown, worn to Oscars 2018, to the one worn by fairy godmother in Shrek franchise.
Infact, not only her dress, the fans found resemblance in her glasses and hairdo as well.
Fans took to Twitter to share their humour.
One user wrote, "Why did Meryl Streep attended the ceremony dressed as the Fairy godmother from Shrek? #Oscars".
Why did Meryl Streep attended the ceremony dressed as the Fairy godmother from Shrek? #Oscars pic.twitter.com/HQZIQ6jpVX

— dani (@TowerwhiteDani) March 5, 2018
Meryl Streep is giving me major Fairy Godmother from Shrek 2 vibes. #Oscars pic.twitter.com/ebHSHc3MxR

— Chloe Cappelletto (@TheChloeCapp) March 5, 2018
Meryl Streep is the fairy god mother from Shrek.
She really did that! #Oscars #Oscars90 #Oscars2018 pic.twitter.com/hldJFID723

— A'L 🤷🏽‍♂️ (@adamlea2) March 5, 2018
Meryl Streep en los #Oscars VS Shrek.#Oscares2018 pic.twitter.com/iY8XIz4mhJ

— Emmanuel López ⚓️ (@Text0s) March 5, 2018
why does meryl look like the fairy godmother from shrek in this pic.twitter.com/vZbKclo3Co

— dani (@tickIisharry) March 5, 2018
-ANI