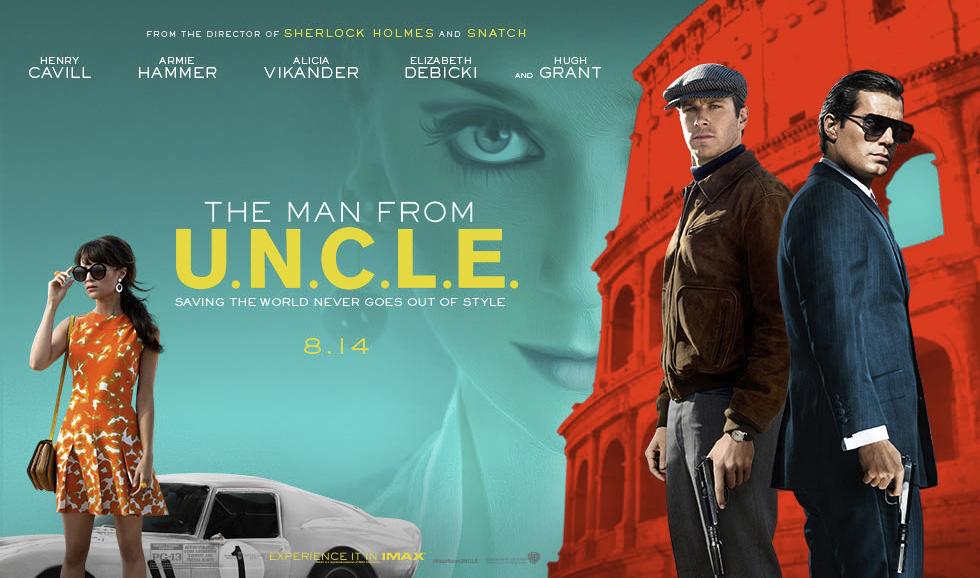 Based on the \'60s TV series, The Man From U.N.C.L.E is yet another superspy satire in 2015
Director Guy Ritchie crafts a slick, enjoyable retro-funky barrage of musical-action set pieces
Wooden leads aside, film is consistently quirky; stage set for new spy franchise
In RocknRolla, Guy Ritchie's zaniest exploration of British gangster culture so far, a particular sequence stands out. Johnny Quid, the missing musician at the centre of it all, describes to his friend - lyrically and in a mist suggesting an advanced stage of crack addiction - the contrasting imagery on a cigarette packet. "Beauty is a beguiling call to death, and I'm addicted to the sweet pitch of its siren," he whispers, invoking his withering song writing days addled with smoke.
What's remarkable here is not the attractive words or poetic reverberations, but the imagery - a dreamy nightmarish montage - he presents over this voiceover: a mean British mobster, beaten up to within inches of his death, by a Russian billionaire on a golf course. Everything seems so harmonious, so watchable, at the moment.
Guy Ritchie School of Filmmaking returns
Outrageous in its conception, this kind of lovely paradoxical juxtaposition has become a trademark of the flamboyant British filmmaker - who, I suspect, must still be designing his editing patterns and script beats to pre-existing music tracks.
In The Man From U.N.C.L.E, his recreation of the 1960s MGM spy TV series, there's a similarly riveting scene: with heroic CIA agent Napoleon Solo (Henry Cavill) clamped to a metal bed in an ominous lab, a vicious German villain reveals his true identity, in storybook form; this exposition is striking in its virtuosity - Ritchie conducts it like a sadistic symphony, complete with an operatic score and vivid photographic flashback. One can imagine Ritchie controlling departments with a baton.
Think Tarantino, Soderbergh and Matthew Vaughn (who did something very similar with the memorable Kingsman this year), locked in a room with their favourite Ian Fleming novel, armed with the freedom to dive into their favourite decade. It's worth noting that most of these filmmakers - the ones who want you to know you're watching their work ('indulgent' being the term often brandished) - use the physical world in their stories purely as a tonal tool.
They use their attention to details and authentic (if slightly kitschy) production design merely as an elaborate ruse, a license to distort history both visually and in the narrative manner, with an obsessive commitment to pulp and retro funkiness. Ritchie, like his contemporaries, chooses to navigate the cinematic splendour of Europe. From '60s East Berlin to Rome, he assaults us with bold-yellow-worded slates, wipes, split-screens and an alarmingly eclectic score.
Plot designed to be a satirical celebration of author Ian Fleming
Cavill and Armie Hammer (who played both the Winklevoss twins in The Social Network) star as the iconic American and Russian agents Solo and Kuryakin (or 'Cowboy' and 'Peril', self-assigned politically incorrect nicknames for each other) - two traditional enemies uniting to find a kidnapped nuclear scientist, also the missing father of German mechanic, Gaby (Ex-Machina's Alicia Vikander).
For this, they must infiltrate and seduce a wealthy Nazi-sympathizing couple - a plot device that sets the platform for a satirical, tongue-in-cheek bombardment of the superspy genre.
Ritchie keeps us entertained with his visual histrionics, despite Cavill's annoyingly British Bond-ish rendition of a criminal-turned-agent, and despite a flimsy climax that almost descends into an Austin-Power-ish parody zone. But he remains consistently cheeky with his treatment of background action; at one point, a drenched Solo enjoys a sandwich, wine and music in a cosy truck, oblivious to the hazy figure of speedboat-pumping Kuryakin desperately avoiding enemies amidst a series of explosions and kinetic madness.
Very few directors earn the right (the confidence of studio heads) to mess around the way they want. Ritchie is one of them; he excels in edgy rural-English panache, and exhibits a quirky impudence in his vision of wealth and dignity on screen. A sure shot way of marking such distinct languages is by playing Solomon Burke's frisky 'Cry To Me' over any sequence. If it's unexpected, like it is in this film, and fits in for the sheer audacity of its placement, you've got yourself an entertainer.
Beginning of a new spy franchise?
The concept of the modern movie spy is already a self-fulfilling prophecy on its own; there's very little between the 'originals' and their various witty interpretations. But these movies aren't lesser pretenders anymore; they're equally - if not more - necessary today. This wry, ambiguous middle ground - captured most fluidly by the likes of Vaughn and Ritchie - is perhaps the best tonic for a self-serious franchise-heavy genre. If we're to celebrate and poke fun at our political and cinematic history, there's no rule that says it can't be done with the flair and inanity of 2015. It does make for a bizarrely palatable combination.
Forget the actors; direct me some more madness.