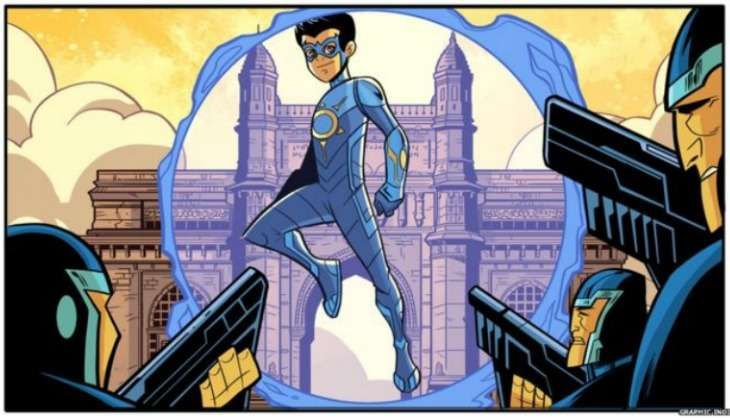 Is there space for an Indian superhero in Hollywood? Sure there is, but don't really know when, says legendary writer Stan Lee, who created the Marvel Universe, and is the man behind Indian superhero, Chakra.
"I can't comment on Marvel (on when a Bollywood superhero would enter the Marvel Universe). But I do think it's great to show diversity and the world would be ready for a Bollywood superhero," Lee told IANS in an email interview from Los Angeles.
Lee's POW! Entertainment, Sharad Devarajan of Graphic India (co-creator of Chakra) and Phantom Films announced pre-production on Chakra - The Invincible, a live-action theatrical film.
Vikramaditya Motwane will be directing the film, which was originally launched as a children's animated film on Cartoon Network India two years ago; with three new animated TV movies currently in production to be released later this year.
"Chakra - The Invincible is more a compendium of many mythological characters -- and real-life characters as well. He is a global hero, not just an Indian hero," Lee said.
Going back in time to share the origin of the superhero, Lee said he was "heavily influenced by the fascinating chakras which have long been a part of India's ancient wisdom and traditions for generations".
"With the story being set in Mumbai, I also got to explore the culture of an action-packed city that I've always been fascinated with."
With Chakra, Lee got a glimpse of Indian culture and was enamoured by it. "I've always been intrigued by Indian culture. It's so philosophical and rich in tradition. This is the first superhero I am creating specifically for the Indian market; so this is a new and exciting experience for me," he said.
Now, with Chakra under way, will we see him make his debut in Bollywood? Lee is willing. "I'm open to any type of cameo. I like trying different things that I've never done before," he said.
For the world, Lee might be famous as a creator of a fantastical realm charged up with superpowers, but he is more than that. Be it X-Men, Spider-Man, Daredevil, Fantastic Four, The Incredible Hulk, Iron Man, Captain America, Thor, Ant-Man or Deadpool -- Lee, 93, added a quirky and funny twist to the superhero movies with his cameos.
Stanley Martin Lieber is not only a comic-book writer, he is also an editor, publisher, media producer, television host, actor and former president and chairman of Marvel Comics. He has worked with several artists, most notably Jack Kirby and Steve Ditko, to co-create Spider-Man, the Fantastic Four, the X-Men, Hulk, Thor, Iron Man, Daredevil, Doctor Strange, and many other characters.
He is currently Chairman Emeritus of Marvel, as well as a member of the Editorial Board of Marvel Comics.
In 2001, Lee along with Gill Champion and Arthur Lieberman formed POW! (Purveyors of Wonder) Entertainment to develop film, television and video game properties. And as Chairman and Chief Creative Officer of POW! Entertainment, Lee has formed several new characters and stories.
The icon recently launched a new digital graphic novel called "God Woke", and even stars in Cosmic Crusaders, an animated web series that narrates how Lee helps aliens access their superpowers on earth. And he has no plans to slow down any time soon as he concludes by saying: "I love my work and I feel very fortunate to do what I do. So stay tuned for more!"
--
IANS
-- Edited by Aishwarya Yerra