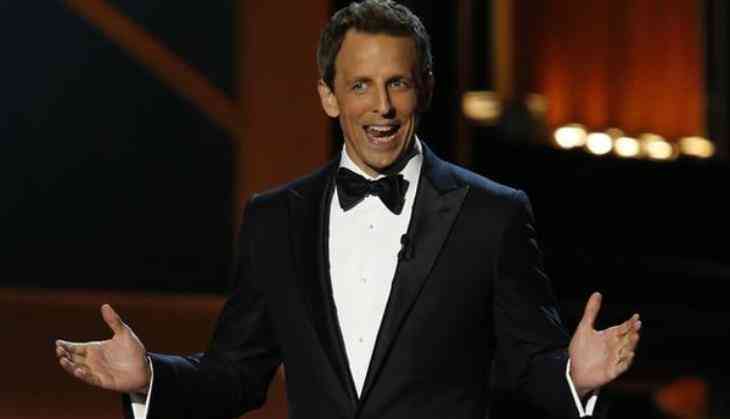 Golden Globes 2018: Seth Meyers tackles sexual harassment scandal in his opening monologue
Television host Seth Meyers knows what pressure is and how to handle and win over it. In his opening monologue, he gave the fans an impression how the night will move along, at the star-studded 75th annual Golden Globes.
Host Seth Meyers kicked off the awards night by addressing the elephant in the room - sexual harassment scandals in Hollywood.
Meyers decided to skip the usual song-and-dance routine and opted to do what he does best - stand up on the stage and deliver a funny, crisp monologue.
He started his monologue by saying, "Good morning ladies and remaining gentlemen. It's 2018 and marijuana is finally allowed and sexual harassment finally isn't."
Adding, "This was the the year of big little lies and get out and also the television series 'Big Little Lies' and the movie 'Get Out'."
Then, the camera pans out to Seth Rogen in the audience and Meyers noted, "A lot of people thought it would be more appropriate for a woman to host tonight's show, and they might be right, but if it makes you feel any better I have absolutely no power in Hollywood."
He also acknowledged that it had been years since a white man was this nervous in Hollywood.
"For the male nominees in the room tonight, this is the first time in three months it won't be terrifying to hear your name read out loud," added Meyers.
Meyers also took time to talk about disgraced studio mogul Harvey Weinstein.
He stated, "Don't worry, he'll be back in 20 years when he becomes the first person to be booed at the annual In Memoriam," and all the people in the audience started to boo him off. The host pointed at them and said, "It will sound like that."
Kevin Spacey and Woody Allen, who got involved in their own sexual harassment scandals, were also not spared.
Talking about Spacey, he noted if Christopher Plummer was available for 'House of Cards'.
On that note, Plummer replaced Spacey in Ridley Scott's 'All the Money in the World', which is nominated in various categories at Golden Globes.
Meyers chose to end his monologue on a serious note, acknowledging the activists, who accompanied the actresses to the award show. These activists were a crucial part of the #MeToo campaign.
He said "thank you" to all the women who came forward with their horrific stories and added, "I look forward to whatever you'll be leading us into next."
-ANI