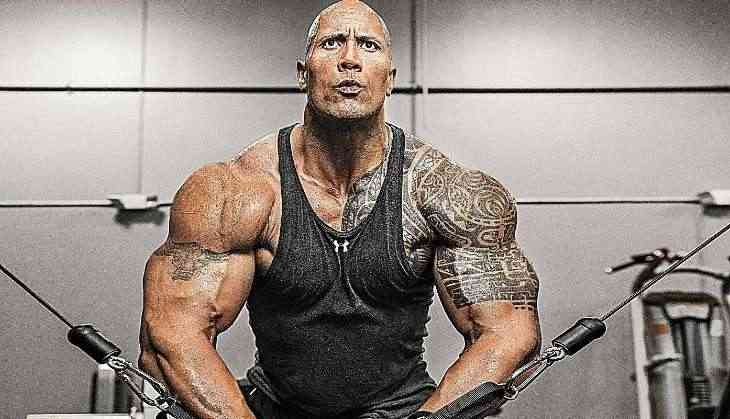 Dwayne Johnson meets boy who saved brother (ANI)
Dwayne Johnson is having a great impact on the lives of the people.
The actor met a 10-year-old boy, who saved his younger brother's life by doing a medical move he learned from the film 'San Andreas'.
The 10-year-old Detroit native, Jacob O'Connor, in August, saw his two-year-old brother fall into their pool and was lying face down for about a minute.
O'Connor immediately pulled him out and began doing chest compressions, which Johnson's character, Raymond Gaines, does in a scene in the 2015 disaster film.
Johnson shared a video of their meeting on his official Instagram profile.
He captioned the video, "Jacob was super nervous and shy the whole time we hung out, so it was fun getting him to laugh and talk. He threw me for an unexpected spin when he showed up on set wearing a shirt that he proudly made with my bull insignia on the front and on the back was the picture of me holding our two puppies, Brutus and Hobbs, after I rescued them from our pool. Seeing that picture on this boy's shirt, got me in the gut."
The post continued, "Eventually, we would lose Brutus to heaven, but it wasn't the picture of Brutus that made me tear up, it was the fact that this 10yr old kid, had a heart big enough to put our puppies on his shirt after he saved his little 2yr old brother's life. What a special day. What a special kid. Thanks Jacob for being awesome and for being the kind of person we all aspire to be. DJ."
The young man met the 'Baywatch' star on set of his upcoming film 'Skyscraper'.
The Rock also shared another photo with Jacob's mother, Christa O'Connor.
He wrote, "Big Rock hugs for mama Christa O'Connor. As you can imagine, she's so proud of her son and even more, so grateful to have her boys. She told me that at first she wondered 'Wait, I am just calling Jacob a hero because I'm a proud mom and he's my son? Then I said, no wait.. he IS a real hero for saving his brother's life'. Amen."
"Yup, he sure is. Thank you so much Christa for flying out to Vancouver to allow us to meet you and your boys, Jacob and Gavin. We had a blast and grateful to have you on our set. #OConnorFamily #ProudMama," he added
On the work front, Dwayne 'The Rock' Johnson will be next seen in 'Jumanji: Welcome to the Jungle' alongside Kevin Hart, Karen Gillan and Jack Black.
The flick is slated to release on 20 December in the U.S.
-ANI