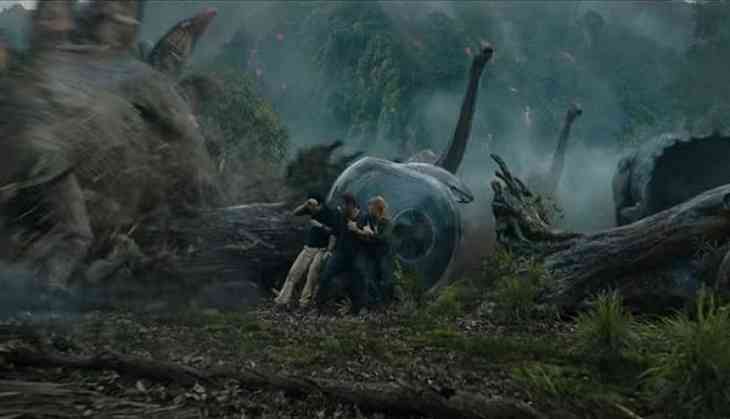 The promotional game for much-awaited 'Jurassic World' sequel titled 'Fallen Kingdon' has started with a "volcanic" teaser.
The makers unveiled a 15-seconds long teaser of the upcoming dinosaur movie on YouTube and it is surely going to make fans go "rawwrrr".
The teaser starts with Chris Pratt (Owen Grady) running down a hillside screaming for Bryce Dallas Howard (Claire Dearing) and actor Justice Smith to run as he flees not only an assortment of dinosaurs but also flying debris and flames from an explosion.
The @JurassicWorld #FallenKingdom trailer debuts this Thursday. Retweet to get your reminder! pic.twitter.com/SF6JpvPMfY

— Jurassic World (@JurassicWorld) December 4, 2017
All of them take refuge behind an airplane fuselage as the camera reveals they may be in danger of being swallowed by what looks like an erupting volcano.
In the first teaser, which was released in late November, Pratt could not hide his delight as he petted a purring baby dinosaur.
The footage was also shared by the film's screenwriter Colin Trevorrow, who also wrote and directed the movie's predecessor, 'Jurassic World'.
The dinosaur has blue patches all over it, leading to the theories that this could be one of Grady's raptors, especially Blue.
Helmedby JA Bayona, 'Fallen Kingdom' also stars, BD Wong, James Cromwell, Toby Jones, Geraldine Chaplin, Rafe Spall, and Ted Levine and Jeff Goldblum is returning to reprise his role as Dr Ian Malcolm.
The movie is slated to release on June 22, 2018.
-ANI