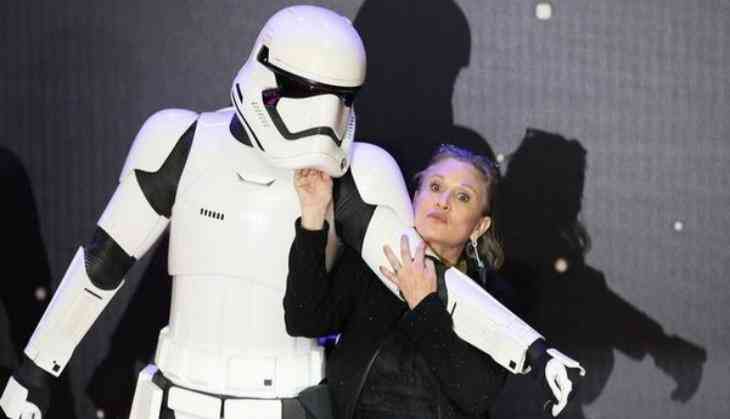 Carrie Fisher to appear in 'Star Wars: Episode IX' (ANI)
So the journey of 'Princess Leia' will not end with 'Star Wars: The Last Jedi'. As reported by The Hollywood Reporter, Carrie's brother Todd Fisher has told New York Daily News that he and Carrie Fisher's daughter have given Disney and Lucas film the permission to use the recent footage of the actress in 'Star Wars Episode IX'.
'Both of us were like, 'Yes, how do you take her out of it?' And the answer is, you don't,' said Todd Fisher at the TCM Classic Film Festival in Los Angeles.
Fisher told the Daily News he was unsure of how big a role his late sister would play in Episode IX. The movie is being directed by Colin Trevorrow. Fisher believes that 'the people deserve to have her [Carrie]'
He said, 'I'm not the only part of that equation, but I think the people deserve to have her. She's owned by them.'
Earlier, sources told The Hollywood Reporter that Leia was original to play a bigger part in ' Episode IX' than in 'The Last Jedi,' which is directed by Rian Johnson.
After rumors online suggested CGI would be used to include Leia in future films, Disney and Lucasfilm released a statement in January saying it had no plans to digitally re-create Carrie Fisher as Leia, as had been done in last year's 'Rogue One: A Star Wars Story,' which included a re-creation of how Fisher appeared in 1977's 'Star Wars'.
On a related note, Rian Johnson's ' Star Wars: The Last Jedi,' stars Mark Hamill, Daisy Ridley, John Boyega and Benicio Del Toro in pivotal roles. The film is scheduled to release in December'17.
-ANI