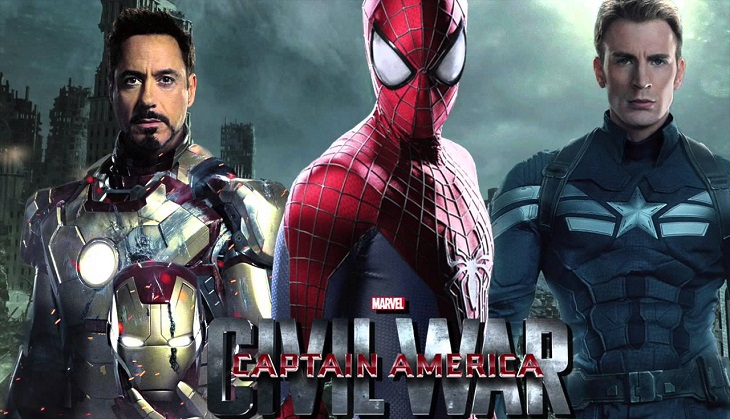 National politics lead to a major conflict between The Avengers, after which the members are split in two teams i.e. Team Captain America and Team Iron Man.
Captain America: Civil War releases in India on 6 May, 2016.
What may work for the film:
Captain America: Civil War is one of those Marvel Films which keeps your attention riveted to the screen from the first frame, thanks to the gripping screenplay. The action sequences are skillfully shot and designed intelligently.
The characters are well-established with a the right dose of humour around Iron Man, Ant Man, Spiderman and Vision. Despite the presence of Captain America and Iron Man, the one who steals the show is Spiderman with his brief but hilarious appearance in the second half. The film sets a perfect base for Spiderman: Home Coming which also features Tony Stark AKA Iron Man.
The fight at the airport towards the climax is one of the best action sequences in a superhero film. Watch out for the face-off between Spiderman and Ant Man.
What may not work for the film:
At the script, screenplay and presentation level, Captain America: Civil War is a flaw-less superhero film and rides on the right dose of action, humour, emotion. However one confusing factor in the film is the references from the previous Marvel films especially Captain America: Winter Soldier and Avengers: Age of Ultron. Too many characters makes it a bit difficult for the Indian audience.
Will it do well at the Box Office?
Captain America: Civil War carries tremendous goodwill of the Avengers Franchise in India which will make things easy in terms of getting a good initial at the Box Office. The presence of Spiderman in the film, who is the most loved Superhero in India, will lend it added benefit in terms of Box Office collections.
Civil War is sure to get a wide release in India and it won't be surprising if it becomes the second Hollywood film of the year after The Jungle Book to cross the Rs 100 crore mark. The movie has a clear window, especially at the multiplexes till the release of Housefull 3 on 3 June, 2016.
The critic reviews across the globe have been highly positive and this one seems like a sure shot winner for Marvels and UTV in India.
Box-Office Prediction:
Day One: Rs 11.00 crore
Weekend: Rs 38 crore
Life Time: Rs 105 crore
Expected verdict is Blockbuster