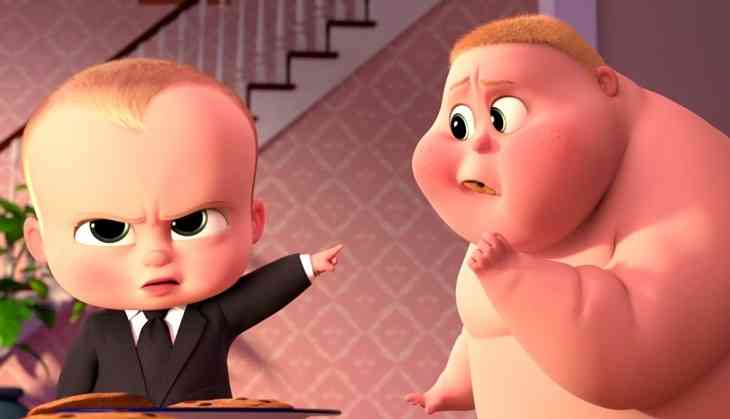 Basing the movie on an "epic battle between puppies and babies" and missing out almost entirely on pups is just not acceptable.
Directed by Tom McGrath (of Madagascar fame) and based loosely on a children's book by Marla Frazee, the plot is simple. Seven-year-old Tim lives the 'perfect' life, with undivided attention from his parents. But all is disrupted with the birth of a baby brother.
Babies vs puppies
Tim thinks the new addition to his family, who arrives in a taxi, known as Boss Baby (voiced by Alec Baldwin) is a briefcase carrying CEO intent on destroying their perfect family. Boss Baby comes into the family as a seemingly innocent newborn. The parents – voiced over by Lisa Kudrow and Jimmy Kimmel - love him. The elder brother Tim though is suspicious.
Tim is convinced that Boss is wearing the pants in the family. Boss has come with a mission. He was 'chosen' as management upon birth.
Quickly enough Tim learns that Boss is middle management from a company called Baby Corp sent to spy on Tim's parents who work for Puppy Co. Now, Puppy Co. manufactures pets. They're about to unveil their latest creation and Baby Corp sees it as one that threatens to tilt the scale of 'love' from babies to puppies.
Headache inducing
The movie turns away from disruption and capitalism to one resembling a buddy picture. With a thin plot and unfunny gags (barring one with a talcum powder fart joke), it's a 97-minute lengthy tale that could have been wound up in a 20-minute short.
Boss Baby tries to fill in the dull periods with twists, more gags and even a subplot that doesn't add up. The plot doesn't signify much, the emotions run out quickly and sitting through it in 3D makes one's head hurt.
If it weren't for the stellar cast narrating the movie, it'd be a no-brainer to give this one a miss. With Baldwin, Kimmel, Kudrow and Tobey Maguire, the movie makes for an acceptable one-time watch at home when you're fed up of the lack of options on TV.
Rating: 1.5/5