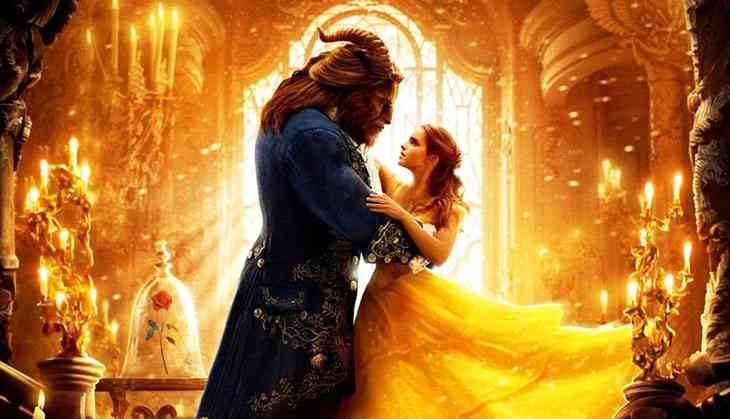 We millennials have a problem - we've grown up watching Disney movies. While it is a good thing in a host of ways, like how we have a thing for musicals, good lyrics, flowy gowns (debatable) and royalty, it is also a bad problem, like how we expect all our on-screen love stories to be larger-than-life and our craving for magic.
While those expectations have lowered themselves after years and years of reality checks, you still can't throw a Disney remake at us and expect as to not lose our collective minds. And that's exactly what happened with Beauty and the Beast.
We've been swooning over Bill Condon's remake of the 1991 classic for months as the creators kept throwing little teasers are us – Who would play Belle? (Emma Watson) Who would be the Beast? (Dan Stevens) Would we get to see all the absolutely adorable characters like Cogsworth and Lumiere? (Hell yeah!) Would Belle have her signature yellow dress? (Yes please) And finally, would we have the same songs? (Of course, and then some).
As Condon and screenwriters Stephen Chbosky and Evan Spiliotopoulos fill up the screen with flesh and blood people, the 'tale as old as time' becomes all the more magical, especially for those who have not seen the 1991 animated film. The costumes are spectacular, the sets impeccable and the subtle, newer nuances that the cast and crew have weaved in make this a special, special film.
The 2017 Belle is more headstrong and fleshed out than the 1991 version of one of Disney's more feminist protagonists. Of course, it is 2017 and the role is being essayed by an actor like Watson who has always been vocal about her 'feminist' stand. The very obvious Stockholm Syndrome issue aside, which has been debated to death in this case, the new Belle has her heart and head more practically in place.
In certain parts of the movie it almost becomes a little difficult to separate Watson's Belle from her Hermione. In certain moments she could well be Hermione with more tame hair and dreamy 18th-19th century French gowns, wandering around the 3rd floor corridor at Hogwarts (The West Wing in this case). But for some moments only.
This is a story I cannot possibly ruin for anyone, but besides giving face to animated characters we have all loved, Condon's Beauty and the Beast has a lovely little addition in the form of the story about Belle's mother, rather 'controversial' moments of homoerotic bonding (which got the movie banned in places like Malaysia), and one very significant scene:
When Belle rides back to the castle to warn the Beast about the villagers baying for his blood, she is still in her dreamy, signature yellow gown. As her horse Philippe gallops out of their quaint little French village, Belle sheds the layers of gold-embroidered frills. They lie in a heap on the cobbled street as a simple village girl races to save the man she loves – transforming into a woman all little girls can look up to.
Disney princesses have been slammed often enough, and for good reason too, for being regressive in their blind affection for their Prince Charmings and, more often than not, settling for a happy marriage and no other ambition. Those were the Snow Whites, the Auroras, the Cinderellas and the Ariels. Then of course came the Jasmines, the Belles, the Mulans, the Tianas, the Rapunzels, the Meridas, and you knew that the gender-game was changing.
Condon, and Watson, has made sure that you can show a little girl this film and not worry if she says she wants to be just like Belle.
LeFou (Josh Gad), Gaston's (Chris Evans) sidekick is being called Disney's first gay character. While the filmmakers have been careful not to make it very obvious, a mature viewer will know. It is very commendable for a production house like Disney, that has banked on parents' goodwill for all these years, to take this brave step to normalise homosexuality and make it Disney mainstream through an old classic. If this is not Disney really coming of age, I don't know what is!
The movie boasts of a dream cast with Kevin Kline (playing Maurice, Belle's father), Ewan McGregor (Lumiere), Ian McKellen (Cogsworth), Emma Thompson (Mrs Potts), Stanley Tucci (Maestro Cadenza) and others like Audra McDonald, Gugu Mbatha-Raw, Hattie Morahan. All the roles have been played to such perfection that you will want to believe that these actors have always voiced and played these very roles – even in 1991.
On a strict aside, even though the movie was wonderful and looked stunning in 3D (better still in IMAX I am sure), some magic was missing for me, personally. And that is perhaps because the awe and wonder I had in 1991, is sadly, no longer there.
But for everyone who likes fairy tales, and even those who don't, this is not a movie to be missed. And for those rather sad people who have not seen the 1991 flick, don't miss out again.
Rating:4/5