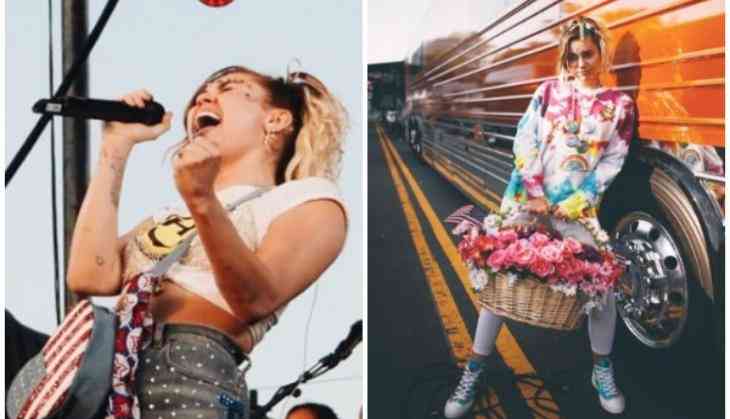 A colourful Miley performs at 2017 Capital Pride Concert (ANI)
Pop sensation Miley Cyrus surely held the vibrant rainbow high while performing at the 2017 Capital Pride Concert.
The 24-year-oldsinger took to the stage in a colourful ensemble and rocked the stage with a great performance.
The ' Malibu' hit-maker took to her social media accounts to share the pictures of her performance and her colourful look for the concert.
She donned a pair of flared jeans for her performance, which were covered in silver rhinestones and had 'I love Washington, D.C.' written down the side in red, white and blue rhinestones.
Miley also wore a denim love heart handbag which was printed with the American flag.
She also donned a white T-shirt, printed with her Happy Hippie Foundation's smiling face logo. The ' Wrecking Ball' hitmaker completed the look with her hair in a high ponytail, tied up with a rainbow-coloured ribbon.
Love more. It's never tooooo much. It's never enough! Love Love Love! @happyhippiefdn pic.twitter.com/fG5qbiNjnU

— Miley Ray Cyrus (@MileyCyrus) June 12, 2017
In one of the photos she uploaded before the show, Miley is seen wearing a rainbow-colored Bindi and winking at the camera.
Celebrating #Pride w @hot995 in D.C. #AmericaLovesPride 💙❤️💙❤️💙 pic.twitter.com/gBAe7hOrpS

— Miley Ray Cyrus (@MileyCyrus) June 11, 2017
She also teamed up with Converse to collaborate and promote their Converse Pride Collection.
Yassss! I'm teaming up w @Converse ! I ❤️ the #Pride collection supporting the LGBTQ community! @happyhippiefdn #YesToAll ! 💜❤️💛💚💙 pic.twitter.com/znWbvHBXed

— Miley Ray Cyrus (@MileyCyrus) June 12, 2017
A final shot depicts the self-professed "flowahhh girl" tossing small bouquets of flowers into the crowd during her set. "#YesToAll," she concluded.
This is not the first time Miley has advocated for the LGBTQ community, the singer has regularly spoken about her sexuality in recent years.
-ANI