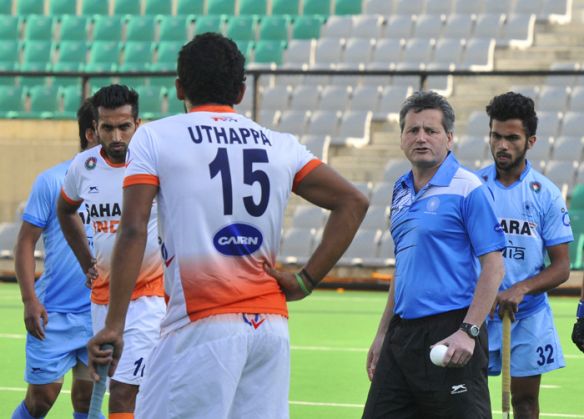 Indian national hockey team coach, Paul van Ass, who claimed to have been sacked by Hockey India on 20 July, has announced his willingness to return to his post, provided there is no more interference to his work. Speaking to the media on Wednesday, 22 July, the Dutchman said he had no qualms in returning to India, but explained that he was not expecting the governing body to welcome him back.
"Too early to jump the gun"
On being asked about his chances of coming back, Van Ass sounded a bit a skeptical, "It's too early to jump the gun. Let's wait and see. The fact is I am not welcome any more. For sure I have been sacked just a week after the tournament (Hockey World League semifinal round). I am just waiting for the official word."
He, however, clarified that he was open to continuing as the coach of the Indian team, as long as the governing body minded its own business. "I have never quit the job. I have never said I have quit. What can you do if you are fired? If am asked to return I am fine. But before that we will have lots of discussion. I am just very straight. My position is simple: don't interfere in my primary process," Van Ass explained.
"Not bothered about Batra's opinion"
Taking a dig at Hockey India supremo Narinder Batra, who had recently questioned Van Ass' coaching abilities, the Dutchman termed his opinions as 'useless'. "Such remarks prove that he doesn't know the game; but I am least interested in all these. I am not bothered about his opinion. It is not serious," he said. "What was serious was that all the blame was being put on my head by saying that I haven't reported for the camp. But the fact is I was never supposed to join the camp as I had already been sacked."
(With inputs from PTI)
Read more: The curious case of Hockey India and its foreign coaches