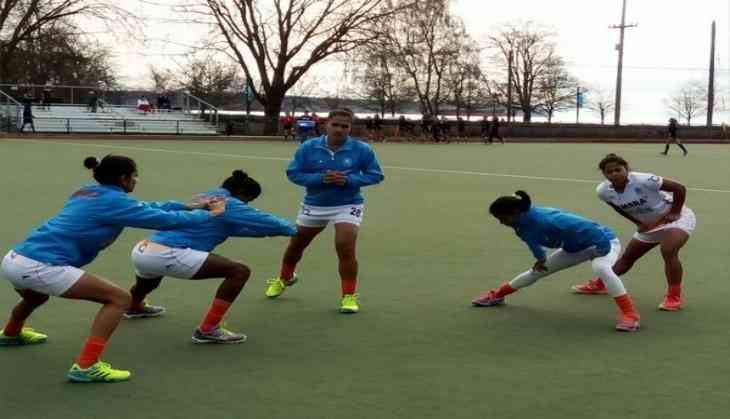 The Indian women's hockey team are all set for the upcoming Hockey World league (HWL) Semi-Finals in Johannesburg, after a three-week long high altitude training camp at Shilaroo in Shimla district of Himachal Pradesh.
India will begin their campaign at the tournament against hosts South Africa on July 8.
The Chief Coach of women hockey team, Sjoerd Marijine, said that the women are ready to play with USA, Chile and South Africa in their Pool B matches of the tournament. The high altitude training camp started on July 1 and will be concluding on July 24.
Marijine also admitted that he takes South Africa as a tough team for the qualifying league. He added that the team would be playing next month in Johannesburg at an altitude of 1750 meters.
"We are playing in Johannesburg. And it is 1,750 meters. So that's the reason why we are here. We hope to have advantage for that. The first four days were really a struggle. Still you see breathing is more difficult at this height. So, yes we will have advantage with it," he said.
Marijine insisted they would take one match at a time and would not focus on the results.
"We play the first match against South Africa. That is what we are focused on. From there we will focus on the next match. We are not focusing on results. We are focusing on performance." Marijine told in an exclusive conversation with ANI.
Echoing similar views, captain Rani Rampal said that this was an important camp for them as it will help the team to play at high altitude in Johannesburg. She said that the training has made them ready to deal the mistakes as they did while playing with New Zealand recently.
This high altitude training camp was to train non-selected 33 players and the women are now acclimatized to play at an altitude of over 2500 meters.
Defender P Sushila Chanu admitted that it was quite tough to breathe during the first four days at Shilaru at an altitude of 2500 meters. The girls are looking forward to reach the international games.
"The preparatory camp is being held for the first time in Shillong. When we reached here, we felt breathlessness initially. Now, it is getting better as we engage in practice. It will benefit us as our fitness level will only improve by practicing in high altitude," she said.
Admitting that the team failed to perform well in the recent tour against New Zealand, Sushila said that they would try their level best not to repeat the same mistakes and qualify for the World Cup tournament.
"We are fully hopeful to perform well in the tournament. We have to qualify for the World Cup at any cost. We recently played Tests against New Zealand and we did not perform well. We missed easy goals. We will focus not to repeat the same mistakes again," she added.
Though the Indian women's team suffered a 0-5 loss in their previous tour in New Zealand where they played the hosts in a five-match series, the Indian eves would aim for better results at the HWL which also happens to be a qualifying tournament for the 2018 Women's World Cup in London.
Goal keeper Savita Punia said the prime focus would be to score three points and defeat the host team in first match in HWL.
"All players were having problem in breathing in the first week. But slowly we adjusted to the situation. The altitude is even low in Johannesburg. So, if we are comfortable here then we would hopefully face no problem in South Africa. We have done a lot of hard work. We are going for a really big tournament. So, we have only one option to qualify for the World Cup. We will hopefully qualify for the same. South Africa will be tough opponent as they are the host team. Our first match is with them only. Ranking doesn't play any role in this. Although there is a pressure playing against the host team, we are well aware that how crucial it is for us to gain team points," Savita said.
Ahead of their departure end of this month, the national squad will also train in New Delhi for a week.
The event will also see participation from Germany, England, Ireland, Japan and Poland.
The Indian squad is as follows:
Savita, Rajani Etimarpu, Deep Grace Ekka, Sunita Lakra , Gurjit Kaur , Sushila Chanu Pukhrambam (Vice Captain), Monika, Renuka Yadav, Nikki Pradhan, Namita Toppo, Navjot Kaur, Ritu Rani (captain), Lilima Minz, Reena Khokhar , Rani (Captain), Vandana Katariya , Anupa Barla, Preeti Dubey.
-ANI