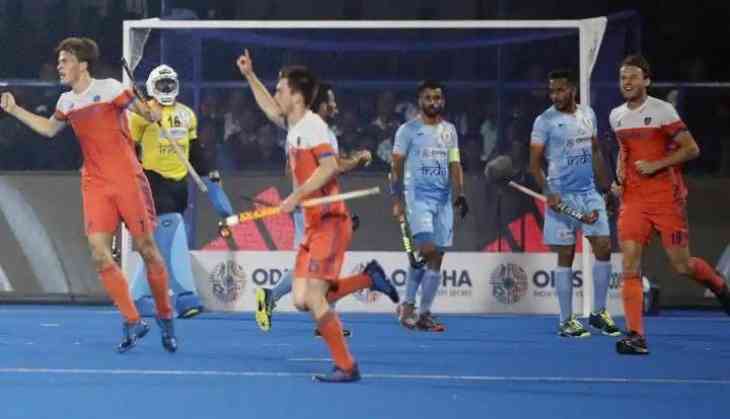 Indian hopes of clinching a World Cup title after a long wait of 43 years ended on a sad note as the hosts lost their quarter-final battle of the prestigious tournament to the Netherlands 1-2 here at the Kalinga Stadium on Thursday.
After opening their goal account in the very first quarter of the match, India hinted towards creating a history against their formidable opponent. The Netherlands, however, played a better hockey on the day and deservingly sealed a semis spot for themselves.
The match started on a scrappy note with both the teams taking turns to possess the ball. The opening goal from the stick of India's Akashdeep Singh in the 12th minute of the match put the hosts in a lead. The Netherlands, making a strong comeback, did not take much of a time to score an equalizer. In the 16th minute of the first quarter, Dutch player Thierry Brinkman deflected a shot from outside the circle to make it 1-1 against India.
After the action-packed first quarter, the second quarter was relatively calmer. The shots and passes, however, were more sharp and crisp. At the half-time, both the teams remained at the score of 1-1.
India and the Netherlands, who were now in the third quarter, tried to carve out more chances as a lead here would have put them on the driving seat. But after the 45 minutes into the match, score figures remained the same.
The turning point of the match came in the 50th minute when Mink van der Weerden of the Netherlands scored off a penalty corner to take a crucial one-point advantage over the hosts. With six minutes left in the match, Chinglensana Singh won a penalty corner for India and the entire stadium was on its feet. The spirit of fans, however, deflated when the home side failed to capitalize on the opportunity.
A couple of minutes in the match and the Dutch players were ensuring that they are in possession of the ball. After the final hooter, the scoreline read 2-1 in the Netherlands' favour.
-ANI