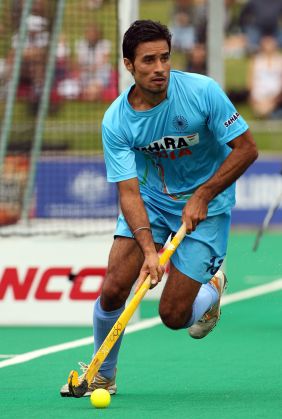 Hockey India (HI) on Saturday lifted the 9 month ban on midfielder Gurbaj Singh, which it had imposed two months back for 'groupism' and creating disharmony within the team.
The announcement was made by Harbinder Singh, head of Hockey India's disciplinary committee at a Press conference in Delhi.
Justice Rakesh Kumar Jain of the Punjab and Haryana High Court, where the matter was being discussed had announced on Monday that the ban did not fall in line with Hockey India's Players Code of Conduct. A level 3 offence, the maximum offence that HI can impose for 'misbehaviour' is a suspension of 5 or more matches.
The court then, while quashing HI's ban, gave the body a week's time to convene another meeting and decide if they want to impose a punishment as per Level 1, 2 or 3.
Gurbaj, described as "a star player" for the team at the press conference was banned after the former national team head coach Jude Felix accused him of indiscipline and misbehaviour, in a report submitted to the federation after the Hockey World League semi finals in Antwerp, Belgium.
The matter was then heard by a Hockey India committee which consisted of president Narinder Batra, CEO Elena Norman, Harbinder Singh and RP Singh.
Not convinced by the clarification offered by the player, the ban was imposed which has resulted in Gurbaj missing 11 national team matches.
"Keeping the Olympics in mind, we have lifted the ban on Gurbaj. We wanted to give a strong message to the team with this ban. Players should be disciplined and the Gurbaj incident will give a strong message to the team. If this incident will happen again, we will take strict action," said Harbinder Singh at the press conference.