New Study: Yoga is helping school kids to deal with emotions and anxiety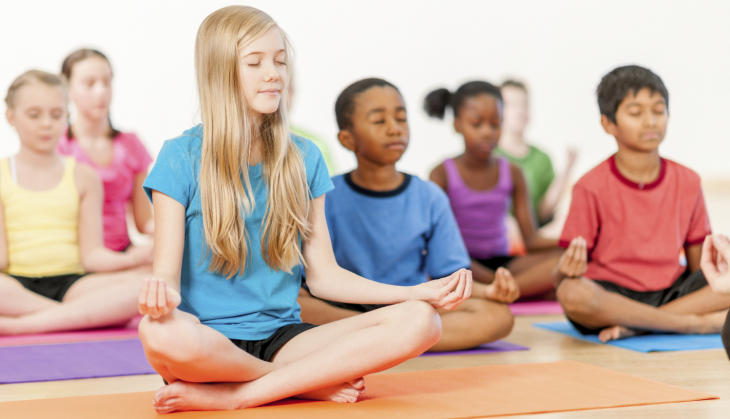 Kids don't have any stress as they enjoy and remain in their own world playing and dreaming about anything. However, when they are growing up, they get scared of the pressure which they get from their studies. Students life should be very normal and have all the fun activities but, they get stress and anxiety instead.
According to a study published in the journal Psychology Research and Behavior Management recommended that every student should perform Yoga acts as a medicine and helps to improve the health of children dealing with emotions and anxiety.
However, researchers from Tulane University took an initiative to find out how Yoga is helping kids with their problem and to add mindfulness along with empathy-based programming for students who are needing supplementary support.
Third graders had the symptoms of anxiety at the beginning of their academic year, and also were assigned to two groups which were decided randomly. A control group of 32 students received care, which included counseling sessions to the students and some helpful activities led by a school management.
Also Read: Boost your self-confidence by performing 'Nude Yoga'
A group of 20 students who were in intervention took part in yoga/mindfulness activities using a curriculum based on Yoga Ed. The sessions organised for the students included breathing exercises, relaxation guided and several other traditional yoga moves which are required for the students.
Each group's health-related quality of life was evaluated before and after the intervention, using two widely recognised research tools by the researchers.
"The intervention improved psychosocial and emotional quality of life scores for students, as compared to their peers who received standard care," said principal author Alessandra Bazzano.
"We also heard from teachers about the benefits of using yoga in the classroom, and they reported using yoga more often each week, and throughout each day in class, following the professional development component of the intervention."
Researchers thought that targeting the third grade would be appropriate at this time because as it is a crucial time of transition for elementary students when academic expectations increase.
"Our initial work found that many kids expressed anxious feelings in third grade as the classroom work becomes more developmentally complex," Bazzano said. "Even younger children are experiencing a lot of stress and anxiety, especially around test time."
Read More On Catch: Want to stay healthy? Follow these simple steps if you really want to get in shape without going to the gym