#MohallaClinics: AAP has diagnosed Delhi's health problem. Can it cure it?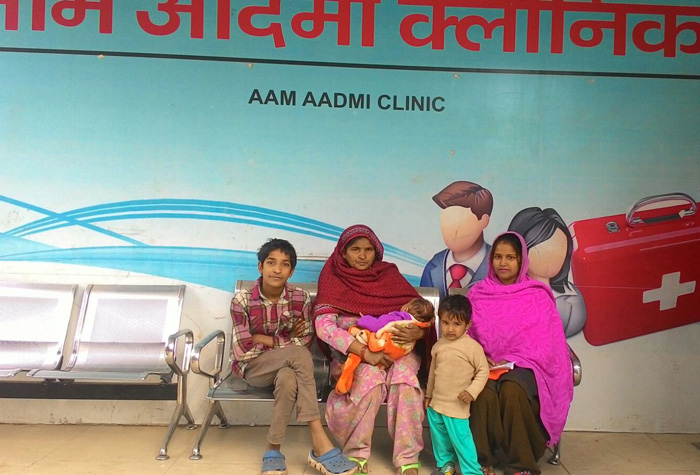 The initiative
The AAP government has set up a mohalla clinic, 2 polyclinics
These are the first of 1,000 clinics, 150 polyclinics to be built this year
The aim: to ease burden on state hospitals, double bed number to 2,000
The response
In Peeragarhi, people say it\'s the best thing that\'s happened to the area
The first polyclinic in Kanti Nagar gets nearly 1,000 patients a day
The other at Kalyanvas, opened on 1 January, already gets 200 patients a day
The AAP government may be criticised for many policies, but it has got one thing absolutely right - a healthcare plan that aims to take the load off public hospitals.
Delhi's public health budget of Rs 3,138 crore for 2015-16 had provided for opening 500 mohalla clinics. But in June, the cabinet provided an additional Rs 209 crore to build twice as many clinics by November.
Also read -
Dengue has exposed the paucity of hospital beds in India
So far, one mohalla clinic and two polyclinics have come up. Catch visited them to find out if they are actually making a difference.
A good beginning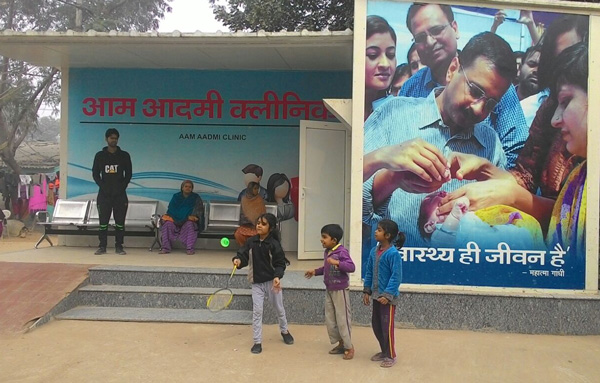 In northwest Delhi's Peeragarhi refugee colony, ask for the "dispensary" and you are directed down kaccha roads, flanked by bubbling open sewers with wobbly slabs laid across in front of every house.
For the 4,000 households here, most of whom have been around since the colony was set up by Rajiv Gandhi in 1987, sickness is a permanent guest. The stagnant water in potholes, slush, mud and sewage causes typhoid, malaria and dengue round the year.
So, for the mohalla, the 60 sq m AAP clinic, inaugurated in July, has come as a blessing.
Given the locality's paucity of space, the clinic is ergonomically built out of pre-fabricated material. The sheltered waiting area leads to the common lab, which is flanked by the pharmacy on one side and a doctor's consultation room on the other.
Going for a check-up is a fairly smooth process. You pop in, press on a token dispensing machine and collect your token. Until your number shows up on the electronic display outside, you wait your turn. The clinic, however, is open only between 8 am and 2 pm, everyday of the week.
AAP polyclinic in Kanti Nagar gets 1,000 patients/day. Other at Kalyanvas, opened on 1 Jan, gets 200
Praveen Kumar Garg, 52, is an insulin-dependent diabetic. The clinic has made it quite easy to get his blood sugar tested. Earlier, he would have to go to a dispensary in Paschim Vihar and spend hours waiting in line to give his blood.
"Other than insulin, the clinic has a good stock of basic medicines and diagnostic facilities. And it's all free. This clinic is the best thing that's happened to this area," Garg says. "I am a BJP supporter but I am not ashamed to admit that AAP has gotten this right. I only wish the clinic remained open for longer."
It's also a boon for pregnant mothers, who get calcium and iron supplements, and for babies due to be vaccinated.
One layer of health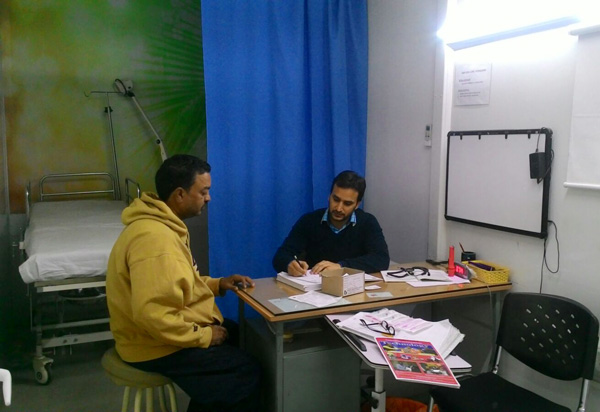 Dr Basit Rather, 33, is on duty at the clinic. He's a medical officer with the Delhi Health Service. He is posted at a dispensary in Tilak Vihar, but has been asked to fill in here temporarily.
Dr Basit says this clinic is the first place any sick person in the area comes to. "Our focus is on providing primary treatment like for cold, cough, gastric and basic respiratory conditions; treating basic injuries; and doing common blood tests."
"If someone has a major illness or complication, or needs surgery, we refer that person to a specialist at a government hospital," says Dr Basit. Although the clinic doesn't have its own ambulance, it can get CADD's ambulances when needed.
The mohalla clinic is just one layer of what the Arvind Kejriwal government hopes to create. The plan is to also build a secondary healthcare system in the form of AAP polyclinics, which offer more specialised consultation.
Clinic intervention
In east Delhi's Kalyanvas, close to Lal Bahadur Shastri Hospital, is a quiet lane that leads to a brand new one-storied white building. This is the AAP's second polyclinic, inaugurated by Delhi's Health Minister Satyender Jain, on New Year's day. The first was opened in Kanti Nagar several months ago, and now receives nearly 1,000 patients a day.
At Kalyanvas, the marigold flowers on the polyclinic's gates and mango leaves on its door frames have still not been taken off. The clinic is already getting 200 patients a day. It opens at 8:30 am and shuts at 3:30 pm with an hour's lunch break from 1 pm. Sundays are closed.
The polyclinic has departments for general medicine, pediatrics, dermatology, surgery, orthopedics, ENT, ophthalmology, OBS & Gynecology, pharmacy.
Narsingh, 50, is an electrician. He lives about a kilometer and half from the polyclinic. He's been complaining of heartburn and knee pain for days. "If I were to go to LBS hospital, I would have had to reach at 9 am to get to see a doctor at 4 pm. I always costs me a day's work. Here I can come and go back with my medicines within an hour," he says.
This, in fact, is one of the main reasons why the polyclinic was set up. "Our aim is to take away as much of the load of OPD cases from big hospitals as possible," says its nodal officer BP Parwal.
Thinking big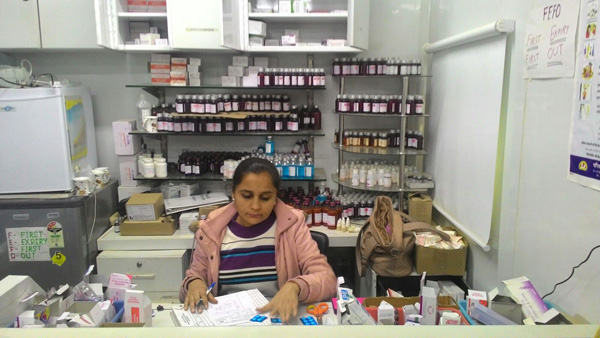 According to the national health profile released in 2013, India has one allopathic or AYUSH (Ayurveda, Yoga, Unani, Siddha and Homeopathy) doctor for every 1,218 people or so. This is far lower than the WHO prescribed benchmark of one doctor for every 1,000 people.
Delhi conforms with the national average. So, it could certainly do with more healthcare centres in addition to the 228 dispensaries and 39 hospitals that are bursting at their seams.
"It easily takes three days to manage a consultation at a government-run hospital. The first day goes in registering the patient, the second in doing tests. It is on the third day that you get to see the doctor and get medicine," Satyender Jain tells Catch.
"Through a network of mohalla clinics and polyclinics, we want to cater to the needs of patients much faster."
When there was a dengue outbreak in Delhi last year, it affected over 12,500 people, killing 32. The opposition, led by the BJP, lambasted Jain for failing to curb the epidemic. Today, Jain says there's a plan.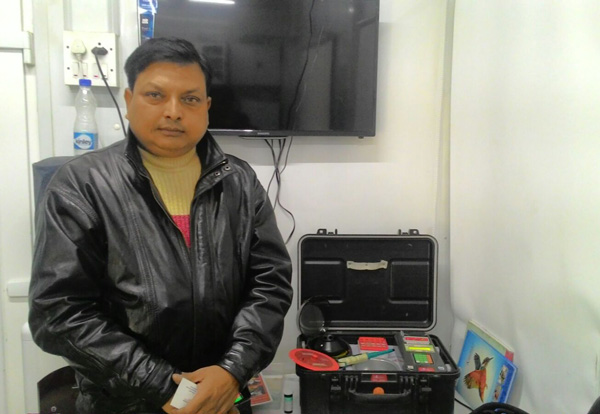 "We will build 1,000 mohalla clinics and 150 polyclinics this year. This will drastically reduce the OPD burden on the hospitals and double the number of beds to 2,000," he says.
We'll build 1,000 clinics, 150 polyclinics this year, doubling Delhi's beds to 2,000: @SatyendarJain
The government, the minister says, plans to set up as many as 1,000 mohalla clinics in various slums, unauthorised and low-income group colonies, where they are needed the most.
"The low cost of set-up, achieved by the use of pre-fabricated material that can be dismantled and rebuilt, will help us move the clinic when needed."
"This is also why we can feasibly build these many clinics," Jain explains when asked if building 1,000 was realistic given that only one mohalla clinic and two polyclinics have been made functional in the last six months.
"Since the land has already been identified, projects already approved, and since these are easy to build, the clinics will come up in batches, not one at a time. By September, ideally all 1,000 should be ready," he adds.
Also read - The seven biggest talking points in AAP's Delhi budget
One of Jain's biggest challenges in keeping Delhi from getting sick is the miles of open sewers and stagnant water that plague Delhi's unauthorised colonies. It seems almost foolish that in areas such as Peeragarhi, rife with water-borne diseases, sewer disposal work isn't done on war-footing.
"The slum cluster areas are under the DDA's jurisdiction and they won't allow us to clean the area or do any development work such as building a proper sewage system. The land is theirs. Even fumigation and supplying clean water is the role of the MCD," Jains says.
"We are in talks with the Centre to authorise these colonies so that development work can happen," he adds.
Hi-tech Aam Aadmi
Ajay Singh is sales manager of Accuster, a company that makes "a lab in a suitcase". Singh opens a medium-sized suitcase which has several devices and equipment. It contains a fancy black-cased wheel that spins 2 ml of blood in a centrifuge at a speed of 6,000 rpm to separate blood serum and make it ready for testing.
"This suitcase can do many basic diagnostic tests such as for glucose, sugar, kidney function, lipid profile, liver function as well as haematology tests. The tests have a 90% accuracy and are delivered almost instantly," says Singh.
Each suitcase costs Rs 2.73 lakh, including a laptop. Singh says that Delhi's health ministry has already approved the "suitcase lab" to be used in the 250 mohalla clinics that are coming up next.
Another such technological intervention being considered by the ministry is called Swasthya Slate. A clinic would have 4 tabs, one each to the registration in charge, doctor, lab technician, pharmacist. They will use an "offline synced system" to add relevant information about the patient to ensure "paperless coordination".
The tab also does 33 essential tests with devices that can directly be plugged into it. The results will automatically be added into a patient's health history, which she can accessed using a automatically-generated passcode. The set of four tabs costs Rs 1,20,000 per clinic.
Both the suitcase lab and the Slate are expensive. Will they really benefit the Aam Aadmi, who may not necessarily be technologically savvy?
"Absolutely. Using technology to improve efficiency and make health data available online is important. It will save time and money," says Jain.
All this may sound revolutionary but much of it's still only a plan. Would these measures really work as well on the ground as they are supposed to? The Aam Aadmi is keeping a close watch.
More in Catch - Lancet concerned with healthcare in India. Did we expect anything else with such budget cuts?
Increasing dengue cases and reduced budget cripple national capital