Health hazard: In many states, obesity has doubled in the last 10 years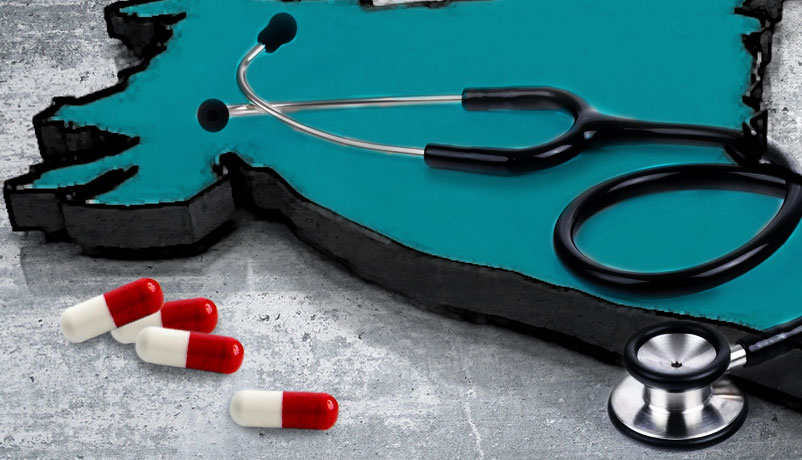 The latest National Family Health Survey (NFHS) survey has revealed a paradox. On one hand underdeveloped states like Bihar and Madhya Pradesh seem to have made significant progress on various fronts. On the other hand, developed states like Tamil Nadu are facing their own set of challenges.
Read- UN Report shocker: India fares worse than Iraq in human development
The survey also reveals that Indians are faced with a new enemy: obesity.
Data from NFHS round 4 was released on Tuesday. The survey results released so far contain data from 13 states.
Catch examined at the data for six states - 3 of them underdeveloped and 3 socially developed and - Bihar, Madhya Pradesh, Haryana, Karnataka, Tamil Nadu and West Bengal - and compared it with the figures for NFHS 2, conducted in 2005-06.
Here are some snippets from the report:
Share of married women who reported spousal violence in Tamil Nadu, a state considered socially developed state.
This problem has not reduced much in the state. In 2005-06 it was 41.9%.
Spousal violence is the second-highest in Tamil Nadu. They only state with higher incidences was Bihar where 43.2% women reported spousal violence. The lowest was Karnataka at 20.5%.
The percentage of women in Bihar who operate their own bank account. This was 8.2% a decade back.
The fact that more women are operating their own bank account these days shows some progress on women's empowerment.
In Haryana 45.6% women operate their own accounts as against 12.4% a decade back.
For Madhya Pradesh the number is 37.3%, a major increase from 8.9% 10 years ago.
It has increased from 22.1% to 59.4% in Karnataka, from 15.9% to 77% in Tamil Nadu and from 14.1% to 43.5% in West Bengal.
Number of infants who die per 1,000 live births in Madhya Pradesh according to NFHS 4.
Bihar has reported Infant Mortality Rate (IMR) of 48, which is also higher than the national average of 39.
Tamil Nadu (21) and West Bengal (27) had the lowest IMR rate among these states.
Just a decade ago, Madhya Pradesh had an IMR of 69; Bihar was at 61, Tamil Nadu at 30 and West Bengal at 48.
Clearly, there has been significant improvement. Yet we have failed in achieving the Millennium Development Goals.
Interestingly, all the states have reported a lower fertility rate, which means that family planning is slowly becoming successful.
Also read- Made in India: The eco-boom story no one is looking at
Proportion of children in Bihar who are stunted. This means they are malnourished and grow up emaciated and physically and emotionally weak.
There has not been much improvement in a decade. In 2005-06, 55.6% children were suffering from malnutrition.
Bihar is followed by Madhya Pradesh where 42% of children suffer from malnutrition and Haryana, where 1/3rd of the children are stunted.
India is swiftly becoming an obese nation, enhancing risks of various kinds of lifestyle diseases.
In some states, there has been a two-fold increase in obesity. For instance, 12.6% men in Bihar reported being obese in 2015-16, from 6.3% in 2005-06.
In Haryana, 20% men were reported as obese as against 10.8% in 2005-06. In Karnataka, it has increased from 10.9% to 22.1%, in Madhya Pradesh from 4.3% to 10.9%, in Tamil Nadu from 14.5% to 28.2% and in West Bengal from 5% to 14.2%.
Number of females (for children born in the last five years) per 1,000 males in Haryana in NFHS 4.
This can be considered a remarkable improvement as this is a 74 point increase from 762 females per 1,000 males in 2005-06.
According to Haryana chief minister Manohar Lal Khattar, sex ratio at birth has further improved and that it has crossed 900 for the first time since 1901.
In Tamil Nadu, the sex ratio improved by 58 points to 954 females per 1,000 boys from 896 in 2005-06.
West Bengal has seen a drop in sex ratio from 976 girls per 1000 boys to 960.
Households in Bihar that have an electricity connection.
All other states analysed in this article reported electrification in more than 90% of households.
The good news in Bihar is that there is an increase of 30.9 percentage points from 2005-06, when only 27.7% households had electricity.
The biggest jump has been observed in West Bengal, where 93.7% households now are electrified, a 41.2 point improvement from 52.5% households in 2005-06.
Tamil Nadu and Haryana had the highest share of electrified households at 98.8%.
Read more- Rank of shame: India has more gender inequality than Pak and Bangladesh, says UN
Share of households in Bihar with 'improved sanitation facility' ( flush pit with sewerage connection and not shared with any other household).
A decade back, only 14.6% households had access to improved sanitation facility.
Bihar is followed by Madhya Pradesh, where only 33.7% households had improved sanitation facility.
Haryana has witnessed a major increase. At present 79.2% of households have improved sanitation facility as against 40% in 2005-06.
Karnataka had the highest share of improved sanitation facility (57.8% households).
The share of women in Tamil Nadu who are literate. This is the highest among the states reported.
Bihar reported the lowest literacy rate at 49.6%, which means that not even half the women in the state can read or write.
Haryana and Madhya Pradesh, with female literacy rates of 75.4% and 59.4% respectively, had the highest increase with both these states gaining 15 percentage points in the last decade.
More in Catch: