Alert! Girl dies from Toxic Shock Syndrome related to tampon use during periods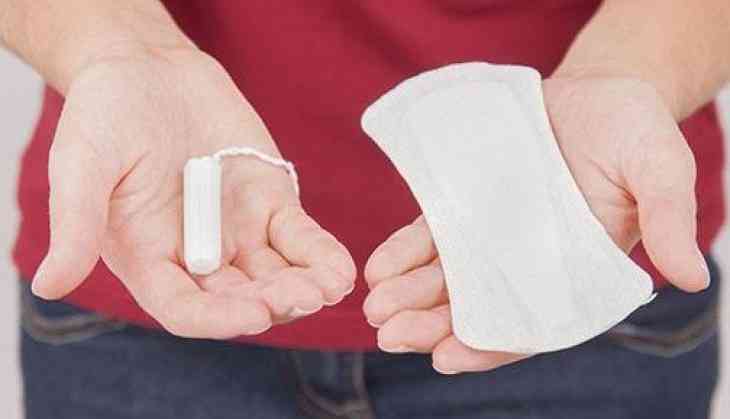 A 16-year-old girl reportedly died of toxic shock syndrome which is related to her tampon use, according to the coroner.
Sara Manitoski who hails from British Columbia, Canada, was on an overnight school trip near Vancouver Island in March 2017 when she was found by friends unconscious in her cabin.
Now, after a year, a corner has reportedly confirmed the possible cause of death as toxic shock syndrome (TSS) which is related to her tampon use, according to CTV News.
As per the medical reports, TSS strain of staphylococcus aureus was found on a tampon that was in her body, but it was also noted that she had other signs of TSS.
Also Read: 'I Am Jazz' star Jazz Jennings shares her first post-surgery photo after undergoing Sex reassignment surgery
Sara's sister, Carli Manitoski took this on social media platform sharing a Facebook post in December 2017 where she said Sara had "complained of stomach cramps before going to bed and she never woke up."
"My beautiful, incredibly healthy sister died because of [TSS] so please share, educate yourselves and be cautious whenever using tampons," she wrote. Adding, "There is such little education on this and it needs to be brought to light."
Also Read: Kim Kardashian forced Tristan Thompson to unblock her on Instagram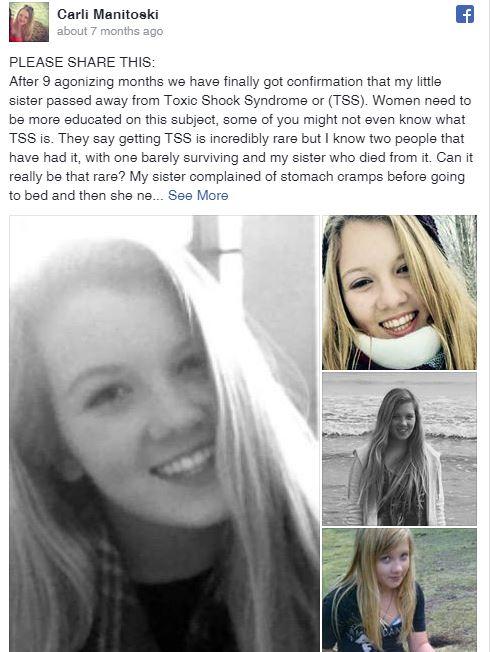 What is Toxic Shock Syndrome and how does it happen?
According to the Victoria's Department of Health and Human Services, in Australia (TSS) is a rare but still a potentially life-threatening illness that is thought to be caused by infection with certain types of bacteria.
"Women who have their period (are menstruating) are most at risk of getting TSS, as it is thought to be associated with tampon use," states the governing body's website.
They advise that for women to reduce the risk of TSS during menstruation women need to change tampons regularly and consider using pads instead of tampons overnight.
According to the National Institutes of Health, Toxic Shock Syndrome is caused by exposure to the staphylococcus bacteria which releases toxins into a person's bloodstream. Those toxins can then spread throughout a person's veins and body causing damage to the organs.
What are the symptoms of toxic shock syndrome?
HCA Healthcare in Nashville, TN, lists several symptoms to be on the lookout for:
Sudden, high fever of 102°F or higher
Chills
Hypotension, or a drop in blood pressure
Rapid pulse
Vomiting
Diarrhoea
Sleepiness
A headache
Muscle aches and pains
Weakness
Watery or bloody vaginal discharge
Bloodshot eyes
Confusion
A rash called diffuse macular erythroderma the begins to peel after a week or two, usually on the hands and feet.
Symptoms of TSS typically include high fever, low blood pressure, vomiting, and rash—and it's important to get medical attention right away, as TSS can be deadly in up to 50 per cent of cases, per the NIH.
Also Read: Metal gods Bullet For My Valentine's new album 'Gravity' releases today