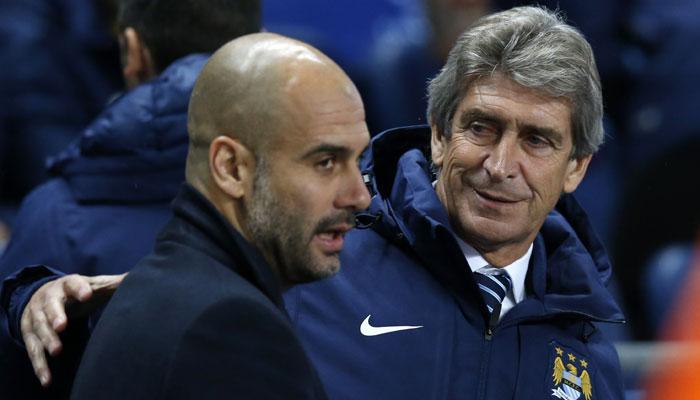 After months of speculation over Pep Guardiola - further fuelled by the Bayern Munich manager's revelations that he would manage a Premier League club from the next season on - Manchester City have finally confirmed the news.
In a statement, City confirmed that Guardiola would take over as manager of the club from the 2016-17 season onward. According to the statement, the present manager Manuel Pelligrini was "fully supportive" of the decision.
Here is the statement in full:
Under Pelligrini, Manchester City still stand a chance to win four trophies this season.
They face Chelsea in the 5th round of the FA Cup, Liverpool in the final of the League Cup, are in the knockout stages of the Champions League. They are also currently second in the Premier League table - right behind Leicester City.
However, it is no surprise that the club opted for a manager like Pep Guardiola - who has brought about a revolution of sorts in football with his iconic 'Tiki Taka' philosophy as manager of Barcelona.
In a press conference yesterday, Manuel Pelligrini expressed his support for the announcement. He said:
"I talked to the club and I will finish my contract on the original date."
"We signed a contract for one more year, but with a clause that one of the club or me cannot use that extended contract. So I will finish here on the original date."
"They are not doing anything behind me. I knew this a month ago. But I don't think it's good, this rumour and speculation about different things. I would prefer to finish the speculation today. That's why I told the press, I told the players, and I spoke with the club two weeks ago saying that I would do it."
Guardiola's credentials
Pep Guardiola won 14 trophies in 4 years with Barcelona. He also won the Bundesliga twice in two seasons with Bayern Munich. His trophies with Barcelona include three La Liga titles and two Champions Leagues.
In his managerial career, Guardiola has lost only 19 out of 239 league games - a mere 7.94 per cent.
Manchester City's announcement is a powerful reminder to rival clubs that the club's Abu Dhabi-based owners intend to polish the club into a footballing giant in its own right.
And with Guardiola's unique philosophy, football fans across the world can expect to see some aesthetically pleasing football coming from the men in light blue.
Watch Arsenal legend Thierry Henry (who played under Guardiola at Barcelona) explain what Tika Taka is really all about: