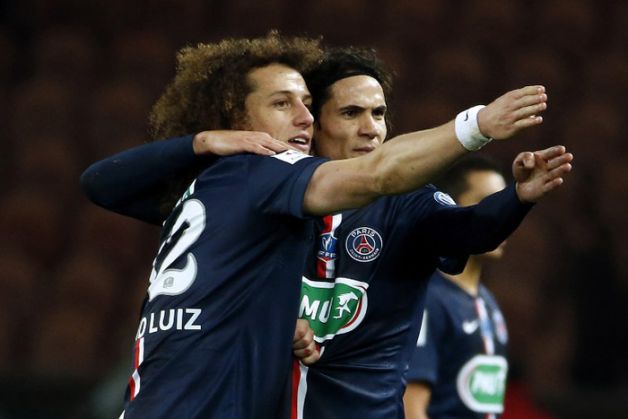 The intended targets of the ghastly Paris attacks, on 13 November, were all venues of expression, fun and freedom.
Attacks inside the Bataclan concert hall, where the Eagles of Death Metal concert was underway, were meant to strike fear into the hundreds of music lovers.
Diners in cafes, and popular watering holes, Le Carillon, Le Petit Cambodge, and Le Belle Equipe were attacked, in what was perhaps a warning about the threats facing their freedom to socialise.
And the explosions right outside the Stade de France, where the French national team was playing Germany in an international friendly were an attempt at muzzling the spirit of sport.
However in the footballing world, as in all other spheres, a defiant return to normalcy is enough to defeat the terrorists' purpose. Footballers, who are often revered as cult figures, are expected to set an example for their fans to follow.
Edinson Cavani and David Luiz of Paris St Germain are currently away from the French capital on international duty. When the two expressed hesitation about returning to Paris to play for their club in light of the attacks, they may have let down an entire community, if not the world.
For now is the time to take a stand through action.
Luiz and Cavani's reluctance
"Playing for PSG is my job but if it were up to me then I would not go back," said ex-Chelsea defender David Luiz, after playing for his country, Brazil's, 1-1 draw against Argentina on 13 November.
"I have my girlfriend and some family and friends in Paris, they were all very sad and scared. I don't know what I'm going to do and whether I will head back (to Paris).
And according to Edinson Cavani's Uruguayan teammate Alvaro Gonzalez, the striker would "rather not" return to France after international duty. "David Luiz would not return to Paris and Edinson said he would rather not have to go either."
"This is horrible, for football and for the city."
Both Luiz and Cavani, who are football giants in their own rights, can reverse this "horrible" situation, and help France overcome the tragedy.
The show must go on
Italian midfielder Marco Veratti, who also plays for PSG, has said that he is "not afraid" of going back to Paris.
Speaking on behalf of his client, Veratti's agent Donato Di Campli said, "Veratti was not in France. But he's not afraid to enter the country. We must return to normality."
The Football Association, on 14 November, announced that the international friendly between France and England, scheduled for 17 November, would go ahead as planned.
The real victory lies with players like Veratti and organisations like the FA.
Shaken and stirred
It is only human to feel afraid after such a massive terror attack - the second instance of terrorism in France this year. That being said, refusing to go back to Paris is not the solution.
As role models, millions of people around the world look up to players like Cavani and Luiz.
Throughout their careers, they have inspired and encouraged people to live lives of purpose and fulfillment.
David Luiz is the United Nations AIDS program's (UNAIDS) Brazilian ambassador, and was also involved with a number of charities during his time at Chelsea.
Edinson Cavani played in the Lionel Messi foundation's charity matches in 2013. Both players displayed both a strong sense of social responsibility with their association with these projects.
If Luiz and Cavani were not to return to Paris, it would equate with winning a fraternity's trust in small matters, but betraying it in the matter where it truly mattered.
The bigger picture
It remains to be seen as to how much this episode will affect the careers of the two. Players of their calibre will be snapped up by any of the leading clubs in Europe outside of Paris if they display even the slightest indication of wanting to leave the French capital.
But who would they want to be remembered as? The players who shied away from a situation when their club and city needed them the most?
Or would they want to be remembered as the players who gave the terrorists a tacit victory? No. They would rather be remembered as the players who took a stand.
And they are required to do so now, more than ever.