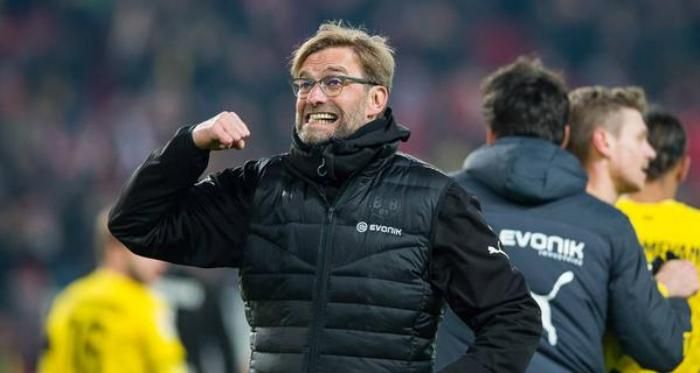 If Jurgen Klopp's eight years as manager of Borussia Dortmund are anything to go by, Liverpool fans have a good reason to be excited.
As Klopp edges closer towards inking a deal to be the new manager of Liverpool FC - arguably the biggest thing that would happen for the club since their 2005 Champions League win - it feels like a natural fit to have a manager like him at the helm of the club.
The reasons for this are various. Klopp turned around the fortunes of Borussia Dortmund in seven years, taking them from an underperforming side to one of the most feared teams in Europe. Under his watchful eye, the club went to the 2012-13 Champions League final and won back-to-back Bundesliga titles in 2012-13 and 2013-14. For a team which is not peppered with star players, Klopp managed to get the best out of the Dortmund.
Liverpool currently finds itself in a similar position to what Dortmund was before Klopp took over. For a club that yearns to regain its former glory, win trophies, and dominate domestic and European competitions, Klopp may just be the manager Liverpool needs. Here is why:
Similarities between Borussia Dortmund and Liverpool
Both clubs are now in the second tier of teams that seek to be powers in the European game. Both have a storied club history. Their fan bases are similar in terms of the fanaticism they show for their team, an environment that Klopp thrives in. Emotions, impulse and honesty appeal is what Klopp will get in abundance at Liverpool - something that appeals to him far more than going into a club which boasts of superstars who need to be coaxed into somehow playing together.
He'll be at Liverpool for the long haul
In the 26 years of Klopp's career in football, he has held a total of three profiles - as a player for FC Mainz, as manager of FC Mainz and as manager of Borussia Dortmund. In short, he is a committed individual who gives every project ample time and opportunity. At Liverpool, it is assured that he will have plenty of time to turn the fortunes of the club around.
Player recruitment
Nuri Sahin, Mats Hummels, Marco Reus, Ilkay Gundogan - neither of them were household names when they were initially bought by Dortmund. But under Klopp's wing, all of them flourished and became the backbone of a team which sent ripples through European football. Buying potential talent and honing them to achieve their full potential is a philosophy that even Liverpool subscribes to, and with Klopp at the helm, there is no one else better suited to see this through.
The fans
Liverpool has a rich history and the fans always seem to have a special connect with the manager at the helm of the club. From the times of Bill Shankly and Bob Paisley to Rafa Benitez and Brendan Rodgers, the fans of Liverpool have seen the manager as a representative of the city as a whole, rather than merely the manager of the club. Jurgen Klopp has an infectious passion which the fans are extremely likely to take to - a move that might help return the 'feel good factor' that the club has been missing for the past few seasons.
Gegenpressing
The successful Liverpool teams of the past have always won trophies playing an attractive and energetic brand of football, something that the team has been missing for a season and a half. Klopp will bring with him his characteristic Gegenpressing style of football, which involves pressing the opponent high up the pitch and hitting them on the counter attack in a swift and precise manner. This will be in line with the ethos of the club as a whole, and has all the makings of a happy marriage between Klopp and the institution of Liverpool Football Club.